Clinton 2008 vs. Sanders 2016: A comparison of what happened when the campaign ends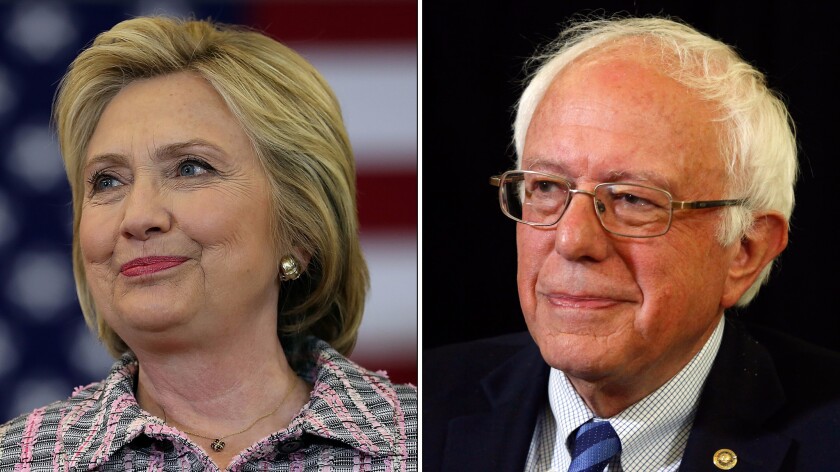 Before the June 7 primaries, Hillary Clinton reminded Bernie Sanders that she ended her 2008 presidential campaign on that exact date. It happened four days after Barack Obama was deemed the presumptive nominee, and more than 500 days after her campaign began.
Three days after the Associated Press reported that Clinton had enough delegates to be the presumptive 2016 Democratic nominee, and two days after losing the California primary, Sanders has not ended his campaign. He's campaigning in Washington, D.C., and hasn't said much beyond working to defeat Donald Trump this fall.
Here's how the final days of Clinton's 2008 campaign stack up against Sanders' current run.
Jan. 20, 2007: Hillary Clinton enters the 2008 race
"I'm in and I'm in to win," Clinton announced two days before President George W. Bush's State of the Union address.
April 30, 2015: Bernie Sanders enters the 2016 race
The moment was a low-key ordeal. Sanders held a 10-minute news conference in front of the U.S. Capitol and announced his run for the presidency.
A more formal announcement would come one month later.
June 3, 2008: Clinton keeps running after Barack Obama is declared the presumptive nominee
Clinton and Obama were neck-in-neck in the popular vote, but Obama had more than the 2,118 delegates needed to clinch the nomination.
June 7, 2016: Sanders keeps running after Clinton is declared the presumptive nominee
The day before, the Associated Press had reported that Clinton had the 2,383 delegates needed to clinch the nomination. Clinton now has 2,780 delegates, including unpledged superdelegates. One day later and 404 days after his campaign started, Sanders told supporters in California that "the struggle continues."
June 7, 2008: Clinton drops out of the race and endorses Obama
Clinton ended her 2008 campaign after 511 days and endorsed her former rival. "I endorse him and throw my full support behind him," she said.
She talked about putting "18 million cracks" in the "highest, hardest glass ceiling" over the course of her presidential run.
June 7, 2016: Clinton wins New Jersey and California
Making the news from the day before more official, Clinton claimed the presumptive nominee label after winning in New Jersey. A few hours after midnight, she also won California, where they had fiercely campaigned.
June 9, 2016: Sanders keeps campaigning after Obama endorses Clinton
Sanders met with Obama shortly before the president endorsed Clinton on Thursday. The senator publicly reiterated at a rally in Washington, D.C., that the campaign is "about transforming America."
The Clinton campaign announced that Obama, meanwhile, will join her on the campaign trail in Wisconsin on Wednesday.
July 27, 2008: Clinton campaigns with Obama in New Hampshire
Clinton and Obama campaigned together in Unity, N.H., a city that had yielded a Clinton-Obama tie during the New Hampshire primary. Clinton urged her followers to support Obama in the general election.
July 25, 2016: The Democratic National Convention begins in Philadelphia
Sanders has previously said that he will continue to campaign through the Democratic convention, where he will try to change the minds of unpledged delegates.
Twitter: @cshalby
ALSO:
Sanders is defiant and unpredictable as his revolution reaches a crossroads
What presumptive nominee? California Democrats still have some things to say
Clinton, finally breaking the glass ceiling, ready for a gender battle with Trump
---
Get our Essential Politics newsletter
The latest news, analysis and insights from our bureau chiefs in Sacramento and D.C.
You may occasionally receive promotional content from the Los Angeles Times.