Hillary Clinton picked Tim Kaine to emphasize her message that she's the responsible choice, not Trump
Reporting from Miami —
In another election, Hillary Clinton might have been tempted to choose a different kind of running mate.
She could have fired up the party base with a staunch progressive, or reinforced her own historic candidacy with another woman or a Latino.
But this is no ordinary year. And Clinton's choice of Virginia Sen. Tim Kaine reflects how she is running against Donald Trump: Kaine will help her emphasize that she is the responsible candidate who belongs in the Oval Office, not the billionaire real estate magnate and reality TV star.
The Clinton-Kaine ticket debuted publicly Saturday at a large and boisterous rally before a diverse audience in Miami, two days before the start of the Democratic National Convention in Philadelphia.
In the nation's largest and most competitive battleground state, Clinton's new partner introduced himself to a national audience in both English and Spanish, sharing the experiences that shaped a life of public service in and out of elected office.
Clinton called her choice "everything Donald Trump and Mike Pence are not," someone who has fought discrimination and worked to expand opportunities for all he has served.
Amid criticism from some progressives that Kaine was too moderate, Clinton stressed her running mate's history as a civil rights lawyer and a campaigner against the National Rifle Assn., and said that Kaine was a "progressive who wants to get things done" like she does.
"He's not afraid to take on special interests," she said.
"Behind that smile, Tim has a backbone of steel. Just ask the NRA."
But more than anything, Clinton said there was "no doubt in my mind" that he was ready not only to serve as vice president, but president.
The pick comes at a key moment for Clinton, who since clinching the nomination, has struggled to articulate a vision for her candidacy without being overshadowed either by Trump's sagas or the controversy over her emails while she was secretary of State.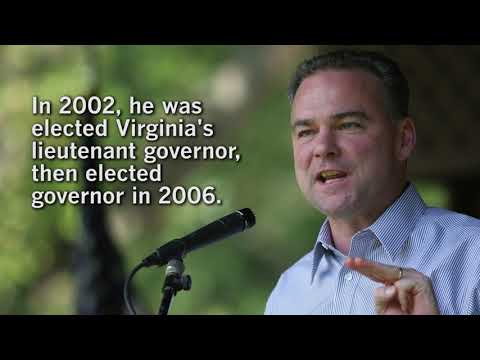 U.S. senator Tim Kaine has been picked by Hillary Clinton to be her vice presidential running mate in the 2016 election. 
On Saturday in Miami, much as she did the day before in Tampa, Fla., Clinton seemed to have been newly energized by the events of the past week. She offered a determined rebuttal to the nomination acceptance speech Trump had delivered days earlier at the Republican National Convention in remarks that ranged from feisty to sarcastic to, ultimately, even emotional.
"This is one of the most consequential elections in our lifetimes," she said.
"When someone says 'I alone can fix' " the nation's problems, she said, referring to one of the key lines in Trump's speech, "that should set off alarm bells, not just in Democrats' minds, but Republicans, independents, people of all ages. … That is not a democracy."
Kaine picked up the themes, talking about the experiences that have shaped his life, from his Kansas roots to his missionary work with Jesuit priests in Honduras, and later as a civil rights lawyer and ultimately an elected official.
He warmly praised naturalized citizens, gushed about his wife and kids, saying he was "the luckiest dad and the luckiest husband in the world," and described his early career battling housing discrimination.
"I like to fight for right," he said.
He also sought to address one of the biggest liabilities of the Democratic ticket, vouching for Clinton's trustworthiness as someone who "delivers" on her promises.
In recent weeks, Kaine had jokingly embraced "boring" as a label to describe himself. But in his national debut, he showed an ease and skill in campaigning that exceeded many people's expectations.
Multiple times, stories about his life elicited "awws" from the audience of more than 5,000 at Florida International University.
The chemistry between the two Democrats was evident from the start, building off an enthusiastic welcome from the crowd. Clinton watched admiringly throughout Kaine's remarks. He pumped his fists and waved around the stage as she delivered hers.
But the traditional role of a vice presidential candidate is to play attack dog. And Kaine showed no reluctance to do so, even if often with a smile.
He talked about his eldest son's service as a Marine, and the fact that he would soon be deploying to Europe, "to uphold America's commitment to our NATO allies" — a reference to Trump's recent comment that he might not defend NATO allies in the Baltic region if they were invaded by Russia.
Those in the armed services like his son "deserve a commander-in-chief with the experience and the temperament to lead," Kaine added. But Trump, he said, "repeatedly calls the American military a disaster."
"And just this week, Donald Trump said that as president, he'd consider turning America's back on our decades-old commitments to our allies,' he said.
"Folks, that's an open invitation to Vladimir Putin to just roll on in," he said. "Even a lot of Republicans say that is terribly dangerous."
It was an example of what former aides said was one of Kaine's strengths in politics: his ability to deliver an attack without the audience seeing it as one.
Aides say that against any other Republican, Clinton might have focused more on ideology in her campaign pitches and in her vice presidential choice, reprising familiar left vs. right, red vs. blue political arguments that have only hardened in the past decade.
But against Trump, Clinton has been driven by a more basic concern: who is ready and able to govern.
And so she has embraced her predilection toward substance over rhetorical flourish.
"I confess, it is true, I can be a little wonky," she said at a campaign rally in June. "But I have this old-fashioned idea. If you're running for president, you should say what you want to do and how you will get it done."
And in Kaine, Clinton found a like-minded partner. After they met twice this month for extended interviews about the position, Clinton would talk with her aides not about the potential political pluses and minuses he might bring, but about her belief that he was ready to do the job and was the best governing partner.
He does bring political assets, of course. He represents and has succeeded in a key swing state, and he helped to tilt it toward Democrats. His fluency in Spanish will be a benefit as Clinton appeals to a growing Latino constituency.
There were reasons to look in another direction. Progressive groups in particular have raised concern about Kaine's support for a major Pacific rim trade deal, and more recently, his advocacy for some revisions in new banking regulations.
But the campaign is already downplaying the objections of what it says is a vocal but non-representative minority in the party and touting support for the choice from a who's who of leaders of Democratic constituency groups, including educators, labor, women's and abortion rights groups.
Saturday, that list of endorsers included President Obama, who called Kaine a "progressive fighter."
Being president requires "surrounding yourself with the best possible people. And there's no more important decision you'll make as a presidential candidate than choosing a vice president," Obama wrote in a fundraising email to supporters.
For more 2016 campaign coverage, follow @mikememoli on Twitter
ALSO:
Trump paints a grim portrait of the U.S. and casts himself as its only savior in GOP acceptance speech
Analysis Trump aims at voters he already has, betting they will give him a November win
Donald Trump's complete convention speech, annotated
Opinion: Liberal Democrats should stop whining about Clinton's VP pick
---
UPDATES:
12:40 p.m.: This article was updated with details from the Clinton-Kaine rally in Miami.
The article was originally published at 3 a.m.
Get our Essential Politics newsletter
The latest news, analysis and insights from our politics team.
You may occasionally receive promotional content from the Los Angeles Times.