The short list: Hillary Clinton's top prospects for vice president
Donald Trump on Friday chose Indiana Gov. Mike Pence as running mate for his presidential campaign, days ahead of the Republican National Convention in Cleveland.
Donald Trump says he has chosen Mike Pence as his running mate »
Now, Democratic candidate Hillary Clinton is expected to do the same before July 25, when the party will convene in Philadelphia. Here are some of her top contenders for vice president:
Tim Kaine | Elizabeth Warren | Sherrod Brown | Julián Castro | Cory Booker | Tom Perez
---
Tim Kaine
U.S. senator, Virginia
Age: 58
Background: Tim Kaine is Virginia's junior senator, elected in 2012, and previously served as the state's governor and the mayor of its capital, Richmond. Kaine served as Democratic National Committee chairman for two years, and was on President Obama's shortlist for running mate in 2008.
Advantages/Disadvantages: Republicans need to win Virginia, and Kaine's presence on the ticket could help keep the state in the Democrats' column in November. Clinton may be facing pressure not to pick a white man as her running mate, but Kaine's resume could mitigate some of the pressure: He is a fluent Spanish speaker with blue-collar roots and focused his law practice on housing discrimination. He also has strong ties to party leaders and donors across the nation because of his stint as DNC chairman. But he is a centrist, potentially alienating Bernie Sanders' supporters. And he can be dull.
SIGN UP for our free Essential Politics newsletter »
---
Elizabeth Warren
U.S. senator, Massachusetts
Age: 67
Background: In less than four years in the Senate, Warren has established herself as one of the American left's most popular leaders, on a par with Vermont Sen. Bernie Sanders. A former law professor, Warren advised President Obama on setting up the Consumer Financial Protection Bureau in the aftermath of the 2008 economic crash. In 2012, Warren ousted Republican Sen. Scott Brown, then quickly built a huge national following with her unabashed advocacy of liberal causes, from fighting Wall Street abuses to cutting the cost of a college education.
Advantages/Disadvantages: Warren has strong potential to mobilize Sanders voters who have resisted Clinton's candidacy. The historic nature of an all-female ticket could enhance Clinton's prospects. Warren has relished taking on Trump, mocking him with apparent glee. But with loyal Democrats already strongly motivated to vote against Trump, Clinton could be better served by a running mate more appealing to moderate swing voters. It's also unclear how the outspoken Warren would adapt to the subservient role of vice president.
---
Sherrod Brown
U.S. senator, Ohio
Age: 63
Background: Brown served in the House from 1993 until his election to the Senate in 2006. He is known for his opposition to free trade deals and helped rally Republicans and Democrats against NAFTA in 1993.
Advantages/Disadvantages: Clinton gets along well with Brown, and Ohio will be a critical battleground state in November. Brown is also popular among the blue-collar voters whom Trump is trying to pull into his column. But if Clinton taps Brown as her running mate and they are elected, the Democrats will lose a member in the Senate because Ohio's Republican governor will get to pick Brown's temporary replacement. Brown is also a career politician known for having a sharp temper. He would not bolster Clinton's hopes of attracting moderate Republicans who do not support Trump.
---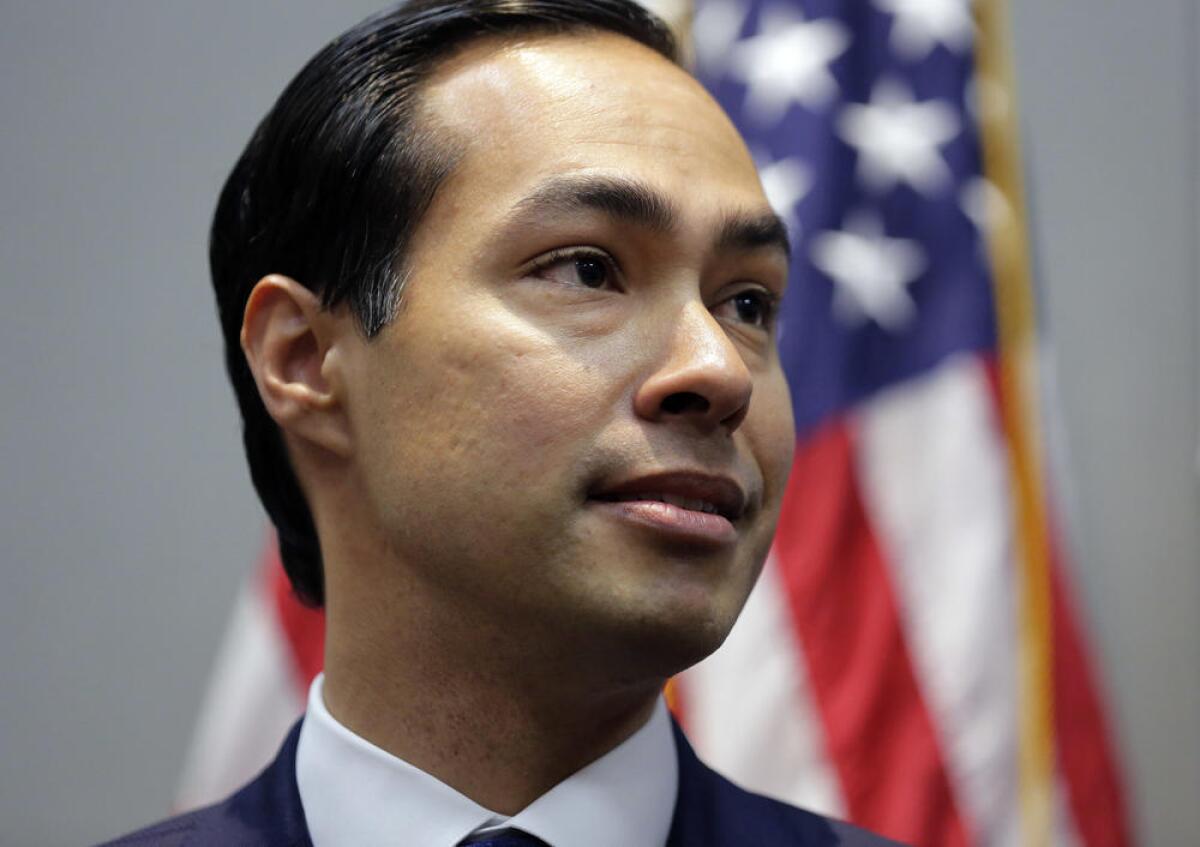 Julián Castro
U.S. secretary of Housing and Urban Development
Age: 41
Background: The former mayor of San Antonio has served two years as President Obama's HUD secretary. The identical twin of a Texas congressman, Joaquín Castro, he worked as a White House intern when Bill Clinton was president. Castro is a lawyer by training. He gained national attention with his keynote speech at the 2012 Democratic national convention in Charlotte
Advantages/Disadvantages: Castro could help Clinton secure Latino support in three battleground states: Nevada, Colorado and Florida. His youth and charisma could prove to be an asset to Clinton, who is 68. But his limited experience in federal affairs could be troublesome. And Trump has already so thoroughly alienated Latinos that it's unclear that Clinton needs help from her running mate to expand her support in that community.
---
Cory Booker
U.S. senator, New Jersey
Age: 47
Background: Cory Booker has represented New Jersey in the Senate since 2013. He was previously the high-profile mayor of Newark, N.J., known for his lively Twitter feed and on-the-ground work with constituents. He shoveled snow for residents and once ran into a fire to save a woman. Booker developed a national political profile with frequent appearances in the media. He is socially liberal but displays some centrist tendencies, such as supporting education reform and defending private equity.
Advantages/Disadvantages: Booker is young and African-American, adding diversity to the ticket. He is dynamic on the stump, a fluent Spanish speaker and a cheerful attack dog who appeals to the coalition of voters who turned out in record numbers to put Obama in the White House in 2008. Booker's approach to crime and economic revitalization could help neutralize what some see as the criminal justice failures of Bill Clinton's administration.
He does nothing for Clinton geographically since New Jersey is safely in Democratic hands. If Clinton taps Booker as her running mate and they are elected, the Democrats will lose a member in the Senate because New Jersey's Republican governor will get to pick Booker's temporary replacement.
---
Tom Perez
U.S. secretary of Labor
Age: 54
Background: The son of Dominican immigrants, Perez is a former federal prosecutor who was deputy assistant attorney general for civil rights when Bill Clinton was president. Perez later served as Maryland's labor secretary. In 2009, President Obama named him assistant attorney general for civil rights. Four years later, Obama promoted Perez to the Cabinet, appointing him as labor secretary.
Advantages/Disadvantages: Perez has close ties with organized labor, a major base of support for Clinton. He could help Clinton win Latino support in key battleground states, but that's not necessarily a top priority in a campaign against a Republican who is deeply unpopular among Latinos.
---
ALSO
Why the Republican and Democratic platforms are as consequential as they are unwieldy and arcane
New polls show Trump-Clinton race tightening
The public feud of Ginsburg vs. Trump casts harsh spotlight on court's liberal lion
Get our Essential Politics newsletter
The latest news, analysis and insights from our politics team.
You may occasionally receive promotional content from the Los Angeles Times.