Are you a DACA participant? Tell us what you think of Trump's decision to end the program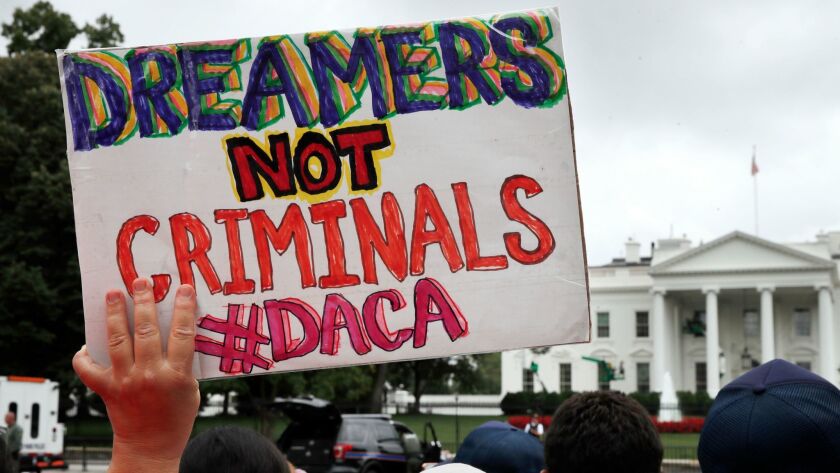 Donald Trump's decision to end the Deferred Action for Childhood Arrivals program, better known as DACA, comes after months of will-he-or-won't-he speculation.
The Obama-era program has protected more than 790,000 immigrants from deportation, many who define themselves as "dreamers." On the campaign trail, Trump insisted that he would end DACA, but his stance has been less rigid since he became president. On Monday, the Trump administration announced plans to start phasing out the program in March, unless Congress takes action before.
Are you a DACA participant? We'd like to know how you feel about President Trump's decision to end the DACA program. What impact has DACA had on your life? Do you have concerns with the program ending? Call or text us at 951-39-HeyLA (951-394-3952) and share your experience. Tell us how long you've been part of the program and what your status is now. Be sure to include your first and last name, city and state and age.
A note: By leaving us a message, you're giving the Los Angeles Times permission to edit and publish your response, including your voice, on any platform. Thanks for your time.
Questions about this project? Email colleen.shalby@latimes.com or tweet @cshalby.
ALSO:
For me, being Latino means living between two worlds
Will Trump dump DACA? California schools brace for news
---
Get our Essential Politics newsletter
The latest news, analysis and insights from our politics teams from Sacramento to D.C.
You may occasionally receive promotional content from the Los Angeles Times.