The black vote is key in Georgia's House race — but can Democrats energize it?
Reporting from DORAVILLE, GA. —
As Democrats seek to win the hotly contested House race in this longtime GOP stronghold, one of their toughest and most urgent challenges has become energizing black voters who have gone lukewarm on the party nationally.
Even in a race where Democrats have more money to spend than in any House race in history, they are struggling to get black voters in this rapidly diversifying district to turn out in the numbers they did when President Obama was on the ballot.
Their candidate, Jon Ossoff, fell just shy of winning the race outright during a special election in April, when the district's voters exhibited enthusiasm for a Democrat not seen in decades.
But flat turnout among African Americans ultimately played big in pushing Ossoff into a runoff next week for the seat vacated by the new Health and Human Services secretary, Tom Price.
Now the Ossoff campaign, the Democratic Party and other groups are scrambling to engage with black voters, who make up 13% of the district's electorate. The effort is being watched nationally as Democrats navigate how to reconnect with skeptical African American voters in Georgia and nationally.
"African American voters are really frustrated with the party," said Democratic pollster Cornell Belcher, who worked on Obama's campaigns and recently conducted a survey of African American voter attitudes for the Congressional Black Caucus. "A majority of African Americans nationally thinks the party takes them for granted. And a majority thinks the party doesn't even try to win their votes."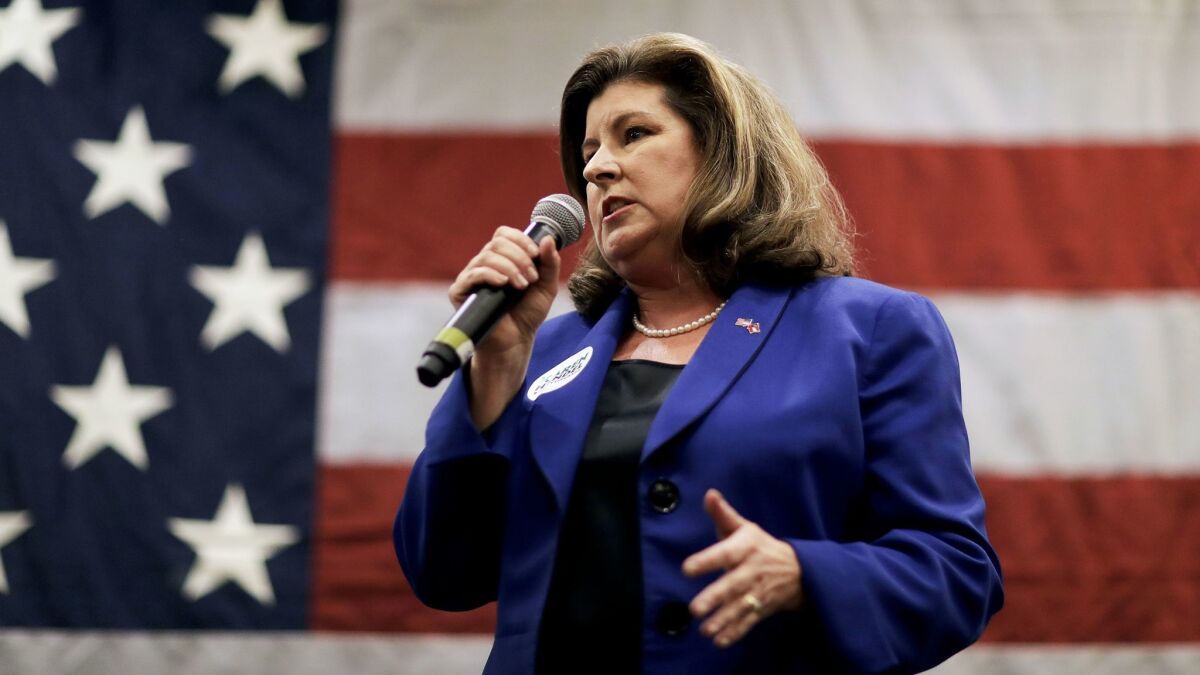 Democrats see big opportunity in this congressional district that has long favored establishment Republicans but which Trump barely won. Yet the demographics here and in similar potential swing districts throughout the sunbelt make politicking complicated. Ossoff has limited his use of the type of identity politics Democrats have long relied on to connect with minority voters, targeting much of his message at white suburban women.
But strategists like Belcher say the message is not the problem at a time when African Americans are just as concerned about the core issues of healthcare and economic insecurity as other voters; it's that Democrats need to do more to bring the message to them.
"The Democratic Party is trying to get these voters on the cheap, and it is not going to work," Belcher said. "These voters need to be persuaded."
The runoff, in which Ossoff faces former Georgia Secretary of State Karen Handel, a Republican, has become a laboratory for how that persuasion could take shape. An abundance of cash is flooding into the district from progressive donors eager to snatch a seat held by Price and, before him, former House Speaker Newt Gingrich. A sizable chunk of the money is being used to connect face-to-face — often multiple times — with every possible black resident who might vote Democratic.
"This is going to be a learning opportunity of what tactics are going to be the best going forward," said Andra Gillespie, a professor of political science at Emory University in Atlanta. "Both parties are going to see not just what types messages work, but what contacting strategies are optimal and scalable for the 2018 midterms."
Gillespie said Ossoff's endorsement from civil rights icon John Lewis, a congressman from Atlanta, and the saturation of television and radio airwaves with advertisements targeting black voters — including ads featuring Lewis — go only so far in driving up the black vote.
"You've got to do the hard work of going out and asking them to vote," she said. That work was easier when Obama was on the ballot, which in itself lured people to the polls, Gillespie said.
The Democratic National Committee is bankrolling an effort by the state party to knock on the doors of minority voters who did not vote in April. It has 10 operatives hitting the pavement every day. "For many of these voters, this is the first time they have had a conversation with an organizer," said Chrystian Wood, the director of organizing and outreach for the state party.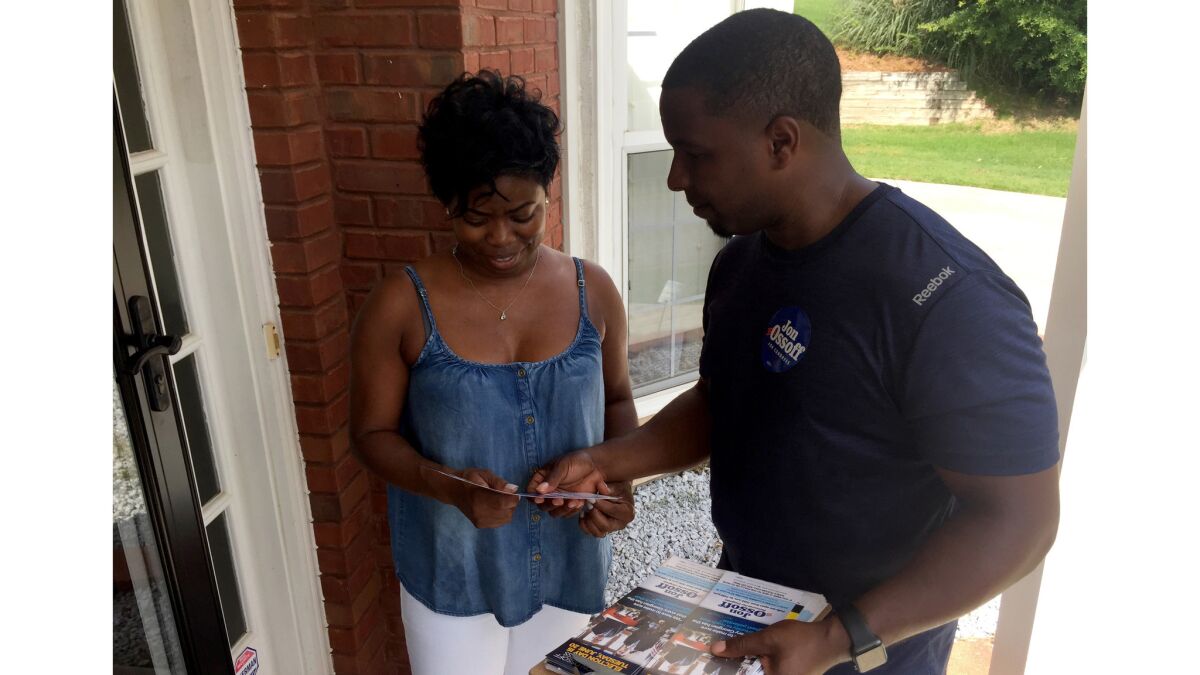 The Ossoff campaign hired more of its own organizers to reach out to black voters, including Donald Jumper, a political operative in Atlanta who says he can relate to frustrations with the party expressed by fellow African Americans.
"I understand some of how they are feeling," Jumper said, while slogging through a hilly residential neighborhood in the intense heat, knocking on doors. He aims for 100 doors a day. "People need to be talked to by someone they can identify with. I try to communicate with them that nothing will happen if they are not voting at all."
Often, he gets an earful.
"African Americans are passionate, but if you don't engage us, you are going to lose us," said Charmetria Johnson, 44, a salon owner from Marietta approached by Jumper on his canvassing rounds.
Several miles away in the community of Doraville, a separate group of canvassers with a nonprofit called the New Georgia Project was also working to drive up minority turnout in the district. The group is aiming to create "supervoters" — people who won't just cast a ballot next week and be done with it, but who stay engaged. The group follows up with texts and emails on the issues and elections most likely to interest each individual. It holds boot camps on political engagement. This week, canvassers were giving out Uber coupons voters could use to get a free ride to the polls.
"A lot of people we talk to did not even know there was an election," said Roderick Smith, one of the canvassers. When he approaches voters, they might talk about mistreatment by the police or other civil rights concerns, which are not a central focus of the congressional campaign. But they frequently will talk about healthcare, which is.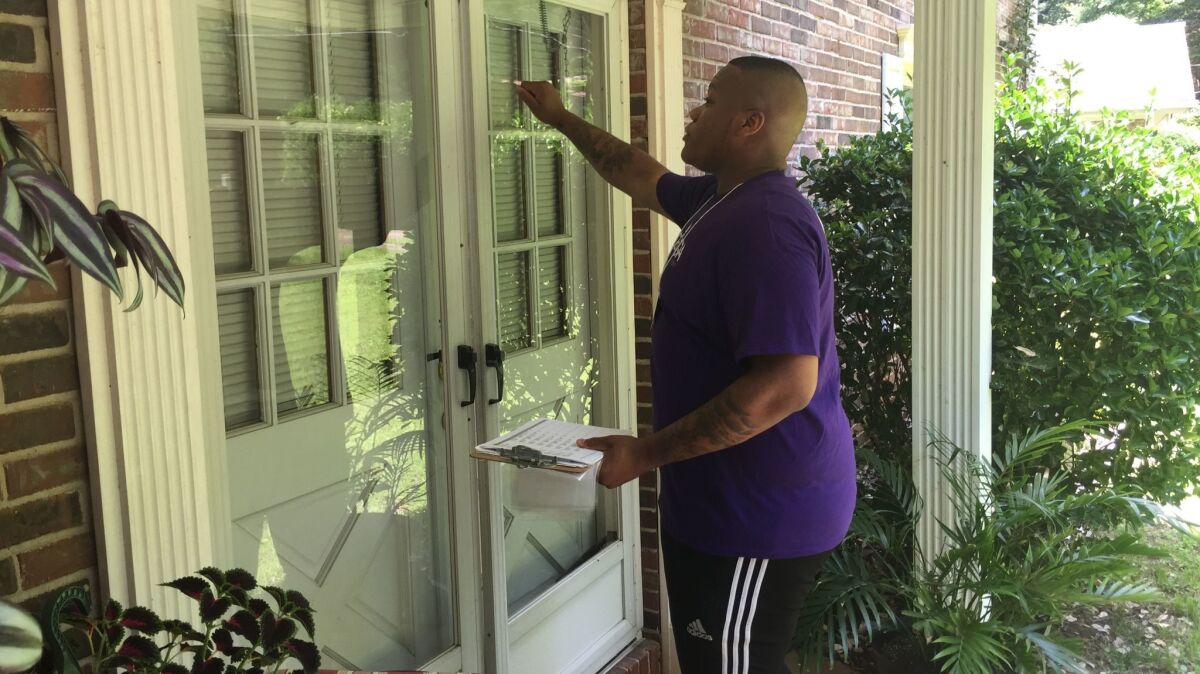 The issue came up over and over during an afternoon of canvassing with New Georgia and the campaign. "I don't want to have to go back to work for healthcare," said Phyllis Levert, a 62-year-old retired school administrator. "What we are trying to do is survive and just get the basics."
New Georgia Executive Director Nse Ufot said the Ossoff campaign could have driven many more African Americans to the polls in April had it connected with them on his vow to protect Obamacare, an issue central to the campaign — and to the lives of black voters in the district.
"The Ossoff campaign is learning from that tactical error," she said. "High-information voters are created.… I don't know what they would have had to lose by prioritizing voters of color earlier."
It's a concern being debated far beyond Georgia, as the Democratic Party grapples with where to devote its resources, and many of the black voters it has long relied on are feeling neglected.
"We are spending the vast majority of our dollars chasing a shrinking, increasingly resistant, mythical swing vote as opposed to trying to hold onto the majority coalition that voted for us in 2008 and 2012," Belcher said. "I would argue that is a mistake."
Follow me: @evanhalper
ALSO
Republicans force a June runoff in House race seen as referendum on President Trump
Civil rights groups challenge registration deadline in Georgia House race
Polls close in close-fought Georgia House race seen as test of Trump
---
Life is stressful. Our weekly mental wellness newsletter can help.
You may occasionally receive promotional content from the Los Angeles Times.