Giuliani says Trump repaid money given to Stormy Daniels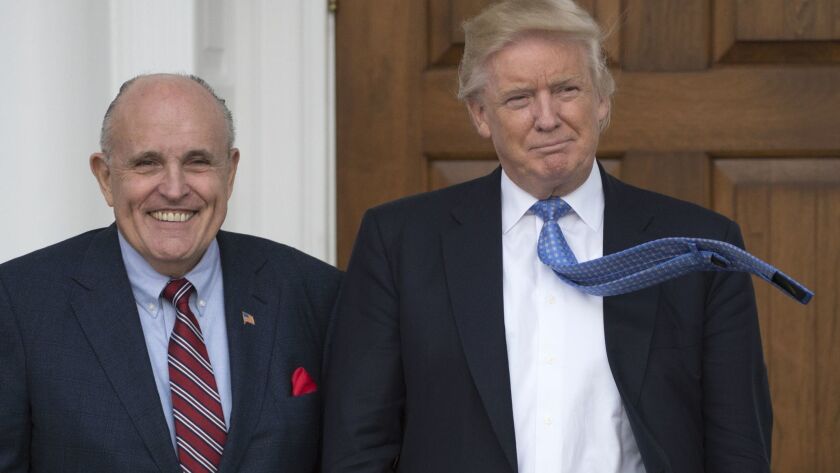 Rudolph W. Giuliani, the former New York mayor and a recent addition to President Trump's legal team, said Wednesday night that Trump made a series of payments reimbursing his attorney, Michael Cohen, for a $130,000 settlement with an adult-film actress — appearing to contradict Trump's assertion last month that he was unaware of the payment.
"The president repaid it,'' Giuliani told Fox News' Sean Hannity.
Trump "didn't know about the specifics of it, as far as I know. But he did know the general arrangement, that Michael would take care of things like this, like I take care of things like this with my clients," Giuliani said. "I don't burden them with every single thing that comes along. These are busy people.''
Giuliani argued that the payment to actress Stormy Daniels could not have violated campaign finance laws because no campaign money was involved.
Larry Noble, general counsel for the nonpartisan Campaign Legal Center, said Giuliani's statements do not end the questions about possible campaign finance violations — and in fact could point to further concerns.
"What is surprising is that Trump recently said he knew nothing about the payment. Now, Giuliani is trying to get the stories in sync, but this still leaves several potential violations," Noble said. "The timing of the payment is still strong evidence of it being campaign related. And the fact that Trump paid Cohen back strengthens that argument."
Giuliani's remarks raise the question of whether Trump misrepresented his knowledge of the arrangement.
Last month, a reporter on Air Force One pressed Trump about the payment, asking him, "Did you know about the $130,000 payment to Stormy Daniels?"
Trump responded, "No."
The reporter then asked, "Then why did Michael Cohen make [the payment], if there was no truth to her allegations?"
"You'll have to ask Michael Cohen," Trump said. "Michael's my attorney, and you'll have to ask Michael."
Another reporter asked the president, "Do you know where he got the money to make that payment?"
"No," Trump said. "I don't know."
On Wednesday night, Giuliani said Trump repaid Cohen through a series of payments over a period of months, but didn't specify when they occurred.
Cohen has said he arranged the financing of the settlement with Daniels through his home-equity line of credit. In a statement earlier this year, he did not mention any role by Trump.
"Neither the Trump Organization nor the Trump campaign was a party to the transaction with Ms. Clifford, and neither reimbursed me for the payment, either directly or indirectly," Cohen said, using Daniels' real name, Stephanie Clifford.
Federal prosecutors in New York are investigating Cohen's business practices, including whether there were any crimes committed as part of a possible pattern or strategy of buying the silence of people who could offer accounts in 2016 that could have damaged Trump's candidacy, according to people familiar with the probe.
Daniels sued Trump in early March, seeking to void the deal she signed shortly before the 2016 election. That suit also named Essential Consultants, a company that Cohen set up as a vehicle for the $130,000 payment.
Michael Avenatti, an attorney for Daniels, said Giuliani's comments suggested campaign finance violations and possibly bank fraud and money laundering.
"According to Mr. Giuliani, Mr. Trump and Mr. Cohen were co-conspirators in a felony," he said. "Now it is time for justice to be served, and we intend to serve it."
Trump's attorney in the Daniels case, Charles Harder, did not respond immediately late Wednesday to a request for comment.
On Fox News, Giuliani appeared surprised to learn that Cohen has said he made the payment to Daniels on his own.
"He did? Look, I don't know, I haven't investigated that, no reason to dispute that, no reason to dispute his recollection," he said. "I like Michael a lot, you like Michael a lot. I feel very bad he's been victimized by this. The president feels even worse. The fact is, just trust me, they're going to come up with no violations there. The payments are perfectly legal."
Giuliani also offered new rationale for why Trump fired then-FBI Director James B. Comey in May 2017, saying the president was justified in removing Comey because Comey would not publicly say that the president was not under investigation as part of the FBI's probe of Russian election interference.
"He fired Comey because Comey would not, among other things, say that he wasn't a target of the investigation," Giuliani said. "He's entitled to that. Hillary Clinton got that, and he couldn't get that. So he fired him, and he said, 'I'm free of this guy.' "
---
UPDATES:
8:25 p.m.: Updated with Washington Post reporting.
The article was first published at 7:45 p.m.
---
Get our Essential Politics newsletter
The latest news, analysis and insights from our politics teams from Sacramento to D.C.
You may occasionally receive promotional content from the Los Angeles Times.