Giuliani says Trump 'probably' has power to self-pardon but wouldn't use it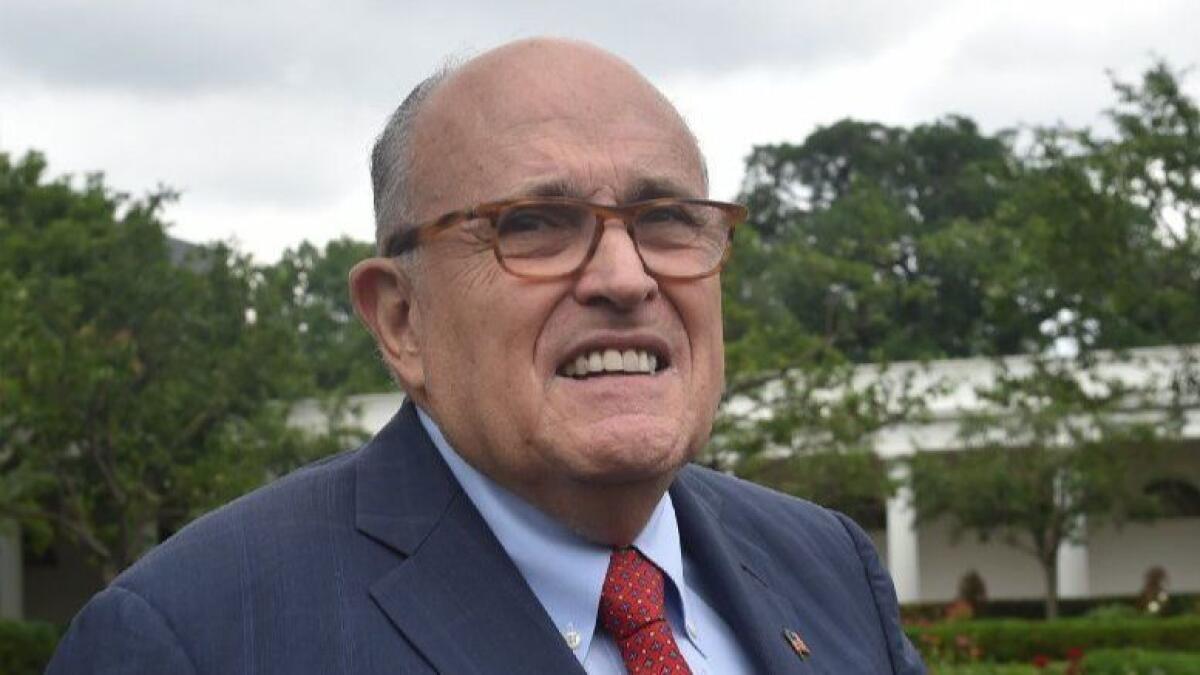 Reporting from Washington —
President Trump probably has authority under the Constitution to pardon himself, his lawyer Rudy Giuliani asserted Sunday, but he said the president will not do so as he fights a special counsel investigation into Russian meddling in the 2016 election and whether Trump obstructed justice.
Questions about the scope of Trump's executive powers have intensified with the disclosure this weekend of a 20-page letter that the president's former legal team sent to special counsel Robert S. Mueller III in January.
The letter, which was first disclosed by the New York Times, claims the president has unchecked authority over federal investigations and could legally act to end them or "even exercise his power to pardon."
Democrats have reacted with incredulity to the argument laid out in the letter, likening it to Richard Nixon's infamous assertion in 1977 — three years after he resigned the presidency to avoid impeachment — that if the president does something, it can't be illegal.
"The President's legal arguments would render whole sections of the Constitution moot, and allow a president to engage in any form of criminality and obstruct an investigation into his own wrongdoing," Rep. Adam B. Schiff, (D-Burbank) the ranking member of the House Intelligence Committee, tweeted on Saturday. "Nobody is above the law. Not this President. Not any president."
Giuliani, who recently joined Trump's legal team as his personal attorney, defended the letter Sunday on ABC's "This Week," including its suggestion that Trump has the power to self-pardon if he is in legal jeopardy.
"He probably does," said Giuliani, who has taken a more combative public stance toward the Mueller investigation than Trump's former lawyers. "He has no intention of pardoning himself, but that doesn't say he can't."
The former New York City mayor said the "political ramifications" of the president pardoning himself "would be tough." He outlined the political danger later on NBC's "Meet the Press," saying a presidential self-pardon "would probably lead to immediate impeachment."
Courts have never ruled on the issue, but most legal scholars challenge the notion that presidential powers extend that far under Article II of the Constitution, which creates the executive branch.
The question took on added scrutiny last week when Trump ignored the traditional Justice Department review process and abruptly granted a full pardon to Dinesh D'Souza, a provocative conservative author and filmmaker who pleaded guilty to violating federal campaign finance laws in 2014.
Trump said he also is considering pardoning TV personality and lifestyle mogul Martha Stewart, and pardoning or commuting the sentence of the former governor of Illinois, Rod Blagojevich. Both were stars with Trump on NBC's "The Apprentice" franchise.
Stewart was convicted in an insider trading case in 2004. Blagojevich was convicted in 2011 of corruption.
Since the clemency would involve convictions for obstruction of justice, lying to federal investigators or corruption, critics saw Trump's moves as a signal to former aides facing jail time or potential prosecution.
Four former members of his campaign or administration have pleaded guilty so far but have not been sentenced. Trump's former campaign manager Paul Manafort has pleaded not guilty to nearly two dozen charges and is scheduled to go on trial next month in northern Virginia.
Giuliani's comments came against a backdrop of intensifying efforts by the president and his aides to discredit the Mueller team and the role of federal law enforcement in the Russia investigation.
On Saturday, Trump took to Twitter to dismiss the Mueller probe as a "scam investigation" and again denied any collusion with Russia by his campaign. "When will this very expensive Witch Hunt Hoax ever end? So bad for our Country," he tweeted.
On Sunday, he distanced himself from Manafort, a veteran Republican operative who led Trump's campaign during a crucial period in mid-2016, including at the Republican National Convention where Trump was formally nominated. Manafort "came into the campaign very late and was with us for a short period of time," Trump tweeted.
In his talk show appearances, Giuliani repeated his assertion that the president's lawyers would wage a court fight rather than obey a subpoena to force Trump to testify to a grand jury in the Mueller probe. A court battle almost certainly would last months, extending through the November elections, and could end up at the Supreme Court.
Trump may agree to a voluntary interview, but only under agreed-upon terms, the president's lawyer said.
"I mean, we're leaning toward not," Giuliani said. "But look, if they can convince us that it will be brief, it would be to the point, there were five or six points they have to clarify, and with that, we can get this — this long nightmare for the — for the American public over."
Giuliani also argued that if Trump sits down with Mueller's team, any inconsistencies with his previous statements or the record would result from innocent confusion, not malfeasance.
"This is the reason you don't let the president testify," Giuliani said. "Our recollection keeps changing, or we're not even asked a question, and somebody makes an assumption."
Even so, he said Trump wants to tell his side of the story. "The president wants to testify," he said. "He believes he's innocent. I believe he's innocent."
Rep. Will Hurd (R-Texas), a member of the House Intelligence Committee, which has confirmed Russian interference in the campaign, urged Trump on CBS' "Face the Nation" not to try to block the Mueller investigation.
"If you're innocent, act like you're innocent," Hurd said. "Bob Mueller should be allowed to continue his investigation and turn over any stone and pursue any lead."
Get our Essential Politics newsletter
The latest news, analysis and insights from our politics team.
You may occasionally receive promotional content from the Los Angeles Times.