House Democrats plan vote to reopen the government — with no border wall money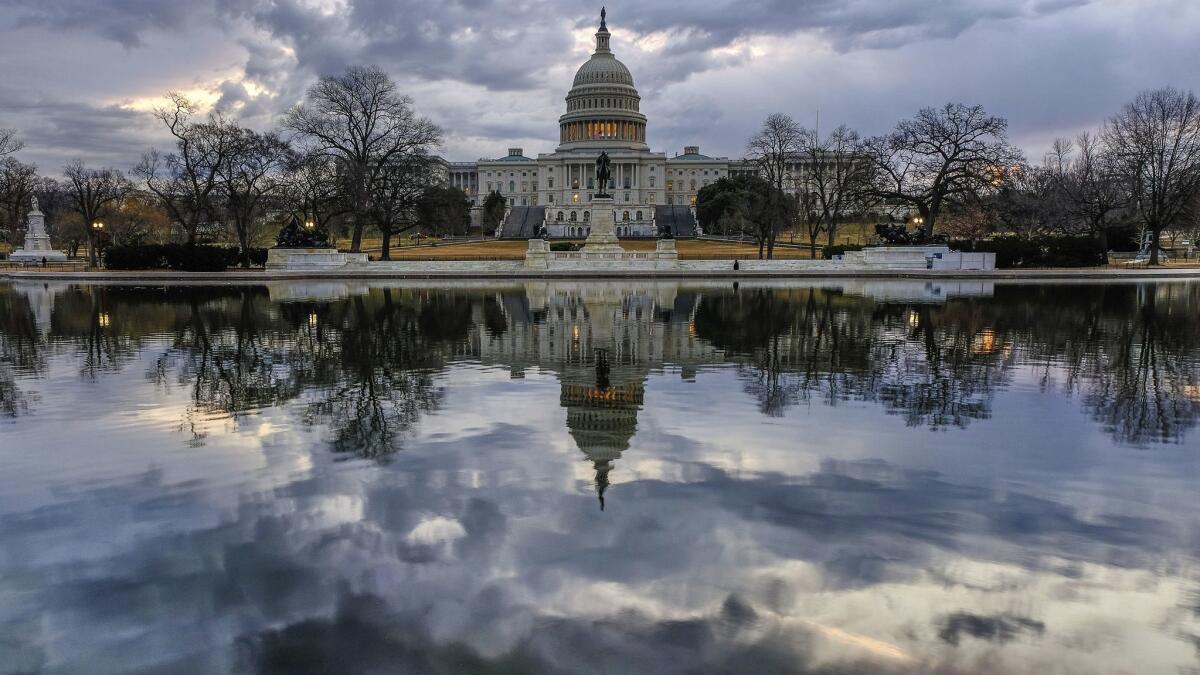 Reporting from Washington —
House Democrats will vote to reopen all the shuttered parts of the federal government when they take control of the chamber on Thursday, a senior aide said Monday.
But their bills will not provide any money for President Trump's border wall, meaning the government shutdown that began before Christmas is likely to continue.
Democratic leaders will vote on two bills, the aide said. One would fund all the closed agencies except Homeland Security until the fiscal year ends in September. The other would fund Homeland Security until Feb. 8, reopening the department while negotiations continue.
Senate Majority Leader Mitch McConnell (R-Ky.) has vowed not to bring up a spending bill for Senate consideration unless it has the support of Trump. The president had previously said he would not sign a bill to reopen government unless it included $5 billion for a wall at the southern border, but in recent days the administration appears to be softening on the amount.
The stopgap funding for the Homeland Security department would not provide money for the wall, but would extend the department's authority to spend the $1.3 billion approved in the last budget for border security. Under that authorization, no money can be spent for a wall.
Democrats' plan is similar to what the Senate passed unanimously in mid-December in an attempt to avoid the shutdown, and incoming House Speaker Nancy Pelosi (D-San Francisco) and Senate Minority Leader Charles E. Schumer (D-N.Y.) said in a statement that "it would be the height of irresponsibility and political cynicism for Senate Republicans to now reject the same legislation they have already supported."
Part of the government closed Dec. 21 when Congress and Trump could not agree on a spending package. Senate appropriators had previously agreed on $1.6 billion in border security funding — the amount initially requested by the administration, which permitted some fencing, but no wall. The House approved a bill providing the $5 billion in wall funding sought by Trump after he raised objections to the smaller amount.
Representatives and senators left Washington for the holidays shortly after the shutdown began, and there has been little negotiation since. The new Congress is sworn in Thursday.
The president initially said he would take responsibility for the shutdown, but has since tried to lay the blame on Democrats for not agreeing to funding for the wall.
The departments or agencies that closed are the departments of Homeland Security, State, Agriculture, Commerce, Housing and Urban Development, Interior, Justice and Transportation, as well as independent agencies including NASA, the Food and Drug Administration and the Environmental Protection Agency.
The partial shutdown affects about 800,000 federal employees, many of whom are not expected to receive a paycheck while their agencies are closed.
More stories from Sarah D. Wire »
Twitter: @sarahdwire
Get our Essential Politics newsletter
The latest news, analysis and insights from our politics team.
You may occasionally receive promotional content from the Los Angeles Times.