California's big, but South Carolina may be key in Kamala Harris' presidential run
Reporting from Columbia, S.C. —
For Kamala Harris, the road to the White House began amid the sequins, satin gowns and crystal chandeliers of a ballroom in the capital city of South Carolina.
The California senator made her debut on the presidential campaign trail Friday night before 3,700 partygoers at the city's annual Pink Ice Gala.
It was no coincidence Harris chose this state to make her initial appearance. Nor was the locale an accident: the annual bash thrown by Alpha Kappa Alpha, the nation's first sorority founded by African Americans, which Harris pledged as a student at Howard University.
Few states are being as closely studied, sized up and sifted through by the senator's campaign as South Carolina, which has a crucial early place on the 2020 calendar.
South Carolina played a vital role propelling Barack Obama to the White House in 2008, boosting him past Hillary Clinton. The state and its large African American population hold similar promise for Harris, whose parents were immigrants: her father from Jamaica, her mother from India.
South Carolina may be a conservative stronghold. But the Democratic primary electorate is mostly black, serving as a political bellwether for much of the South, where Harris' stature as the first viable black female presidential candidate could position her uniquely well. The party is looking for fresh faces, and the turnout of black women has historically been among the highest of any voter group.
Harris' strategy for winning the Democratic nomination depends heavily on a big win in South Carolina — which is the fourth state to vote, after Iowa, New Hampshire and Nevada. Victory in the state's primary at the end of February 2020 could serve as a springboard into the coast-to-coast balloting that takes place three days later, including in California.
Her remarks Friday night were brief and largely apolitical. (Harris plans a splashy kickoff rally Sunday in her hometown of Oakland.)
"When we look at where we are at this moment in the history of this country, I think our founders gave us the right charge," the senator said of the 111-year-old sorority's community service mission. "We are all here because we stand on other people's shoulders. My mother taught us long ago, she would say to me, 'Kamala, you may be the first to do many things, but make sure you are not the last.' "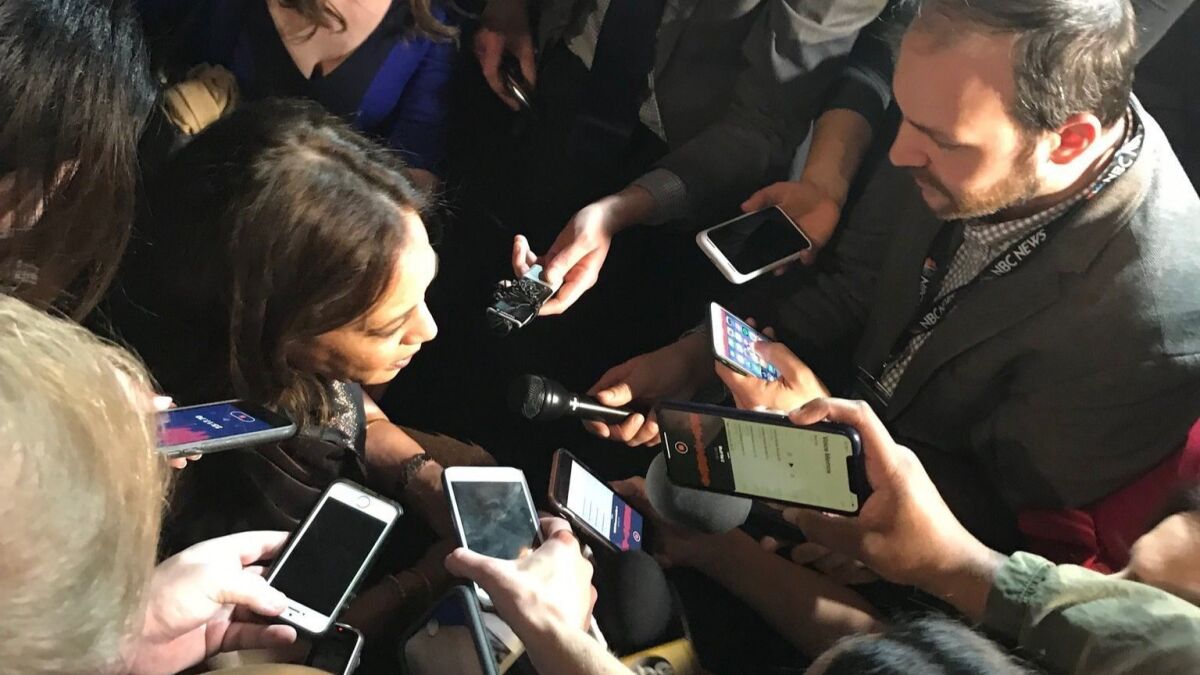 Harris, 54, spoke for just three minutes and exited the stage to a swarm of fans eager for selfies.
"Anybody who brings a different perspective to our world is worth being excited about," said Marchele Garrett, a 45-year-old diversity officer. "She is female. She is biracial. She is a dynamic civic leader. But she is also an amazing community service advocate. All that into one, versus what we currently have right now, is amazing."
But for every admirer like Garrett, there were some in the crowd who said they want to hear more from Harris, signaling the challenge ahead. Voters here take pride in intensely scrutinizing candidates, and alliances can shift quickly.
"Sen. Harris has an advantage, but it would be a mistake for her campaign to assume that advantage will take her across the finish line," said Gilda Cobb-Hunter, a member of the Democratic National Committee and a state representative from Orangeburg, where more than three-quarters of residents are black. "She will need to work just like all the other candidates."
African Americans are among the most motivated voters in the country when it comes to ejecting President Trump from office, and influential South Carolina Democrats said repeatedly in interviews that electability will eclipse identity politics when primary ballots are cast.
"Someone's mama could be running and people wouldn't vote for her if they didn't think she could beat Donald Trump," said Todd Rutherford, a Columbia lawmaker who leads Democrats in the state House of Representatives.
Someone's mama could be running and people wouldn't vote for her if they didn't think she could beat Donald Trump.
— Todd Rutherford, leader of the Democrats in the South Carolina House of Representatives
It didn't take long for Harris to experience the brutal and often harshly personal nature of campaigns here in a state long known for intense, sometimes vicious, politics. Soon after she used a Martin Luther King Jr. Day appearance on ABC's "Good Morning America" to announce her candidacy, a former head of the state's black legislative caucus issued a statement calling Harris disrespectful.
"Most people in South Carolina who take pride in that day found it offensive that she chose it to make her announcement," said the lawmaker, Rep. John King of Rock Hill. Harris allies said King's characterization of voter reaction to the launch was off base.
Despite his sharp criticism, King said he may ultimately endorse the California senator, but he argued she has a steeper hill to climb with African Americans than her campaign may realize. He pointed to his activist niece at historically black Spelman College in Atlanta, who vowed Harris won't get her vote because of the rate at which she incarcerated black men as chief prosecutor in San Francisco and as California's attorney general.
King also brought up whispers he said he's heard about black voters in some Deep South communities being uncomfortable with Harris' being married to a white man, Los Angeles attorney Douglas Emhoff.
"It doesn't bother me, and would not stop me from endorsing her," King said. "But even if this is not an issue in some parts of the country, you are dealing with South Carolina."
Harris strategists said they don't fret over the possibility voters here won't consider her liberal enough or black enough to support. Ian Sams, a spokesman, defended Harris' criminal justice record and said she looked forward to discussing it with voters.
Most South Carolina politicians and Democratic activists are officially neutral at this early stage, but many also have relationships with two other potential candidates expected to perform well here, should they run: Sen. Cory Booker of New Jersey, who is African American, and former Vice President Joe Biden, who has long-standing relations with many of the state's party leaders.
One early phone call many top-tier Democrats make when considering a presidential run is to Majority Whip James E. Clyburn, the most prominent Democrat in South Carolina.
Clyburn said in an interview that he tells them all that the state, with its inexpensive media markets and cultural and economic diversity, is a great laboratory for testing ideas with different subsets of voters. Candidates might go upstate to Spartanburg to get a taste for campaigning in a manufacturing base, he tells them, or to Florence to see how their message might play in an agricultural community, or to Charleston to develop a pitch to urban voters.
But where candidates often misstep, he said, is in assuming there is a formula to winning the black vote, which is too big and diverse to neatly categorize.
"My background and my experiences are different than even my own wife's," Clyburn said. "You have to be yourself and get to know who these voters are. People sometimes try to do it the other way, and it ends up being a big downer for them."
Harris' strategy here could be complicated if Biden enters the race. The former vice president has deep ties to the state, and conversations with activists suggest those bonds haven't frayed.
"The question people will have is whether [Harris] can win Pennsylvania, Ohio, Michigan and Wisconsin in a race with Trump," said Dick Harpootlian, a white state senator and former state Democratic Party chairman who is dubious and hopes Biden runs.
"There's a sense of pragmatism I have not seen within the Democratic electorate in a long time," Harpootlian said. "Their No. 1 goal is not to elect a black, not to elect a woman, not to elect a specific demographic.… There's this desperation to win."
Such calculation initially drove voters away from Obama in 2008. His ascent, said Bruce Ransom, a professor of political science at Clemson University, did not come until he beat Clinton in Iowa and proved he could attract white votes. Ransom said he was among many black South Carolinians who came around to Obama once they were convinced that supporting him would not amount to "a wasted vote."
Harris, he said, should heed that lesson.
"If she drops an egg" in Iowa or New Hampshire, Ransom said, "then there may be less enthusiasm," and the history-making nature of her candidacy will matter very little in a state she almost surely needs to win to take the nomination.
Halper reported from Columbia and Barabak from San Francisco.
More stories from Evan Halper »
evan.halper@latimes.com | Twitter: @evanhalper
---
Life is stressful. Our weekly mental wellness newsletter can help.
You may occasionally receive promotional content from the Los Angeles Times.