Jeff Flake, up for reelection in 2018, will upset Arizona voters no matter how he votes on healthcare
Sen. Jeff Flake is among the most endangered Republicans running for reelection next year. But he's not exactly acting like it. (August 1, 2017) (Sign up for our free video newsletter here http://bit.ly/2n6VKPR)
Reporting from Snowflake, Ariz. —
Ron McArthur is a man with big plans.
As head of the chief medical provider in this rural slice of eastern Arizona, McArthur firmly believes what's good for Summit Healthcare is good for communities tucked in the foothills of the White Mountains. "We're the economic engine," he said. "We sponsor everything, we're the biggest employer, we offer the highest-paying jobs."
But right now, he said, a proposed surgery center and other expansion plans are imperiled by Republican efforts to drastically overhaul the nation's healthcare system, leaving the state's GOP lawmakers to choose, as McArthur sees it, between party loyalty and their hard-pressed constituents.
Snowflake Mayor Lynn Johnson is one of those constituents.
He runs a physical therapy practice that has suffered, he said, a double whammy under the healthcare law signed by President Obama. Johnson receives less for each patient he treats under Medicare and Medicaid and pays more to insure his employees.
"You used to be able to make a decent living," Johnson said. "Now you're fighting for everything you get."
All of which leaves Sen. Jeff Flake of Arizona in a tough spot.
McArthur wants to preserve the Affordable Care Act, which cut nearly in half the tens of millions of dollars Summit lost each year treating uninsured patients. Johnson wants the law repealed and, in time, replaced with a less costly and intrusive alternative.
With legislation in the Senate in serious jeopardy — just one more Republican defection could scuttle the effort — the dilemma facing Flake is acute.
Bidding for a second term, he is one of only two GOP senators from swing states facing reelection in 2018, when healthcare is once more likely to be a key issue. Unlike the other Republican at risk — Nevada's Dean Heller, who has harshly criticized the Senate plan — Flake has been studiously opaque.
Perhaps that's because whatever he does, a great number of people will be very unhappy.
Arizona's senior senator, Republican John McCain, has expressed strong reservations about the GOP plan, which would deeply cut federal assistance to low- and moderate-income Americans. (A vote planned for this week was abruptly canceled after McCain underwent surgery Friday to remove a blood clot above his left eye.)
Republican Gov. Doug Ducey, the state Chamber of Commerce and the Arizona Hospital and Healthcare Assn. — not a wild-eyed radical in the bunch — have stated their opposition.
There are problems with soaring premiums and insurers abandoning Arizona's healthcare market, said Greg Vigdor, head of the association, but the legislation doesn't really address those concerns. "It's a political bill," he said, "more about tax cuts than health policy."
At the same time, Flake is being attacked by some Republicans for insufficient fealty to President Trump — he was an outspoken critic in 2016 — and inadequate resolve to repeal and replace Obamacare, which has been the fuel stoking GOP passions for the better part of a decade.
He has already drawn one primary opponent — former state Sen. Kelli Ward, who ran against McCain last year — with the prospect of other Trump acolytes jumping in. "He is providing sanctuary to ObamaCare," Ward wrote on her campaign website. "He's simply too weak to lead."
Flake has kept both sides guessing.
The legislation needs to ensure that those who currently have coverage do not have the rug pulled out from under them.
Republican Sen. Jeff Flake of Arizona
He joined more moderate Republicans voicing concern about Medicaid cuts, which could have a huge impact on Arizona; about 1 million people in the state receive care through the program for the poor, the disabled and nursing home residents. He also endorsed a proposal, aimed at luring conservative support, to allow insurers to sell low-cost, bare-bones policies.
The ultimate decision on passage of the Senate bill will rest on two principles, Flake said in a written statement issued this month as protesters occupied his Phoenix office.
"The first is that the legislation needs to ensure that those who currently have coverage do not have the rug pulled out from under them," Flake said. "The second is that the Senate must agree on a solution that is fiscally sustainable."
Snowflake, set amid the open sky and vast emptiness of the high desert, is more than just the senator's hometown. Its whimsical name derives from those of two Mormon settlers, Erastus Snow and William J. Flake, the senator's great-great-grandfather.
Today, hundreds of Flake descendants, including the senator's mother, live in the town of about 5,500, which is dotted with unofficial shrines to its early settlers and Mormon heritage. The James M. Flake pioneer home is catty-corner from the Eugene Flake heritage barn; a block away, at the pioneer museum, a Flake cousin last week was offering free tours.
In many ways, Snowflake — with its one stoplight and cheery flowerpots lining Main Street — embodies the Republican healthcare debate writ small: It largely comes down to a clash between economic interests and ideology.
Navajo County, which takes in Snowflake, is one of the poorest in Arizona. The decades-long decline of the hog-farming industry and closure of a paper mill in 2012, which cost more than 300 jobs, are twin blows that have the community still reeling.
Tourism and second homes — many regularly travel the 175 miles from Phoenix to escape the beastly heat — have taken up some slack. But the best-paying jobs are about a 45-minute drive from Snowflake, at a handful of power-generating plants, or 20 miles away in Show Low, at Summit Healthcare Regional Medical Center.
In the chief executive's fifth-floor office, with a view stretching to the forested horizon, McArthur wielded a sheaf of statistics: Nearly three-quarters of the mothers giving birth at the center are Medicaid patients, as are close to half those visiting the emergency room. Last year, Summit wrote off more than $11.6 million in bad debt and charity care, McArthur said, down from a high of $22.3 million in 2014.
Rolling back compensation under the Affordable Care Act — more than 400,000 residents could be knocked off the rolls — would not only "bust our state budget" by forcing Arizona to cover the expense, he went on, but cost jobs and jeopardize plans for the surgery center and a new medical office building in Show Low.
"It all ties to what goes on in Washington," McArthur said.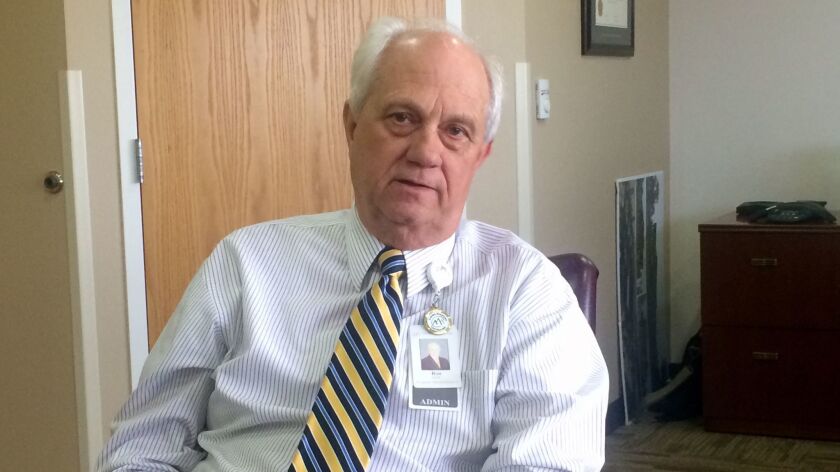 Snowflake Mayor Johnson, however, resents the implication that residents need legislation cooked up 2,000 miles away to care for their neighbors. Even with his losses under Obamacare, Johnson said, he gladly sees patients for free; with more than half a dozen churches in town, plenty of others are willing to pitch in.
"I don't believe it's government's job to provide healthcare for every person in the United States," Johnson said, piloting his Chevy Silverado — the Book of Mormon tucked in a side pocket — on a tour of the community. "Giving free care is my choice. I don't want to be told what I have to do."
Sen. Flake, who lives outside Phoenix, isn't seen much around town these days. Perhaps once or twice a year, locals said. If he surfaced right about now, he could get an earful — not just from McArthur and Johnson but Thomas Poscharsky, who was mayor until Johnson replaced him last November.
A Trump voter, Poscharsky favors a goverment-run healthcare system with coverage for all, a plan typically pushed by those on the left. He remembered the last time Arizona cut Medicaid coverage, back in the Great Recession.
"You could literally see the decline and death of some of our older clients," said Poscharsky, a volunteer at Snowflake's senior center.
Despite their considerable differences, Poscharsky, Johnson and McArthur all agreed on one thing: The Senate should scrap its bill and Flake and his colleagues should start over. What's the hurry? they asked. Take some time. Bring Democrats into the process, collaborating the way neighbors in Snowflake do.
"Egos aside," Johnson said, wheeling his 4x4 down Main Street. "Philosophy aside. Come up with what's best for people."
ALSO
Obamacare 101: Repair instead of repeal? Here's what a smaller fix might look like
Republicans are in charge. So why can't they deliver on healthcare?
---
Get our Essential Politics newsletter
The latest news, analysis and insights from our politics teams from Sacramento to D.C.
You may occasionally receive promotional content from the Los Angeles Times.