California Rep. Kevin McCarthy tapped to lead House Republicans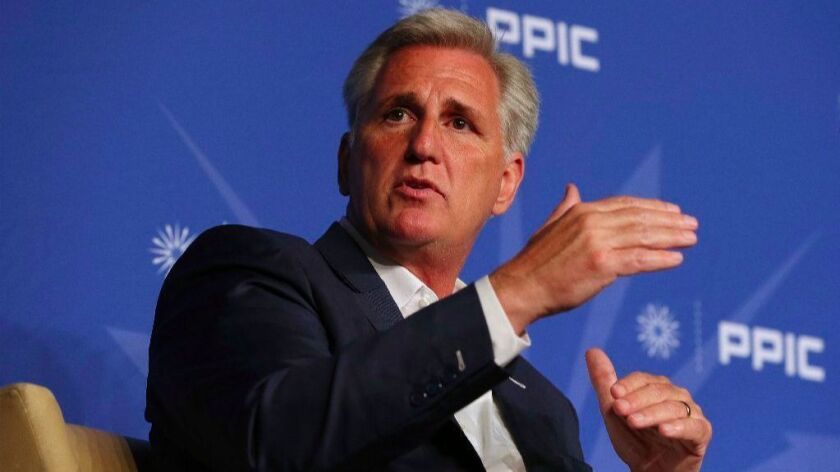 Reporting from Washington —
California Rep. Kevin McCarthy will lead Republicans in the House minority in the next Congress, defeating a challenge Wednesday from his right for the job.
Securing the minority leader spot puts the Bakersfield Republican in a prime position to become House speaker if Republicans regain control of the House in 2020.
The challenge from conservatives in the House Freedom Caucus and a founding member of the group, Rep. Jim Jordan (R-Ohio), was spirited, but ultimately fell far short of blocking McCarthy from the simple majority he needed for the top position. The vote was 159-43.
"I'm very humbled to have the privilege to be able to serve and lead this conference," McCarthy said. "We serve in a divided government and a divided country. Our goal is to unite us back together again. Our second goal will be to make sure we win the majority back."
First elected to a House leadership position in 2009 during his second term, McCarthy rose to become majority leader in 2014 and made a bid for the speaker's gavel in 2015.
Hours before an expected vote, however, he abruptly dropped out of the running because of opposition from the Freedom Caucus, which complained he was not conservative enough.
House Speaker Paul D. Ryan (R-Wis.) tapped McCarthy as his chosen successor when Ryan announced last spring that he would retire from Congress. President Trump avoided directly endorsing McCarthy in the race, but the men have a good relationship.
In seeking the post, McCarthy told colleagues in recent days that he has helped the GOP regain the House from bigger deficits than the one they will face in 2019 when Democrats take back control of the chamber, and he argued he is the best choice to lead them back to the majority.
"We took a beating inside the suburban areas. We're going to have to work harder. I think our message is going to have to be clearer. Our ideas are going to have to be stronger. We realize that, and we will work toward that effort," McCarthy said. "We have an opportunity to rebuild."
That experience helped convince Rep. French Hill of Arkansas, who said that the contest was more "sparks" than fireworks and that he supported McCarthy because he is a "consensus builder" who has experience operating in the minority.
For some freshmen members who will be new to Washington, the choice between McCarthy and Jordan was difficult.
"I think he's a very good conservative. He's shown a lot of leadership. He's certainly earned the position," Rep.-elect Dan Meuser (R-Pa.) said of McCarthy. "On the same note, I think Jim Jordan is a smart, tough, focused individual."
Jordan tried to make the race a referendum on the leadership of Ryan and McCarthy over the last few years, saying in a letter to colleagues that "this might be a hard pill to swallow, but I believe that if we'd handled the past two years differently, we would still be the majority party in the House of Representatives."
House Freedom Caucus Chairman Mark Meadows said Jordan was gratified by the support he got, and expected McCarthy would work to bring Republicans together.
"This is one where the outcome was probably predicted. I don't know that it came as a surprise," Meadows said.
If Republicans had held the House majority, Jordan may have been able to pull away enough votes to prevent McCarthy from getting the majority of all House votes he needed to be speaker. But as a candidate for minority leader, McCarthy just needed support from a majority of his own party, which Jordan couldn't prevent him from getting.
McCarthy's rise to the top GOP position has been smoother than that of his California colleague, Minority Leader Nancy Pelosi (D-San Francisco), who though running unopposed is facing a vocal insurrection in her path to becoming speaker again. House Democrats hold their leadership elections Nov. 28.
If Pelosi becomes speaker, it will be the first time the speaker and minority leader come from the same state.
Many of the House GOP leadership positions were not contested.
Louisiana Rep. Steve Scalise, the current majority whip, was unopposed in his bid to keep the No. 2 position. Wyoming Rep. Liz Cheney was alone in seeking the third-most powerful job, leading the Republican Conference, a job her father, Vice President Dick Cheney, held 30 years ago when he was in the House. North Carolina Rep. Mark Walker had no competition in being elected vice chairman of the conference.
Minnesota Rep. Tom Emmer will take over leading the Republicans' House campaign arm.
Senate Republicans also held leadership elections Wednesday, choosing to largely keep the same leaders, including Senate Majority Leader Mitch McConnell of Kentucky. Texas Sen. John Cornyn is term-limited as majority whip, and current Conference Chairman John Thune of South Dakota ran unopposed to succeed him.
Sen. Joni Ernst (R-Iowa) was elected vice chairwoman of the conference, making her the only woman in the GOP leadership.
Senate Democrats voted to keep Senate Minority Leader Charles E. Schumer of New York and the rest of their current leadership team.
More stories from Sarah D. Wire »
Follow @sarahdwire on Twitter
---
UPDATES:
2 p.m.: This article was updated with comments from McCarthy, Meadows and others.
This article was originally published at 11:15 a.m.
---
Get our Essential Politics newsletter
The latest news, analysis and insights from our politics teams from Sacramento to D.C.
You may occasionally receive promotional content from the Los Angeles Times.