Justice Department to target opioid manufacturers and distributors in a new push to curb deadly epidemic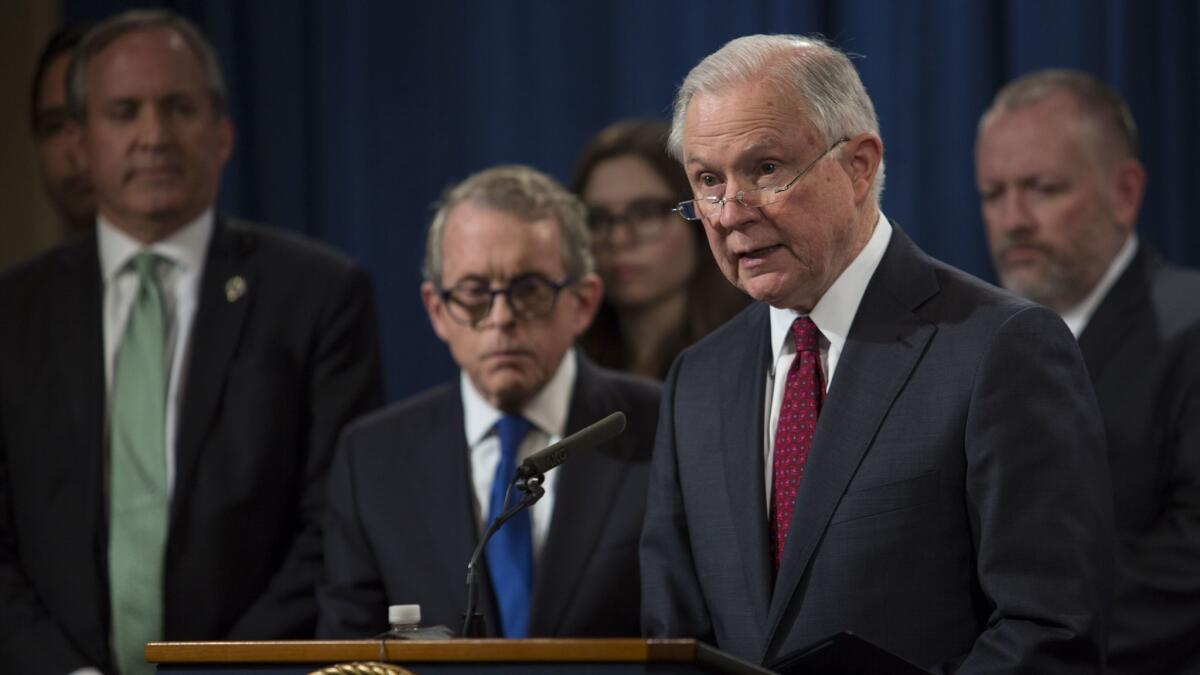 Reporting from Washington —
In a move to address the nation's deadly opioid crisis, the Justice Department says it will target the prescription drug pipeline with a new focus on companies that manufacture and distribute the drugs.
U.S. Atty. Gen. Jeff Sessions announced the creation of a task force Tuesday that he said would coordinate a crackdown on illegal practices by manufacturers, distributors, doctors, pain management clinics and pharmacies.
The department will "use all available criminal and civil remedies" to hold manufacturers accountable, he said.
Sessions also said the Justice Department will file a "statement of interest" in litigation that dozens of cities, counties and states have filed in federal courts against the drug manufacturers and distributors.
Flanked by several attorneys general from states hard hit by the opioid epidemic, Sessions told a press conference that the government will seek to recover monetary damages from the manufacturers, arguing that federal agencies have borne increased costs for health programs and law enforcement.
"We will seek to hold accountable those whose illegality has cost us billions of dollars," Sessions said.
With the promise to pursue manufacturers, the Trump administration would open a new front in efforts to control the drug crisis that the Centers for Disease Control and Prevention says caused 64,000 deaths in 2016. More than 20,000 were due to overdoses of fentanyl and fentanyl analogs, a powerful synthetic opioid.
Thus far, most of the Justice Department's anti-opioid efforts have been in criminal investigations. In the last year, it pursued prosecutions against doctors, shut down a "dark web" network that supplied drugs, and filed cases against the Chinese suppliers of fentanyl.
In taking on the manufacturers, the federal government would join states that argue drug companies are partly responsible for fueling the addiction crisis. While the Justice Department won't formally join the lawsuit, the department will look for ways to assist.
The multi-district case, which is being heard by a federal judge in Cleveland, Ohio, argues that drug companies overstated the benefits and downplayed the risks of prescription opioids, and distributors failed to properly monitor or block suspicious orders.
Governors and mayors say they need help to pay for treatment of addicts, not just law enforcement.
"We go after the supply side, but we don't go after the demand side," said Wisconsin Atty. Gen. Brad Schimel. "We're breaking up these networks, but they will keep refilling unless we focus on prevention and treatment."
Also Tuesday, Sessions said the Drug Enforcement Administration would turn over at least some information in its database that tracks distributors of painkillers. Lawyers have sought the information as part of their settlement negotiations, but the DEA has argued that turning over the database could compromise ongoing investigations.
"I have instructed our attorneys that whatever we can provide for them, let's do it now," Sessions said, adding that he wants to make sure the government does not reveal individual medical records.
President Trump declared the opioid epidemic a "health emergency" in October, but some cities and states battling the crisis have complained that the White House has done little to help since then.
Twitter: @jtanfani
---
UPDATES:
2:40 p.m.: This article was updated with additional details from the press conference.
This article was published at 12:15 p.m.
Get our Essential Politics newsletter
The latest news, analysis and insights from our politics team.
You may occasionally receive promotional content from the Los Angeles Times.