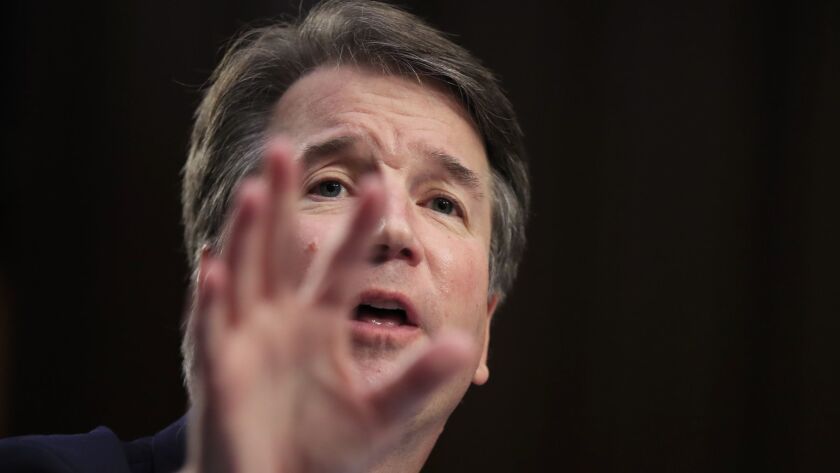 Washington Post
Reporting from Washington —
The White House is open to the idea of a second accuser of Judge Brett M. Kavanaugh testifying at a Senate Judiciary Committee hearing scheduled for Thursday, White House Press Secretary Sarah Huckabee Sanders said in a television interview Tuesday morning.
The committee currently plans to hear testimony from Christine Blasey Ford, the California professor who has accused President Trump's Supreme Court nominee of sexually assaulting her when they were high school students.
On Tuesday, Sanders was asked whether Deborah Ramirez, a classmate of Kavanaugh's at Yale University, should also be allowed to testify. Ramirez alleges that Kavanaugh exposed himself at a party when both were first-year students.
"Certainly we would be open to that, and that process could take place on Thursday," Sanders said during an appearance on ABC's "Good Morning America."
In a Fox News interview Monday night, Kavanaugh vigorously denied Ramirez's and Ford's allegations and said he would not "let false accusations drive us out of this process." He is also scheduled to testify Thursday.
It remains unclear whether Ramirez will testify and how quickly that could occur. Several Republicans on the committee have said they want to vote on Kavanaugh's nomination shortly after the Thursday hearing.
Senate Judiciary Committee Chairman Charles E. Grassley (R-Iowa) has reached out to Ramirez about talking to the committee.
Sen. Susan Collins (R-Maine), considered a key vote on the Kavanaugh nomination, has said she would like to see Ramirez speak under oath to the committee but has not specified when she would like to see that happen.
During the ABC interview, Sanders reiterated that Trump continues to stand by Kavanaugh and accused Democrats of seeking political gain during the confirmation process.
"They want this to be a political game, and I think the way they have operated in this is absolutely appalling," Sanders said. "If anything has been appalling, it's the way that they have gone after and used ... people's stories and their lives and exploited them for political gain."
---