Roy Moore's Senate campaign is a train wreck. So why does he still have a decent shot at winning?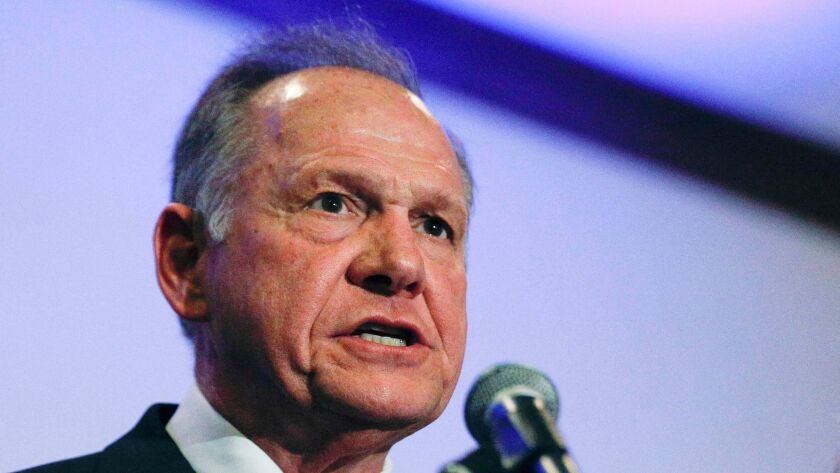 Roy Moore, the flailing Alabama candidate for U.S. Senate, has been abandoned by the national Republican Party and most of its leaders.
He's being vastly outspent by his Democratic rival, pummeled on the television airwaves and battered in the state's newspapers. "Stand for Decency, Reject Roy Moore," Alabama's three leading papers thundered in a joint editorial emblazoned on Sunday's front pages.
And yet with just about two weeks to go until the Dec. 12 vote, the race is far from over.
Moore has been accused of multiple incidents of sexual misconduct, including molestation of a 14-year-old girl and assault of a 16-year-old when he was an assistant district attorney in his 30s. Moore, 70, adamantly denies the charges, saying they have been conjured up by enemies and a political establishment that cannot abide his staunch Christian conservatism.
While President Trump has effectively endorsed Moore, questioning the allegations, Senate Majority Leader Mitch McConnell and House Speaker Paul D. Ryan are among the many GOP high-ups urging Moore to stand aside. The Republican National Committee and its Senate campaign arm have walked away from his campaign.
But even some who believe the allegations are sticking by Moore. To their mind, there is something even worse than elevating an accused sexual predator to the United States Senate: electing a Democrat.
"I have no reason to disbelieve any of them," Alabama's Republican governor, Kay Ivey, said of Moore's accusers. And yet, she said, she would vote for Moore. "We need to have a Republican in the United States Senate to vote on the things like Supreme Court justices, other appointments the Senate has to confirm and major decisions," Ivey told reporters.
Not long ago, the idea of Alabama electing a Democrat to fill the seat of Atty. Gen. Jeff Sessions seemed unimaginable. It's still no sure bet.
Wow, Alabama must be a super-red state!
We'll skip the obvious Crimson Tide allusion and stick to the stats: Trump carried Alabama with 63% support. Only three states, Wyoming, West Virginia and Oklahoma, delivered a higher percentage of their vote.
The Legislature has been in GOP hands since 2010 and Republicans hold six of Alabama's seven congressional seats. Both U.S. senators are Republicans. In fact, the state hasn't elected a Democrat to the Senate since 1992, when Richard Shelby won his second term. Two years later, Shelby switched to the GOP, where he's remained ever since.
Has Alabama always been a Republican stronghold?
To the contrary, Alabama was once a part of the Solid South, so called because of its generations-long, unswerving allegiance to the Democratic Party. That began changing as a backlash to the civil rights movement, which was chiefly associated with national Democrats.
The South is also culturally conservative, strongly pro-military and more religious than other parts of the country. So Democrats lost further ground as the national party became increasingly associated with the anti-Vietnam War movement, support for legalized abortion, same-sex marriage and other policies that were seen as overly permissive.
The low-tax, business-friendly policies of the GOP under President Reagan were also an important element hastening the South's transformation from a Democratic bastion to the most reliably Republican part of the country.
Is that why Moore and his supporters are attacking his Democratic opponent as "an ultra-liberal" supporting "full-term abortions," "transgender bathrooms" and transgender people in the military?
Precisely. Those attacks resonate with a considerable number of Alabama voters, who see the national Democratic Party and its liberal leanings as fundamentally antithetical to their belief system. Those particular words came from Moore's wife, Kayla, speaking at a recent women's rally in support of her husband.
So who's running against Moore?
Doug Jones, 63, is an attorney from Birmingham making his first try for political office. He is a former U.S. attorney who led the prosecution of two Ku Klux Klan members responsible for the 1963 bombing of Birmingham's 16th Street Baptist Church, one of the horrific moments of the civil rights movement.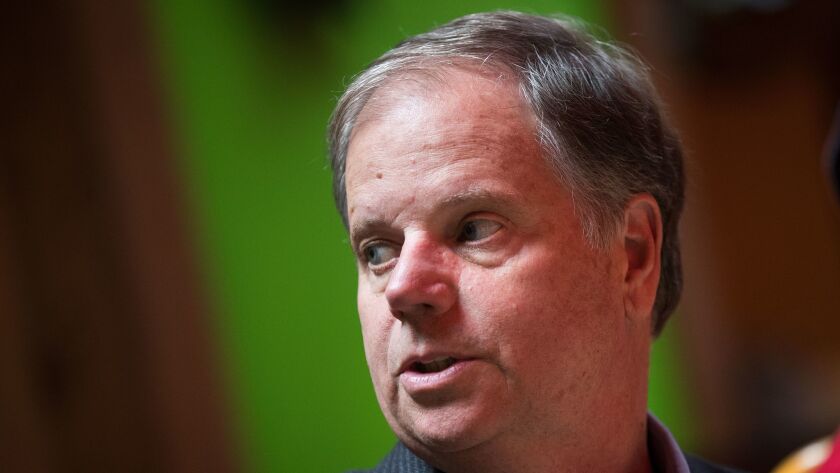 So what is Jones saying about his fealty to the national Democratic Party?
Ha ha ha.
Come again?
Jones is not suicidal. He's running very much as an Alabaman first and Democrat second. In his TV ads, he talks about his ability to work across party lines on issues such as jobs, education and healthcare. He even suggests he can work with Republicans more effectively than Moore.
Moore had political problems even before the allegations of sexual misconduct, did he not?
Yes, he did. He's been kicked off the Alabama Supreme Court bench not once but twice for ignoring federal court rulings, first by installing a monument to the 10 Commandments in the state Judicial Building and then for refusing to recognize same-sex marriage.
As a highly divisive figure, he's consistently underperformed other Republicans in Alabama; running to regain his Supreme Court seat in 2012, he scratched by with 52% of the vote while the GOP presidential nominee, Mitt Romney, carried Alabama with more than 60% support.
Moore previously failed in two other attempts for statewide office, finishing far back in contests for governor in 2006 and 2010.
Is there anything meaningful to infer from the results?
Special elections are by their nature special. A Jones victory, practically speaking, would narrow the GOP's Senate margin to 51-49 and make the chances of a Democratic takeover in 2018 a bit less formidable. More broadly, the vote may be seen as the ultimate test of the nation's political tribalism, demonstrating whether partisanship is more important than some awfully serious criminal allegations.
ALSO
Trump backs Roy Moore despite alleged sexual misconduct: 'He denies it'
Strong economy boosts Trump among otherwise skeptical voters
---
Life is stressful. Our weekly mental wellness newsletter can help.
You may occasionally receive promotional content from the Los Angeles Times.