Trump's school safety commission would prefer if you didn't talk about gun control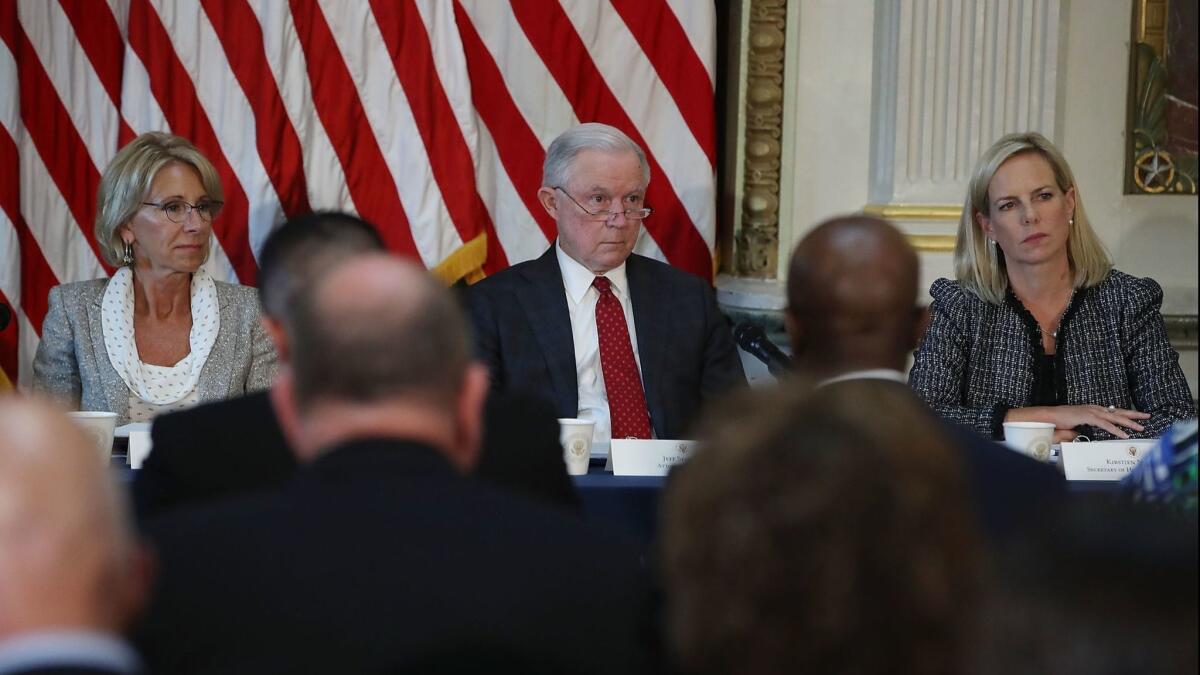 Reporting from Washington —
The day before she was to testify before President Trump's school safety commission, Jennifer Johnston, an expert on media coverage of mass shootings, received a phone call from an Education Department advisor who asked her to "refrain" from any gun-control remarks.
The official, Kent Talbert, cited a section of her pre-submitted testimony that called for federal officials to "greatly restrict the sale of semiautomatic and automatic weapons across states," Johnston recalled.
The assistant psychology professor at Western New Mexico University was stunned that a commission set up after the deadly Parkland, Fla., shooting would ask her to omit something she considered so relevant. She says she stayed up half the night worrying: If she insisted on making the statement, would the commission discount the rest of her research?
The next morning, June 21, shortly before the session began, Talbert pulled her aside, concerned that she was "still thinking of doing this," Johnston said. She decided to remove the section, but hastily added a sentence near the end, urging the commission to "please address issues with firearms."
Nearly five months after its creation, the Federal Commission on School Safety is under criticism for failing to tackle the politically thorny issue of gun control as part of its search for a federal response to the violence. Critics say the commission — billed as one of the White House's chief responses to school shootings —is ignoring a key factor in the debate.
"I'm not saying in their hearts they don't want children to be safe, but if you're not willing to stand up against the gun lobby, not a lot will happen in that respect," said Abbey Clements, a teacher who survived the 2012 Sandy Hook Elementary School shooting in Newtown, Conn., and spoke at one of the commission's listening sessions.
During more than 20 hours of testimony in five panels, three field visits and two public listening sessions so far, commission officials have largely avoided, limited or, in Johnston's case, suppressed discussion of gun-control measures, according to interviews with participants and a review of official video recordings of events available on the commission's website.
None of the more than 100 people invited to speak at panels or field visits — as listed on agendas or visible in videos — represented gun control groups, even though age restrictions for certain weapons sales is part of the commission's mandate. One leading gun-control group — the Brady Campaign to Prevent Gun Violence — says its repeated requests to testify at a panel have been ignored.
March for Our Lives, the group founded in response to the Parkland attack, which left 17 dead, has not been invited, either. "They're the federal government. They should reach out to us," said Parkland survivor and gun-control activist David Hogg.
Instead, the panel's discussions have focused primarily on mental health issues, the role entertainment plays in youth violence and the need to "harden" schools by improving emergency preparedness and increasing law enforcement presence.
The commission's most extended public debates so far over the relationship of guns to school safety have been about whether to arm teachers and how to increase the number of armed school resource officers.
Education Department spokeswoman Elizabeth Hill denied that the commission is limiting debate on gun control, noting that there are several ways — outside of invited panels and field visits — for the public and interested parties to submit comments, including in writing or at public listening sessions.
"Throughout the public listening sessions, field visits, and meetings, as well as in the public comment inbox, there has been discussion about gun control," Hill said. "However, it is important to note that the commission cannot create or amend current guns laws. That is Congress' job. The commission is focusing on tangible solutions relating to many aspects of school safety that don't necessarily require an act of Congress."
Education Secretary Betsy DeVos, who leads the commission with Atty. Gen. Jeff Sessions, Homeland Security Secretary Kirstjen Nielsen and Health and Human Services Secretary Alex Azar, similarly told a Senate committee on June 5 that firearms are "not part of the commission's charge, per se."
In regard to Johnston, Hill said the professor was "asked to keep her oral remarks to the topic at hand" due to time constraints. "Dr. Johnston's full written statement, which includes her comments on gun-control measures, were submitted into the official record."
Other than a couple of brief mentions in the panels, the calls for gun-control measures have come mostly from students and teachers at public listening sessions, where speakers are free to broach any topic but limited to five minutes.
Some groups complained that the commission's last-minute scheduling of public events — often just a few days ahead of time — has made them difficult to attend.
At a June 6 listening session in Washington, Alessia Modjarrad, who graduated from Poolesville High School in Maryland this spring, called for universal background checks, a ban on high-capacity magazines and other gun control measures. That Wednesday session at the Education Department headquarters was announced the Friday before.
"The issue with having a listening session announced with so little time beforehand is that you're limiting it to people who can take off work on a weekday, and you're limiting it to people who have reliable transportation," said Modjarrad, who took time off from her job to testify.
At the same session, Marlyn Tillman, of the Gwinnett Parent Coalition to Dismantle the School to Prison Pipeline in Georgia, criticized what she called the "lack of transparency and intentionality" in organizing the sessions.
"I implore the commission to give proper notice so the community can fully participate, and you can hear from a set of diverse voices," she said.
Hill said the listening sessions, like the commission's other events, are scheduled on a rolling basis and announced as soon as "all of the logistical details are locked in."
It's the guns, and this is on us to fix.
— Abbey Clements, Sandy Hook survivor
At the June 6 session, Clements, the Sandy Hook survivor, told the commission about the day 20 children and six of her colleagues were shot dead. She argued that arming teachers was not the answer to school gun violence. It would be impossible for a teacher to stop an active shooter while simultaneously protecting children from gunfire, she said.
"Sure, secure school buildings," Clements said. "But do not give kids clear backpacks, bulletproof backpacks, reading igloos that morph into bulletproof caves. These are the things of a war zone and shouldn't be in American public schools. It's the guns, and this is on us to fix …"
Deputy Education Secretary Mick Zais, who was leading the session, cut her off. "If you could wrap it up, please," he said. Earlier in the session, Reps. John Rutherford (R-Fla.) and Lou Barletta (R-Penn.), had been allowed to continue speaking a minute or two past the five-minute mark without interruption.
Clements, who took time off from her fourth-grade classroom to travel from Connecticut for the listening session, later said the interruption felt "insensitive" because clearly she had been near the end of her remarks. When the transcript summary of the event was published on the Education Department website, Clements' testimony and the testimonies of the six following speakers were omitted.
Hill said that the full transcript has not yet been finalized and that the department is working with its transcription service to "ensure there are no inaccuracies."
Michael Yin, a 2018 graduate from Montgomery Blair High School in Maryland and U.S. presidential scholar, said at the same session that there were many gun-control measures the commission could embrace that would not infringe on the 2nd Amendment, such as closing the trade show loophole for gun sales.
As Yin left the podium, Zais interjected that the commission would not be "looking at ways to confiscate" guns or "abrogate the 2nd Amendment." It was the only time he responded to a speaker's remarks during the nearly six-hour session.
"What we will be doing is looking at specific age limits for the purchase of specific kinds of weapons and we will be examining legal procedures for the confiscation of weapons from people with identified mental health issues," Zais said. "So we will be looking at those narrow aspects of gun ownership."
It remains unclear when or how the commission will address age restrictions and the confiscation of weapons held by the mentally ill. Hill said that the Justice Department will deal with those issues in the commission's final report, but would not say whether there would be a formal hearing about them. The commission plans to produce an interim report this fall and a full report at the end of the year, she said.
Some education groups remain confused by the commission's purpose. "We're starting to feel that this whole commission is farcical, that we're not going to get recommendations that are constructive," said Bob Farrace, spokesman for the National Assn. of Secondary School Principals. He called the commission's approach "incoherent."
Mo Canady — executive director of the National Assn. of School Resource Officers, a group that advocates for school-based law enforcement officers — defended the commission, saying it is still "in the information-gathering phase."
Critics have also questioned how seriously the commission's four Cabinet-level members are taking their work. All four together have attended only two of the five panels, as of early August. They usually send departmental representatives in their places.
"The work of the commission is an absolute priority for [DeVos,] which is precisely why the work continues on an expedited timeline despite any scheduling conflicts," Hill said.
None of the commissioners attended the two public listening sessions so far, the first of which was held on the day DeVos traveled to Zurich, Switzerland, for a 10-day tour of schools across western Europe. The third listening session is scheduled for Tuesday afternoon in Cheyenne, Wyo.
"It's a matter of priorities. It kind of indicates that maybe it's not their top priority, which is disappointing," Yin said.
For Clements, the Sandy Hook survivor, the commission members' absence indicates apathy toward the commission's stated principles.
"When you have to look at someone who was there, or kids afraid to go to school, that's where empathy can effect change," she said. "But if they're not going to show up, they're not going to be able to listen."
Twitter: @ElizaFawcett
Get our Essential Politics newsletter
The latest news, analysis and insights from our politics team.
You may occasionally receive promotional content from the Los Angeles Times.