Trump still 'likes' idea of sending immigrants here illegally to 'sanctuary cities'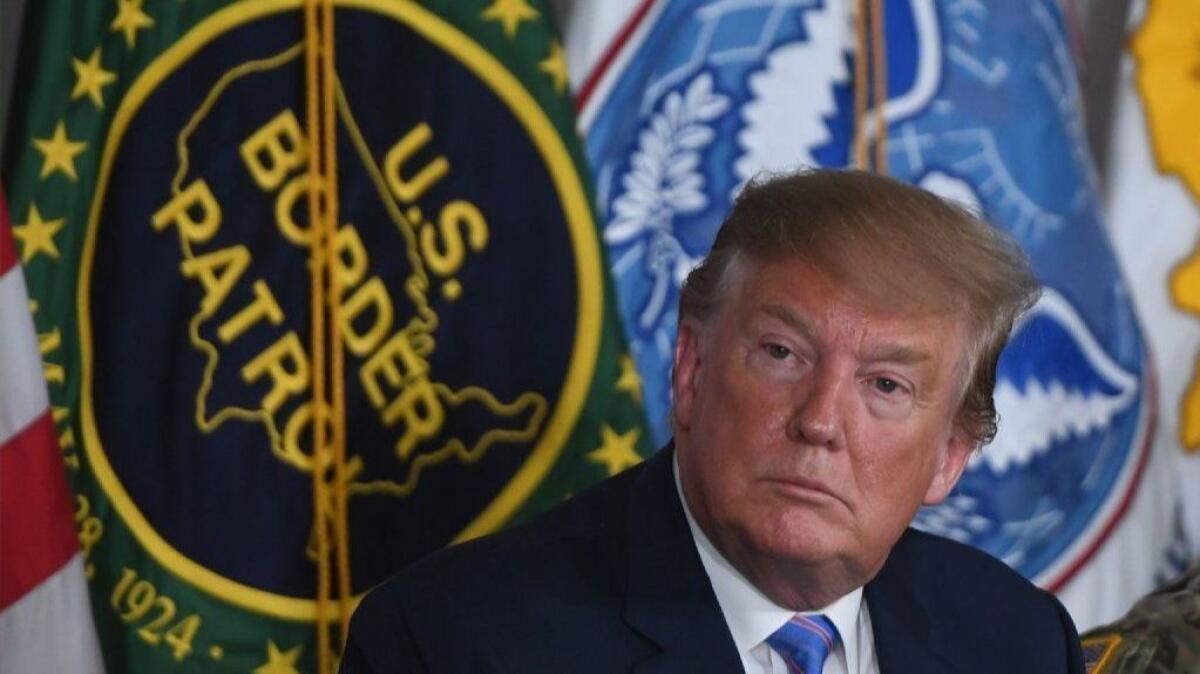 Reporting from Washington —
President Trump still "likes" the idea of transferring immigrants in the U.S. illegally to so-called sanctuary cities like San Francisco, White House Press Secretary Sarah Huckabee Sanders said Sunday.
But she portrayed the notion as a burden-sharing strategy that the Democrats should welcome rather than a plan designed to punish political adversaries like House Speaker Nancy Pelosi (D-San Francisco).
Senior Democrats pushed back on the idea, previously rejected by administration lawyers in internal White House deliberations, as probably illegal and emblematic of the administration's failure to conceive of a fair and coherent immigration policy.
Rep. Bennie Thompson (D-Miss.), who chairs the House Homeland Security Committee, described the administration's policymaking on immigration as built around crises that the president had created.
"This is again his manufactured chaos that he's created over the last two years on the border," Thompson said on ABC's "This Week."
Rep. Jerrold Nadler (D-N.Y.), who chairs the House Judiciary Committee, suggested senior White House aide Stephen Miller should be summoned to testify about deliberations behind Trump's overarching immigration strategy.
"Probably Steve Miller, who seems to be the boss of everybody on immigration, ought to come before Congress and explain some of these policies," Nadler said on CNN's "State of the Union."
That comment may have been calculated to touch on a sensitive point: Trump has a well-known aversion to ceding too much of the spotlight to underlings.
The president last week made a point of saying that "there's only one person running" immigration policy, and "it's me."
Sanders, interviewed on ABC's "This Week," offered a variation on the administration's long-standing contention that Democrats oppose any form of border security, saying it logically followed that they should embrace an influx of those detained during or after an attempted entry to the United States.
Democrats, she said, "have said they want these individuals into their communities, so let's see if it works and everybody gets a win out of it."
In the same interview, she cited the need to "take away some of that burden on all of the communities that are along the border."
"The president likes the idea," Sanders said of the sanctuary cities proposal. But she added that it was not an "ideal solution."
Immigration advocates argued that the idea, if implemented, would backfire on Trump because it would deliver immigrants here illegally to communities that would refuse to turn them over to immigration agents for deportation. The immigrants then would be free to go anywhere in the country.
Kellyanne Conway, a senior counselor to the president, said Congress was "unserious" about addressing border issues, including the enormous strains the arrival of thousands of Central American families have put on the immigration system.
Conway said on NBC's "Meet the Press" that she had a message for would-be asylum seekers, particularly mothers with young children: "Don't come."
Trump, who publicly endorsed the sanctuary cities idea Friday, said Saturday on Twitter that his administration had the "absolute legal right" to carry out such a transfer.
Washington Gov. Jay Inslee, who is running for president, said that even if it were legal, Trump's tactic wouldn't work.
"You can't threaten somebody with something they're not afraid of," Inslee said on "Meet the Press." He said progressive areas of the country the president was seeking to target were "not afraid of diversity…. We relish it."
Get our Essential Politics newsletter
The latest news, analysis and insights from our politics team.
You may occasionally receive promotional content from the Los Angeles Times.