Trump invites Kim Jong Un to meet him at Korean DMZ on Sunday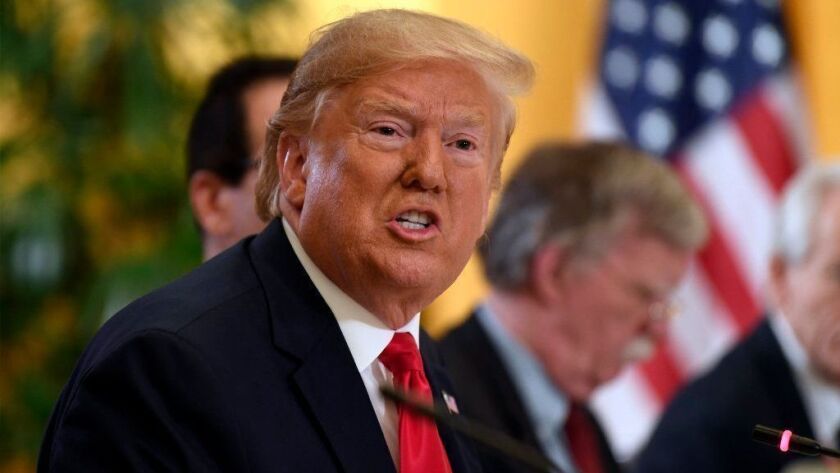 Reporting from Seoul, South Korea —
President Trump joked about election interference with Russian President Vladimir Putin on Friday despite the special counsel's warning that Moscow's interference in 2016 was "sweeping and systemic."
He praised Saudi Crown Prince Mohammad bin Salman on Saturday for doing "a spectacular job" despite U.S. intelligence agency assessments that the Saudi ruler played a role in the murder of a Virginia-based journalist.
But Trump's irregular diplomacy perhaps hit a new high when he used Twitter to invite North Korean Leader Kim Jong Un for a quickie summit Sunday at the heavily guarded demilitarized zone that divides the two Koreas.
Kim's government responded that he might be in a mood to parley, calling the president's tweet "a very interesting suggestion."
The tweet revealed a White House plan to visit the highly secured demilitarized zone that the Secret Service had tried to keep secret, as well as Trump's eagerness to revive the nuclear talks that stalled after his last summit with Kim, in Hanoi in February, collapsed.
"I get along with him and I get along with other people," Trump said Saturday afternoon during a 74-minute news conference as the Group of 20 conference concluded in Osaka, Japan. "I really have great relationships with everybody."
During two days of meetings with nearly a dozen world leaders, Trump's freewheeling approach to diplomacy — and his need, above all, to be the center of attention — dominated another international summit ostensibly centered around multilateral cooperation and global economic development.
In meeting after meeting, Trump touted often illusory trade deals that were going to help his country and spoke of the United States — "we're a hot country," he said — as if it were a popular nightclub.
Unlike many of his previous appearances on the world stage, he insulted no one. He was warm to other leaders, making no distinction between democratic allies, like Japanese Prime Minister Shinzo Abe, and notorious autocrats, like Putin.
"They're all fine as far as I'm concerned," he said. "Some are stronger than others. Some are tougher than others."
Beyond that, his ardor to meet with Kim a third time even for a photo op that he said might last just "two minutes," again underscored the primacy of spectacle for the president.
Trump first suggested a meeting with Kim in a tweet Saturday morning, writing: "If Chairman Kim of North Korea sees this, I would meet him at the Border/DMZ just to shake his hand and say Hello(?)!"
He confirmed his invitation and travel plans to reporters a short time later, claiming that he "just thought of it this morning." That wasn't true. Trump had floated the idea of meeting Kim at the DMZ last week.
"We'll be at — we may go the DMZ, the border," Trump said, before going off on a tangent about the four-mile-wide demilitarized zone that has separated North and South Korea since active hostilities in the country's civil war ceased in 1953.
"By the way, when you talk about a border, that's what they call a border," Trump said. "Nobody goes to that border, just about nobody. That's called a real border."
Trump also revealed plans to visit U.S. troops stationed at Osan Air Base in South Korea before returning to the subject of meeting with Kim, a possibility the White House had continued to insist was not part of the president's schedule.
"So we'll be there," Trump said. "I just put out a feeler because I don't know where he is right now, he may not be in North Korea. But I said if Chairman Kim, if we want to meet, I'll be at the border. We seem to get along very well."
He suggested the meeting could be short.
"We'll see. If he's there, we'll see each other for two minutes," Trump said. "That's all we can, but that will be fine."
Although Twitter is banned for citizens in North Korea, Kim apparently got the message quickly. Hours after Trump's purportedly spur-of-the-moment invitation, North Korea's First Vice Minister of Foreign Affairs Choe Son Hui responded in a statement, calling it "a very interesting suggestion."
"If the DPRK-U.S. summit meetings take place on the division line, as is intended by President Trump, it would serve as another meaningful occasion in further deepening the personal relations between the two leaders and advancing the bilateral relations," Choe said, referring to North Korea by its formal name, the Democratic People's Republic of Korea.
Trump also told reporters that his diplomacy has led to a detente with North Korea. Pyongyang has suspended its tests of nuclear devices and long-range ballistic missiles but continued with short-range missile tests.
During his news conference, Trump said he didn't know if Kim would show up but that a formal invitation was being delivered and that he would indeed be willing to step across the border and into North Korea.
"I would feel very comfortable doing that," Trump said. "I would have no problem."
Trump's visit to Osaka was highlighted by an important sit-down with Chinese President Xi Jinping after months of a tit-for-tat war of tariffs between the world's two largest economies. Trump later announced that trade talks that broke off in May would resume, and Chinese authorities confirmed the plan.
Trump's initial comments about Kim came during a breakfast meeting with the Saudi crown prince, which he called "a great honor."
The president did not respond to shouted questions about whether he intended to bring up the murder of dissident journalist Jamal Khashoggi in Turkey last year by Saudi government officials close to the crown prince. Khashoggi lived in Virginia and wrote columns for the Washington Post.
"Thank you very much, everybody," he said, signaling the media to leave the room.
But later at the news conference, Trump couldn't avoid questions about whether he raised the issue of Khashoggi's death.
Asked if he thought it was acceptable to murder a journalist, Trump said he did not. But he noted that Saudi Arabia has prosecuted 13 people for Khashoggi's slaying. Pressed further, Trump said he and bin Salman did discuss the matter and that the crown prince is "very angry about it."
Initially, Trump claimed that "nobody has pointed the finger at the future king of Saudi Arabia." Informed that the United Nations and his own intelligence officials have done just that, Trump said he didn't want to discuss the intelligence.
"We can declassify," he said. "The truth is I just don't want to talk about the intelligence."
As often is the case, Trump's comments to the press careened across a wide range of topics.
He opined that California Sen. Kamala Harris "was getting too much credit" for her performance in Thursday's Democratic primary debate. He responded to President Carter calling him an "illegitimate" president by dismissing the 94-year-old Nobel Peace Prize laureate as "forgotten" because of his failures during the Iran hostage crisis. And he opted not to push back on a reporter's assessment that his warning to Putin not to meddle in the 2020 election was meant as a joke.
Asked to respond to Putin's comment this week that "Western liberal" values are now "obsolete," Trump put the issue in domestic terms, saying he understands the frustration "when you look at Los Angeles, when you look at San Francisco," cities that, he said, are "run by a lot of liberal people."
---
Get our Essential Politics newsletter
The latest news, analysis and insights from our politics teams from Sacramento to D.C.
You may occasionally receive promotional content from the Los Angeles Times.