What do booty shorts, classical music and whiskey have in common? President Trump's 'great again' slogan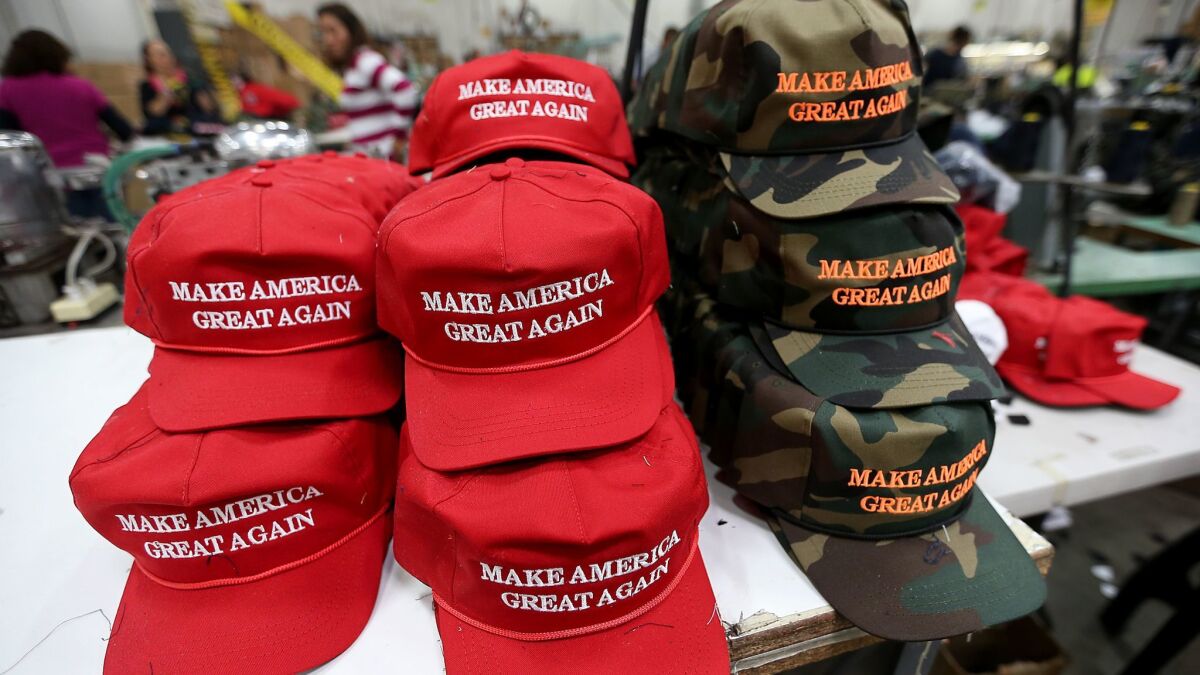 His promise to repeal and replace Obamacare has crashed and burned. Tax reform hasn't gotten far, the White House is in disarray, and big plans to rebuild the nation's infrastructure have hit a brick wall.
But there is one unimpeachable triumph President Trump can point to: He's made "great again" great again.
The 2016 campaign slogan — limned in block letters and emblazoned on countless cherry-red ball caps — has been reimagined, repurposed and cheekily appropriated for countless pitches and commercial products.
Apart from the now-familiar caps, mercantile options include aprons, beanies, beer cozys, coffee mugs, hoodies, leggings, swimsuits, T-shirts, water bottles and, for the special someone, "Donald Trump Make America Great Again Womens Booty Shorts."
But MAGA, as the president short-hands the phrase in Twitter posts, is also popping up in places having little or nothing to do with politics.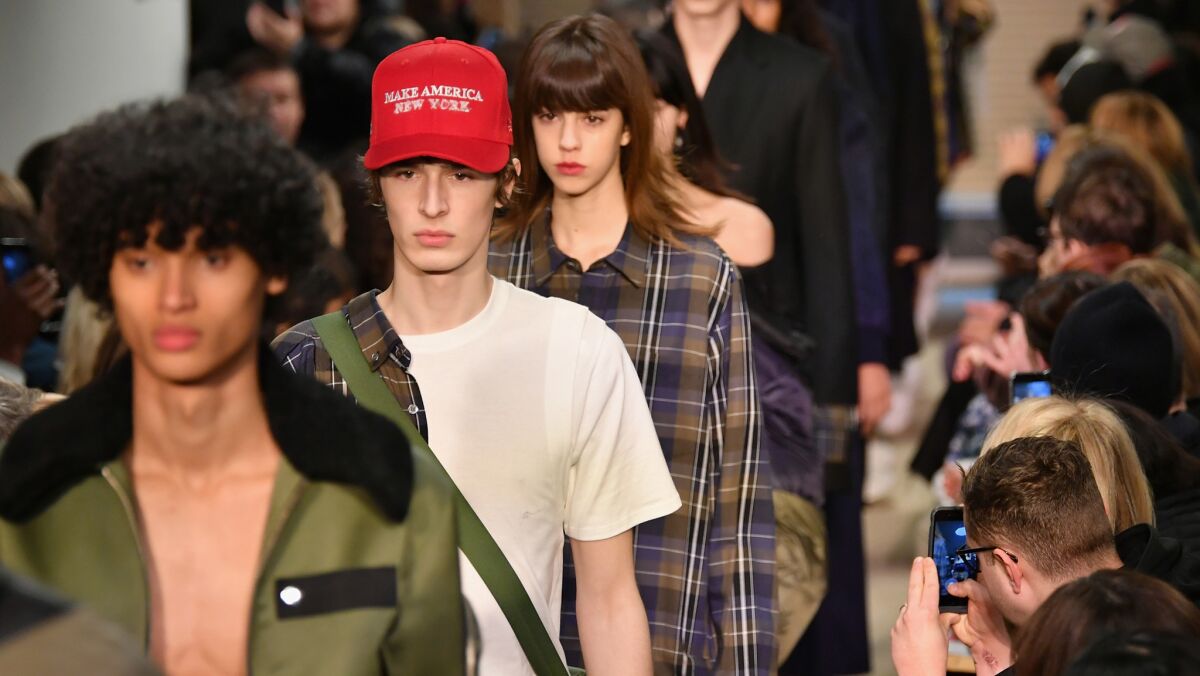 On a catwalk at New York's Fashion Week. High in the sky, promoting classical music in Phoenix. On the menu at an Italian restaurant in Atlanta.
"It went extremely well," Christian Favalli, owner of La Grotta, said of "Make Wednesdays great again," last month's wine-and-pairings event in Atlanta's upscale Buckhead neighborhood. A few customers "weren't entirely thrilled" with the pedigree of the promotion, Favalli said, but "everyone's damn familiar with it."
That's what makes the appropriation facile but also risky, according to advertising pros, who suggested the epigram can just as easily offend as entice.
"The smallest thing seems to set people off today," said Ross Lowinske, senior vice president at Milwaukee-based ad agency Laughlin Constable, which has done work for McDonald's and Sears Auto Center, among other clients. "Simply put, any business, or agency for that matter, that uses this slogan are rather insensitive to current climate."
Political slogans rarely have much life beyond election day. ("Reformer with Results," anyone?) Perhaps a handful are remembered by historians and the odd political junkie, for their jaunty charm, "Tippecanoe and Tyler Too," or snappy mnemonic, most famously "I Like Ike."
But it is something else entirely for a campaign catchphrase to make the leap to public consciousness, much less jingle at the cash register.
Make America Trip Again! Make America Tiki Again!
— Examples of two pitches that adapted Trump's slogan
Trump himself came up with the MAGA manifesto, he told the Washington Post, back in November 2012, when few besides himself imagined he might ever seriously vie for the presidency.
"I said, 'That is so good,' I wrote it down," he recounted, and had his attorneys patent the phrase for political purposes. (Although, for the record, Ronald Reagan used the slogan "Let's Make America Great Again" and variants in his winning 1980 presidential campaign. Trump told the Post he was unaware of that provenance.)
Some of the copycatting is overtly political, intended as turnabout or a rejoinder directed at the polarizing president.
When California state Sens. Scott Wiener of San Francisco and Mike McGuire of Healdsburg announced legislation requiring all future presidential and vice presidential candidates make public their tax returns, something Trump refused to do, the two Democrats stated their intention to "help make transparency great again."
Designers dressed down the president during the industry's winter fashion week with ball caps — cherry red, bold lettering — reading "Make America New York," a reference to the historically welcoming nature of his polyglot hometown.
In central Florida, the Muslim community marked Ramadan in June with a billboard along Interstate 95, stylized in the manner of Trump's campaign ads, reading, "Making America Great with love, compassion and mercy."
"Everyone in our nation is making America great when we all work together to serve neighbors and solve our problems," said Abdulrauf Khan, a spokesman for the Florida branch of the Islamic Circle of North America, the volunteer organization that sponsored the signs.
But many enterprises having nothing to do with politics — among them a tiki bar in Los Angeles ("Make America Tiki Again!"), a saloon in Washington ("Make Whisk(e)y Great Again!"), a psychedelia website ("Make America Trip Again!") — know a good commercial tie-in when they see one.
KBAQ, a Phoenix classical music station, launched a billboard campaign the day after Trump's inauguration featuring the venerable Johann Sebastian Bach with headphones clamped over his woolly white mane. The tagline: "Make Your Commute Great Again."
Jim Paluzzi, a vice president at Rio Salado College in Tempe, home of the public radio station, said the ad resonated like no other, with remarkable audience recall. "We meet members on a pretty regular basis," Paluzzi said. "Most of the time you're shocked if they remember anything you did."
He credits the campaign with a rise in the station's listenership, from a 2.2% share of the crowded Phoenix radio market in February to 3.1% in June. "There's no other explanation," Paluzzi said
Advertising professionals, though, aren't particularly impressed.
"It's a little low-hanging," said Jason Sperling, chief creative developer at RPA, a Santa Monica-based ad agency that has done work for Honda, Farmers Insurance and Southwest Airlines, among other clients. There's a "hollowness" at the core of the expression, Sperling suggested, which makes it less a sales pitch than punch line.
Mark Kaminsky, a partner at New York's SS+K advertising agency, is no fan either — though it should be noted that, along with such major brands as GM and Starbucks, the agency's clients included both of President Obama's campaigns.
"Riffs on MAGA are already so widespread that a client could well pause before locking up their product or image with something so common, derivative and potentially divisive," Kaminsky said. "Because it was this particular president's slogan, a flood of consumers will have a political or moral aversion to it."
Favalli, the owner of Atlanta's La Grotta, experienced a bit of that blowback when the "make Wednesdays great again" promotion was emailed to a database of about 14,000 customers. But it wasn't all that bad, he said, considering Atlanta is such a Democratic stronghold.
His response: Lighten up.
"It was very tongue-in-cheek," Favalli said. "In the current climate in which we are, you need to hopefully laugh a little." Or else, he added, "you're going to want to shoot yourself."
ALSO
Could Trump pardon himself? No president ever has, and legal opinions are mixed
Trump's war against elites and expertise
Gov. Jerry Brown shows President Trump the upside of experience
Life is stressful. Our weekly mental wellness newsletter can help.
You may occasionally receive promotional content from the Los Angeles Times.