Trump administration's own analyses indicate many of its new regulations will hurt vulnerable Americans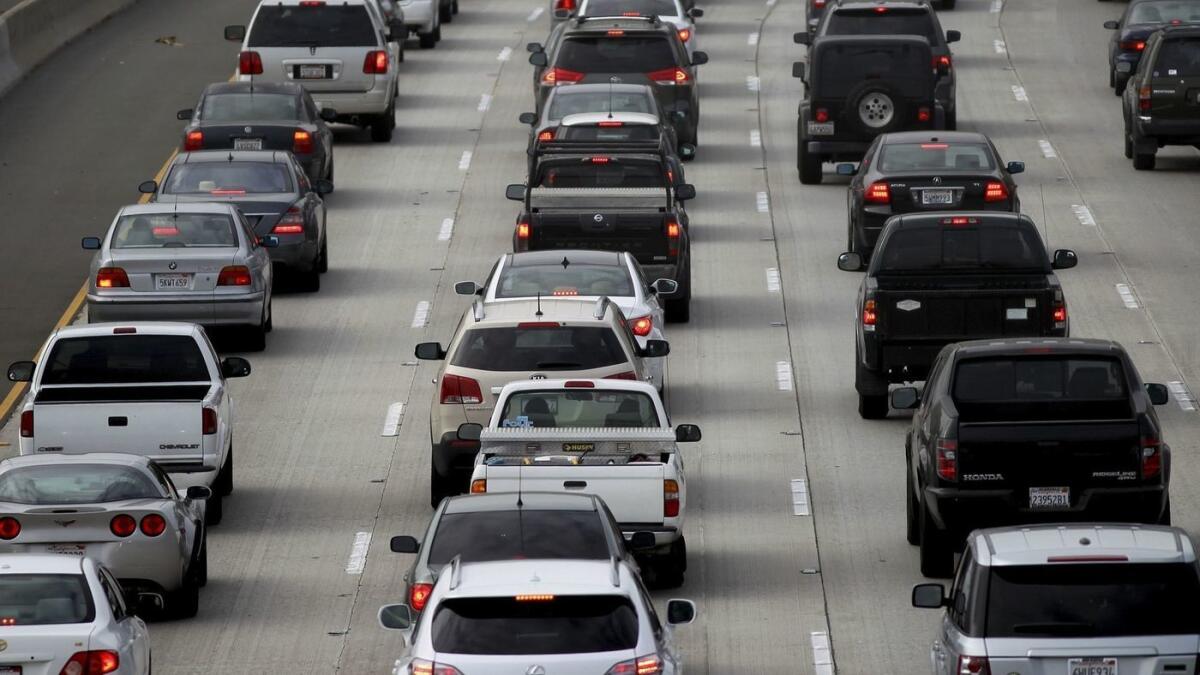 Reporting from Washington —
President Trump's push to roll back federal regulations will take a significant toll on Americans' health and finances, according to a surprising source — the Trump administration itself.
These human costs – which include more deaths from air pollution, higher medical bills and increased student debt – rarely get mentioned by the president, who often touts the economic benefits of his deregulatory campaign.
But a review of thousands of pages of federal regulatory and legal filings shows that multiple agencies predict in their own analyses that the changes will cause an extensive list of harmful, even deadly, effects.
The Environmental Protection Agency, for example, calculated as many as 1,400 more premature deaths a year as a result of its proposed rule providing incentives to electric utilities to keep coal-fired power plants operating longer.
The Department of Education, which has taken several steps to scale back rules on for-profit colleges and universities, conceded that one of its rollbacks had left students with more than $50 million in additional debt.
The Department of Homeland Security acknowledged in regulatory filings that its proposal to curtail immigrants' access to Medicaid and other government safety net programs risks increasing malnutrition among children and pregnant and breastfeeding women.
And the Department of Health and Human Services predicted that a regulation lifting restrictions on health plans with skimpier benefits would reduce sicker patients' access to medical care and expose them higher costs.
"I have never seen an administration take such a callous view of the health impacts of their policy proposals," said Lyndsay Moseley Alexander, who directs the American Lung Assn.'s Healthy Air Campaign.
Federal agencies often say in regulatory filings that those costs are outweighed by economic benefits. Officials project that their moves will spur economic growth, cut government spending or reduce administrative burdens.
Trump routinely cheers such benefits. "We've cut regulations more than any president ever," the president told Fox Business News at a recent White House event in which he claimed deregulation was saving billions of dollars.
But hundreds of patient groups, public health organizations, consumer advocates and others dispute that, saying that many of the administration's proposals pose particular risk for vulnerable Americans, including children, patients with serious illnesses and struggling students.
"The notion that deregulation is good for the economy and good for consumers is ill-conceived," said Sally Greenberg, executive director of the National Consumers League. "In fact, the overall cost of deregulation is actually a drag on the economy because it ultimately hurts consumers and harms their health."
Dr. Todd Wolynn, who heads a large pediatric practice around Pittsburgh, said he and his colleagues are already seeing the impact of some of the administration's moves.
"It seems like every time we see a regulatory change from Washington, it is hurting the health of our families," Wolynn said. "These are the last people we should be taking protections away from."
Since the Reagan administration, federal rules have required agencies to lay out the anticipated costs and benefits of proposed regulations through what are called regulatory impact analyses.
The rigor of these analyses has varied greatly, according to experts. Under Trump, several major policy initiatives have been undertaken without a full accounting of their potential effects, particularly on vulnerable populations.
The Department of Education, for example, did not report how many student borrowers would be affected by a proposed rule issued earlier this year making it more difficult for students who have been defrauded by colleges or universities to get debt relief. Nor did the agency report how much more debt these students could face.
Only when borrowers sued did the agency acknowledge in court filings that scaling back the federal government's debt relief program had left students with $56.9 million in additional debt.
Similarly, the Department of Health and Human Services has been granting states permission to impose work requirements on Medicaid beneficiaries without any assessment of how many people could lose health coverage as a result.
Many advocates fear that the administration may simply stop reporting potential adverse effects from their proposals.
To date, however, agencies have acknowledged that several of the administration's highest-profile policy shifts would likely cause significant harm.
Nowhere has this been more apparent than at the EPA, an agency that has long set the standard for evaluating the costs and benefits of proposed regulatory moves.
When Trump in 2017 ordered the EPA to scrap President Obama's landmark initiative to fight climate change by limiting power plant emissions, agency scientists reported the move would cause up to 4,500 premature deaths annually.
The administration's proposed replacement – known as the Affordable Clean Energy rule -- pushed the projected death toll even higher, according to EPA scientists, who estimated an additional 1,400 premature deaths every year.
The agency also predicted American workers sickened by increased air pollution caused by the added emissions would miss up to 48,000 days of work and sickened children would miss up to 160,000 days of school annually.
Another proposal by the EPA to rescind a ban on a type of polluting diesel-engine trucks, known as glider trucks, also would have been deadly, causing up to 1,600 additional premature deaths from just a single year of glider production, EPA scientists revealed in regulatory filings.
The truck regulation, which triggered bipartisan backlash in Congress, was ultimately withdrawn. In other cases, however, the administration has pushed ahead.
This summer, for example, the Department of Health and Human Services conceded that its proposal to loosen rules on short-term health insurance plans could cause patients who switch to these skimpier plans to "experience loss of access to some services and providers and an increase in out-of-pocket expenditures."
These short-term plans -- which were once limited to three months, but can now provide coverage for up to three years – do not have to cap how much patients must pay for medical care, as health plans sold through the Affordable Care Act do.
Nor do these short-term plans have to offer a full set of benefits, such as prescription drugs, maternity coverage or mental health services.
In its proposed rule, the health agency said it was interested in public comments about these potentially negative impacts.
It received 340 from healthcare groups, including patient advocates, physician and hospital organizations and insurers. Of those comments, 335, or 98%, urged the health agency to change or rescind the proposal, in many cases warning of the dangerous effect on patients, a Times analysis found.
The Health and Human Services Department made no significant changes to the proposal, however, and finalized the new rules in August.
Now, the administration is accepting public comments on yet another major shift in federal regulatory policy, this one allowing federal immigration authorities to deny green cards to immigrants who receive certain forms of government assistance, including Medicaid.
The Department of Homeland Security, which issued the proposed rule, acknowledges a host of potentially harmful impacts on immigrants such as "worse health outcomes, including increased prevalence of obesity and malnutrition, especially for pregnant or breastfeeding women, infants, or children, and reduced prescription adherence."
The agency also notes a likelihood of "increased use of emergency rooms … as a method of primary health care due to delayed treatment" and "increases in uncompensated care in which a treatment or service is not paid for by an insurer or patient."
Finally, the administration conceded that the proposed rule could lead to "increased rates of poverty and housing instability; and reduced productivity and educational attainment."
The regulation is nonetheless expected to be finalized early next year.
More stories from Noam N. Levey »
More stories from Evan Halper »
Get our Essential Politics newsletter
The latest news, analysis and insights from our politics team.
You may occasionally receive promotional content from the Los Angeles Times.