Trump touts 'perfectly carried out' missile strike, but lacks an overall strategy toward Syria
President Trump has yet to articulate a long-term U.S. strategy for dealing with the war in Syria.
Reporting from Washington —
As President Trump basks in widespread approval for the U.S.-led missile strike aimed at Syrian chemical weapons installations, the White House still faces a quandary over U.S. policy toward that country's civil war — as well as some sharp questions about the president's war powers.
Trump has yet to articulate a long-term U.S. strategy for dealing with the grinding, multi-sided war in Syria, which has lasted more than seven years, killed hundreds of thousands and triggered an epic refugee crisis.
Only days before the missile attack, Trump had called for a rapid U.S. troop withdrawal from Syria, which critics said would yield control of the country to Russia and Iran, key allies of Syrian President Bashar Assad. Sen. John McCain (R-Ariz.) was among those who said that Trump's words had "emboldened" Assad to use chemical weapons.
Now, in a turnabout, Trump is promising to keep troops in Syria, according to France's president. Trump may also slap new sanctions on Russian companies, according to Nikki Haley, the U.S. ambassador to the United Nations.
Several lawmakers asserted Sunday that the president should have sought congressional approval for Friday's missile strike, launched in response to reports of deadly poison gas strikes on a rebel-held suburb of Damascus. Congress, however, repeatedly has ducked votes on Syria policy since the fighting began there in March 2011.
But even some people who have expressed vehement public disagreement with Trump's previous actions voiced support for the strike, which was carried out in coordination with Britain and France.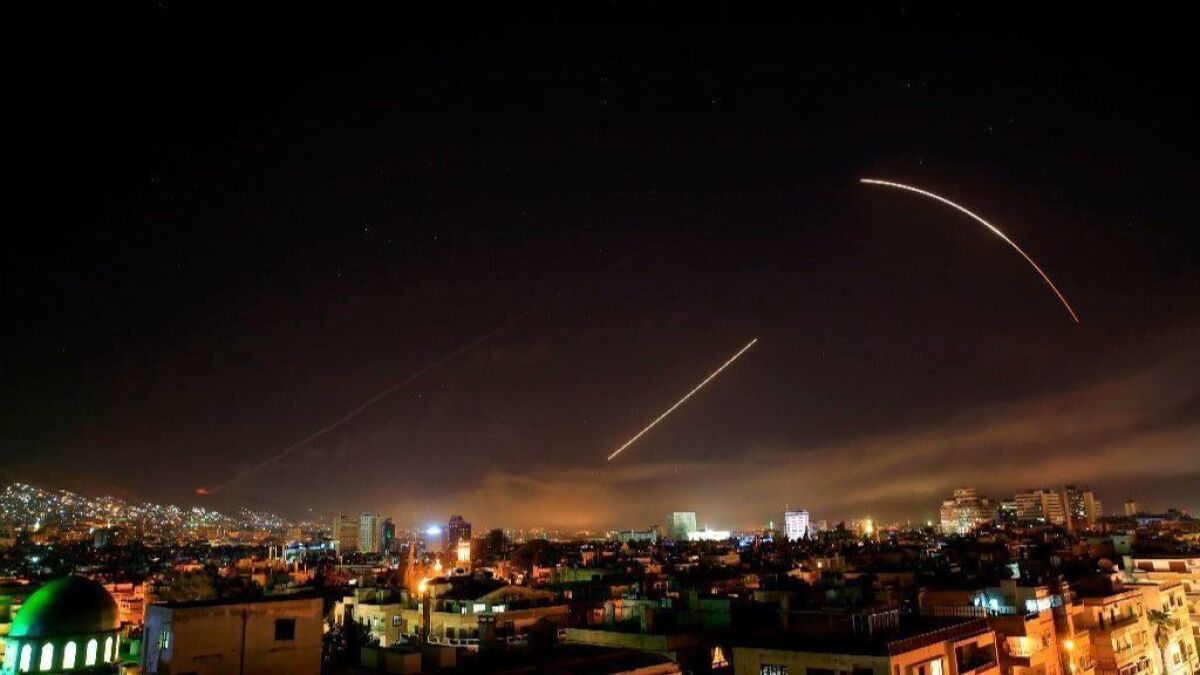 Former CIA Director John Brennan was among those who praised the action as "proportional and necessary to send a signal."
Speaking on NBC's "Meet the Press," Brennan, who is now an analyst for that network, said that "the administration's actions against Syria were appropriate — and I tend to be a critic of this administration."
In the longer term, though, Brennan said, solutions in Syria would probably prove elusive.
"I think we have to continue to put the pressure on the Assad regime, try to hit them when they use chemical weapons, but not get involved in another full-scale war in the Middle East," he said.
Pentagon officials have said the strike significantly damaged Syria's capacity to research and produce chemical weapons. But they have not claimed the strike eliminated Assad's ability to carry out future chemical attacks.
Some experts have questioned whether any strike like this one would have a real effect on the Syrian government's ability to carry out chemical attacks, let alone affect the overall course of the war.
Faysal Itani, a senior fellow at the Atlantic Council's Rafik Hariri Center for the Middle East, said that on the question of whether Assad would be deterred from future chemical strikes, "the most that I can say is 'maybe.'"
Within the administration, some painted the strike as a possible portent of greater American involvement in the Syrian conflict. Haley warned that renewed use of chemical weapons against Syrian civilians by Assad — whose forces have carried out a number of such attacks in the war — could trigger further U.S. military action.
"Should he use it again, the president [Trump] has made it very clear that the United States is locked and loaded and ready to go," Haley said on "Fox News Sunday."
As she and other senior Trump aides are often called upon to do, Haley struck a careful balance between acknowledging what the president has publicly stated and making predictions about future intentions.
Haley acknowledged that Trump's goal is to "see American troops come home." But a pullout would not take place before the militants of Islamic State had been defeated and further use of chemical weapons precluded, she said — both prospects that military officials have warned remain far in the future.
"We of course know our work in Syria is not done," she said.
Having secured French and British participation in the missile strike, Trump might be more obliged to heed their counsel on long-term objectives in Syria.
French President Emmanuel Macron said in a broadcast interview Sunday that despite Trump's talk of a U.S. troop withdrawal, "we have convinced him that it is necessary to stay for the long term."
Haley, who has been among the strongest proponents of punishing Russia for its backing for Assad, argued — as she has frequently done in the U.N. Security Council — that Russia shares blame for the chemical attack, even if it had no direct involvement.
To that end, she said, Treasury Secretary Steven T. Mnuchin would announce new sanctions Monday against Russian companies with links to the Syrian government's chemical weapons infrastructure.
Sanctions "will go directly to any sort of companies that were dealing with equipment related to Assad and chemical weapons use," Haley said on CBS' "Face the Nation."
In the Fox interview, Haley said that "Assad knew that Russia had its back" and that the Syrian leader "got reckless" in the suspected chemical attack in Duma on April 7.
The missile strike has generated concern among some members of Congress that it could presage a military escalation.
One of the sharpest critiques came from Sen. Tim Kaine (D-Va.), who was Hillary Clinton's running mate in the 2016 election.
"President Trump is not a king; he's a president," Kaine said on "Face the Nation," and Trump is "supposed to come to Congress to seek permission to initiate a war."
Some of Trump's fellow Republicans also expressed unease over the potential for U.S. escalation in Syria without legislative input. Sen. Joni Ernst of Iowa, a veteran of the Iraq war, supported the strikes but said on "Meet the Press" that she was "uncomfortable going forward."
Referring to a congressional authorization for the use of military force, she said: "As many of my colleagues have also stated, we need a new AUMF," or authorization for use of military force.
Trump was seemingly motivated to act, as he had been a year earlier after a similar chemical attack, by images of the lifeless bodies of children said to have been stricken by poison gas. His initial response to the episode faulted Russia for backing Assad.
Russia, however, signaled defiance. A Kremlin statement on Sunday quoted Russian President Vladimir Putin as having told Iranian President Hassan Rouhani that the missile strike was a violation of the United Nations charter and that future such actions "will inevitably lead to chaos in international relations."
Some have claimed that Trump chose the timing of the airstrike to dominate the weekend news cycle and distract attention from the charges against him in the new book by fired FBI Director James B. Comey.
If so, Trump undercut that strategy with half a dozen angry tweets Sunday morning in which he branded Comey a liar and seemed to suggest that the ex-lawman belonged in jail.
Trump's use of the phrase "Mission Accomplished" in a tweet on Saturday also raised eyebrows, because it is closely associated with former President George W. Bush's premature declaration of victory in Iraq in 2003.
As became apparent in retrospect, the U.S. mission was far from accomplished. Indeed, U.S. policy at the time helped create a chaotic power vacuum that was filled by civil war in Iraq, greater regional influence for Iran and, eventually, the rise of a jihadist movement that would coalesce into Islamic State.
In a tweet on Sunday morning, however, the president insisted that he was fully aware of the phrase's weighted implications about U.S. miscalculations in the Middle East.
"The Syrian raid was so perfectly carried out, with such precision, that the only way the Fake News Media could demean was by my use of the term 'Mission Accomplished,'" he wrote on Twitter. "I knew they would seize on this but felt it is such a great Military term, it should be brought back.
"Use often!" he said.
Like many of Trump's actions as president, the missile raid was cast by the president's aides as a sharp contrast with former President Obama's policies.
On the campaign trail, Trump hammered at Obama's failure to enforce the "red line" he had drawn against Assad's use of chemical weapons to kill his own people. On Sunday, White House Press Secretary Sarah Huckabee Sanders made the contrast explicit, saying the airstrike had shown that "when this president has a red line, he will enforce it."
At the same time, a seeming misstep by the White House press shop drew attention: Sanders tweeted out a photo which she implied had reflected the final deliberations about the missile strike.
Vice President Mike Pence was shown in the photo of a gathering in the White House Situation Room. He, however, was out of the country Friday when the action was finally approved.
Sanders later clarified that the picture was taken on Thursday, not Friday, when the final go-ahead for the missile strike was given. She insisted the image had not been misleading.
---
UPDATES:
3:23 p.m.: This article was updated with a comment by Nikki Haley about possible additional sanctions on Russian firms.
2:10 p.m.: This article was updated with a comment by the French president.
This article was originally published at 1:45 p.m.
---
Life is stressful. Our weekly mental wellness newsletter can help.
You may occasionally receive promotional content from the Los Angeles Times.