Ticket to the White House or political oblivion? The challenge for Donald Trump as he seeks a running mate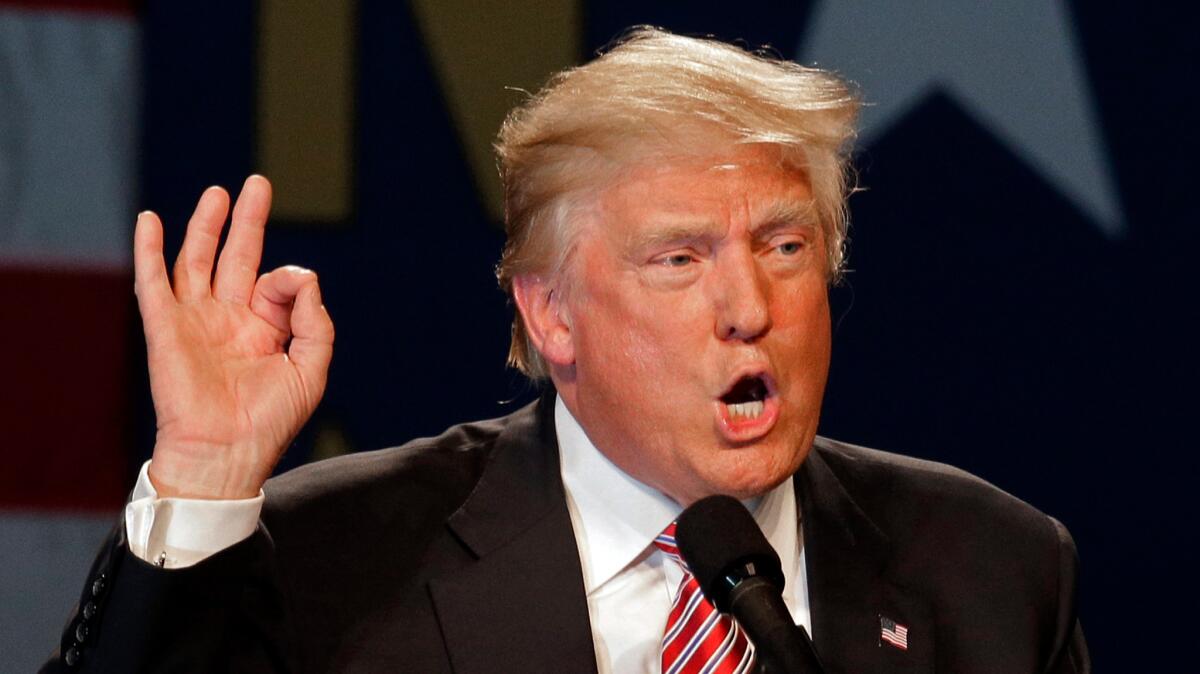 So who wants to be the apprentice?
"Who do you like?" Donald Trump recently quizzed supporters at a Tampa rally, cupping a hand to his ear as they suggested vice presidential running mates.
"Newt!"... "Sessions!"… "Condi Rice!" came the cries, referring — respectively — to former GOP House Speaker Newt Gingrich, Republican Sen. Jeff Sessions of Alabama and Condoleezza Rice, President George W. Bush's national security advisor and secretary of State.
Loud, undisciplined and often uncouth, the presumptive Republican nominee is a presidential candidate like no other, and whoever joins his ticket will be tested in ways no understudy ever has been.
The line of eager prospects typically winds from the U.S. Capitol across the country — through statehouses, governor's mansions, city halls — and back again.
Not this time.
Election 2016 | Live coverage on Trail Guide | Track the delegate race | Sign up for the newsletter
"He needs some stability. He needs some class. He needs somebody that people trust," said Stu Spencer, a campaign strategist who has spent more than half a century offering counsel to Republicans from the White House down. "Anybody of that caliber who attaches themselves to Trump is insane."
Many prospects who might make good political sense — Ohio Gov. John Kasich, for instance, or Florida Sen. Marco Rubio, or the defense and foreign policy mandarin Robert Gates — have made clear their abundant lack of interest.
"What is a less-than-zero percent chance?" said John Weaver, a strategist for Kasich's unsuccessful White House bid. "What is 'no under any circumstances?' "
Ever the showman, Trump has said he would reveal his choice at next month's Republican National Convention, adding a little zing to what is typically four days of scripted pablum.
But there already is no small amount of drama surrounding his selection, beyond even the usual guessing that attends a candidate's pick for the man, or woman, who may be a proverbial heartbeat away from the presidency.
It is an article of faith that the naming of a No. 2 is one of the crucial moments of a presidential campaign, cracking a window into candidates' judgment and the decision-making style they might bring to the White House.
"It signals and symbolizes an awful lot," said Kenneth Duberstein, a former chief of staff to President Reagan and one of Washington's Republican elders.
All the more so for the Manhattan business mogul, who lately has stumbled from one controversy to another, sending his poll numbers into sharp decline.
Trump's choice "will have to be the first explainer every time he goes out and says a judge can't be fair because he's Mexican, or we ought to exercise oversight over all Muslims," said Joel Goldstein, a Saint Louis University law professor and one of the country's leading experts on the vice presidency. "I'm not sure that's a very attractive way to spend the next few months."
Corey Lewandowski, who was overseeing Trump's vice presidential selection process until his firing Monday, insisted there was no shortage of willing candidates, saying the presumptive nominee has settled on a handful of finalists culled "from a larger pool under consideration."
Trump's running mate "will be a partner," his former campaign manager said in an interview before his abrupt ouster, "a partner who will help achieve his legislative agenda in Washington and help put our country on track."
Gingrich and Sessions, the first sitting U.S. senator to back Trump and one of his staunchest defenders, are among those in the thick of speculation. Rice has said she is happy teaching at Stanford and has no interest in the vice presidency.
Other names that have surfaced — which is to say thrown out by chatterers in a political version of the guessing game — include Govs. Chris Christie of New Jersey, Mary Fallin of Oklahoma and Rick Scott of Florida and Sens. Bob Corker of Tennessee, Tom Cotton of Arkansas and John Thune of South Dakota.
Trump has not revealed his short list of finalists. But he has explained some of his selection criteria, saying foremost he wanted someone who would make a "great" president in the event he or she rose to the position. He ruled out a businessman or political outsider like himself.
"I do want somebody that's political because I want to get lots of great legislation we all want passed," he said at a February campaign stop at Virginia's Regent University. "We're going to probably choose somebody that's somewhat political."
Certain verities have guided the picking process over time. Foremost among them, said Bill Schneider, a visiting UCLA communications professor and longtime student of government and national politics, "is picking someone who can help you win. Nothing else matters."
Traditionally, that has meant bringing some balance to a presidential ticket — demographic, geographic, ideological — or selecting a popular politician from a battleground state.
Reagan chose George H.W. Bush to reassure moderates and capitalize on Bush's foreign policy background. Bush's son, then-Texas Gov. George W. Bush, chose Dick Cheney, the ultimate Washington insider, to help govern.
Some of the obvious choices for Trump appear to have been foreclosed.
Rubio was the candidate many Democrats feared most in November, given his youth, charisma and roots in Florida's Latino community. The scathing personal attacks he and Trump hurled at one another in the GOP nominating fight — "Little Marco!" "small hands!" — would have seemed to preclude a coming together even before Rubio took himself out of consideration.
Kasich, who combines a long Washington resume with executive experience and strong standing in Ohio, a state Trump must almost certainly carry to win in November, would seem a strong vice presidential contender.
But according to Weaver, his campaign advisor, the governor told Trump in a recent conversation that running together "would be like merging two companies that have totally different value systems, different ethics, a different way of doing business. … It would not work."
Lewandowski said the Trump campaign does not comment on private discussions.
Political protocol requires that a vice presidential prospect, however interested, avoid seeming too covetous of the position. This time, though, the demurrals seem less rote and more genuine.
Kasich, Rubio and others may have an eye on 2020, believing that if Trump were to lose — and opinion polls suggest he would lose badly if the election were held today — their future prospects would be irretrievably damaged.
Former New York Rep. William Miller, who was Barry Goldwater's running mate in his 1964 landslide defeat, disappeared from public view soon after. His obscurity was celebrated in an American Express commercial – "Do you know me?" – and by the time he died in 1983 he was better known for his advertising appearance than his years in Congress.
But polls fluctuate, and attitudes can change along with them.
Duberstein, for one, believes the vice presidential pickings might not be as slim if Trump's fortunes improve between now and the July 18 start of the GOP convention.
"If Donald can make a compelling case that he has a plausible shot at being president of the United States," Duberstein said, "that pool will expand rapidly."
ALSO
Sanders' delegates in California cling to their dream, unfazed by math
Democrats back pot legalization, repeal of death penalty
Joe Biden to target Donald Trump on foreign policy
---
UPDATES:
2:07 p.m.: This article was updated with the firing of Donald Trump's campaign manager Corey Lewandowski.
The story was originally published at 6 a.m.
Get our Essential Politics newsletter
The latest news, analysis and insights from our politics team.
You may occasionally receive promotional content from the Los Angeles Times.