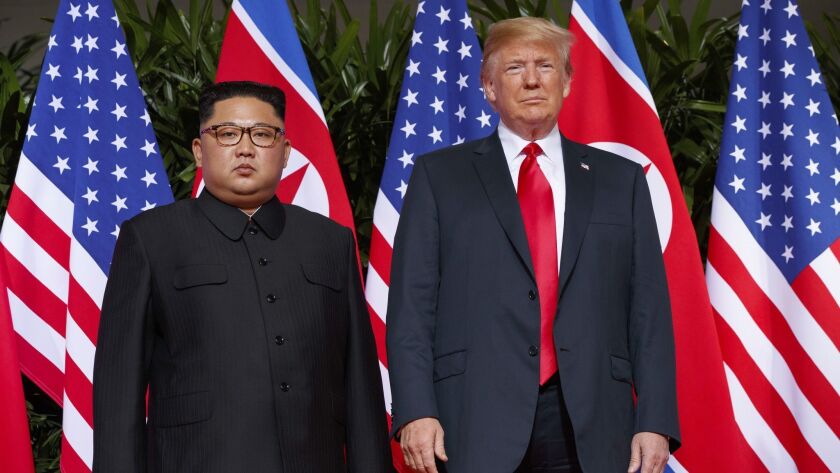 Reporting from Washington —
The Trump administration imposed sanctions Wednesday on three foreign companies it says are helping North Korea with illicit shipments of goods to fund its nuclear program.
The Treasury Department said it was taking action against the companies, which are based in China, Russia and Singapore, as well as the head of the Russian firm. The move blocks any assets that they may have in U.S. jurisdictions and bars Americans from doing business with them.
It comes as the U.S. continues to press for full compliance with international sanctions against North Korea while it continues talks with the North on ending its nuclear program.
"Treasury will continue to implement existing sanctions on North Korea, and will take action to block and designate companies, ports and vessels that facilitate illicit shipments and provide revenue streams to the DPRK," Treasury Secretary Steven T. Mnuchin said, using the initials of North Korea's official name, the Democratic People's Republic of Korea. "Consequences for violating these sanctions will remain in place until we have achieved the final, fully verified denuclearization of North Korea."
Those targeted are the China-based Dalian Sun Moon Star International Logistics Trading Co. and its Singapore-based affiliate, SINSMS Ltd., along with Russia's Profinet Ltd. and its director general. They are accused of helping North Korea evade international sanctions by rerouting exports and imports through Chinese and Russian ports.
Treasury said the Chinese company and its Singaporean affiliate had used false shipping documents to export alcohol and tobacco products to North Korea in violation of international sanctions.
It said the Russian firm and its director, Vasili Aleksandrovich Kolchanov, provided port services at least six times to North Korean-flagged vessels engaged in sanctions busting oil shipments.
---
UPDATES:
9:15 a.m.: This article was updated with quotes from Treasury Secretary Steven T. Mnuchin
This article was originally published at 8:45 a.m.
---