William Barr emerges as Trump's leading attorney general candidate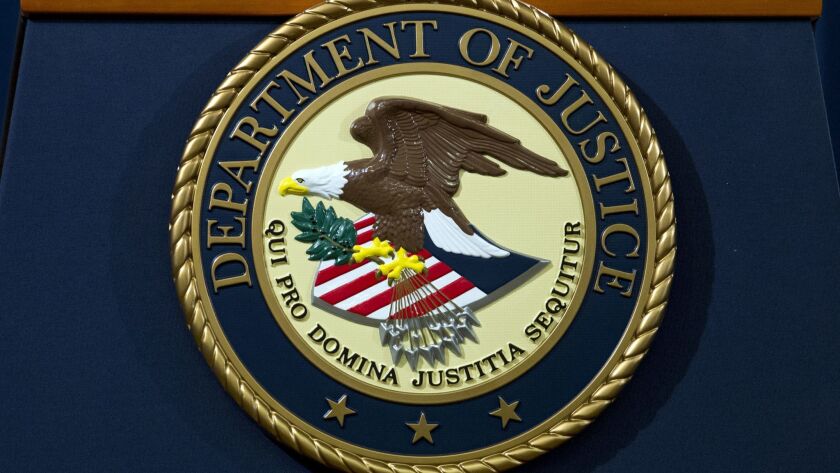 Reporting from Washington —
President Trump is close to nominating William Barr, who served as attorney general under President George H.W. Bush, to permanently succeed Jeff Sessions as head of the Justice Department, according to people close to the process.
Trump has had several conversations with Barr in recent weeks and "has already signed off on it," said one person close to the administration, who cautioned that nothing is final until the president announces it. Like others familiar with Trump's discussions, the person spoke on condition of anonymity to comment on internal deliberations.
Barr, 68, served as attorney general from 1991 to 1993. Since then, he has worked as a prominent corporate lawyer. He was recommended to Trump by a number of administration officials and Washington conservatives, who have pitched him as a serious, experienced candidate who probably could win a relatively smooth Senate confirmation and who can make a credible case during hearings that he will serve the country, not the president's personal agenda.
The White House officially had no comment Thursday on the matter, which was first reported by the Washington Post and confirmed by a number of additional outlets. The floating of Barr's name in the media allows for a public vetting of sorts, prompting a number of conservative voices from Capitol Hill to Fox News to weigh in.
Barring a major backlash now that the name has been floated, Trump could nominate Barr in the coming days or weeks, those familiar with the discussions said.
Most of the on-the-record reaction Thursday was positive. Privately, however, some close to the president objected to the potential nominee. For them, Barr's establishment credentials count as a significant negative.
Last week, Sen. Lindsey Graham (R-S.C.) responded to the first rumblings about Barr's potential appointment by calling him "an outstanding choice" who he thought "could get confirmed very easily." Graham is slated to become Judiciary Committee chairman in January and would preside over confirmation hearings for a new attorney general.
Sens. John Cornyn (R-Texas) and Patrick J. Leahy (D-Vt.), both Judiciary Committee members, echoed that sentiment to reporters Thursday.
"Former AG Bill Barr would be an excellent AG. Ditto for GovChristie," said Fox News host Laura Ingraham in a tweet, referencing former New Jersey Gov. Chris Christie, who is also interested in the position, according to multiple individuals close to the White House and former governor, now a political commentator for ABC News.
Barr would be a permanent replacement for Sessions, who Trump pushed out of the job the day after the midterm election. Matthew Whitaker, previously Sessions' chief of staff at the Justice Department, has been serving as the interim attorney general.
Whitaker's appointment has proved controversial, with critics highlighting his thin legal resume and connection to a company that federal regulators described as a scam. The fact that he has not been confirmed by the Senate to any post has led several legal experts to say his acting appointment is illegal.
Democrats have also been alarmed by Whitaker's condemnation of the Russia investigation before joining the Justice Department.
Because confirmation of a new attorney general would typically take a couple of months, at minimum, Whitaker would probably continue to run the Justice Department at least through much of the winter.
Because Sessions worked on Trump's campaign, he recused himself from supervising special counsel Robert S. Mueller III. But Barr is unlikely to face the same recommendation from Justice Department ethics officials — a potential selling point for Trump, who has chafed at his lack of control over the investigation.
Mueller's work has ramped up since the midterm election. He obtained written answers from Trump to questions about the campaign, and he could still seek a subpoena if he's not satisfied by Trump's responses.
Mueller also secured a guilty plea from Trump's former personal lawyer, Michael Cohen, who admitted to lying to Congress about his pursuit of a Russian real estate deal during the 2016 campaign.
Barr served as Mueller's boss in the Bush administration, when Mueller led the criminal division at the Justice Department. The two worked together on some major cases, including the lengthy investigation into the terrorist bombing of a Pan Am airliner over Lockerbie, Scotland, in 1988.
Barr, however, has been outspoken in expressing his skepticism about some aspects of the special counsel investigation. After initially showing confidence in Mueller's appointment, he has expressed disappointment over political donations to Democrats made by some members of Mueller's team and defended Trump's right to fire former FBI Director James B. Comey — a key aspect of a possible obstruction of justice case against the president.
Times staff writer Chris Megerian contributed to this report.
---
Get our Essential Politics newsletter
The latest news, analysis and insights from our politics teams from Sacramento to D.C.
You may occasionally receive promotional content from the Los Angeles Times.