Trump's 'shithole' comments stirred anger and condemnation, but not from everyone
Reports of President Trump's statements during an Oval Office meeting on Thursday were met with quick reactions worldwide. Here's a look at how politicians, world leaders, media and late-night TV show hosts reacted to the news.
California
Sen. Dianne Feinstein
"The president's reported comments about our allies in Latin America and Africa are disgusting. They diminish America's standing in the world and should be denounced by every member of Congress," she said on Twitter.
Sen. Kamala Harris
"To our brothers, sisters, and friends in immigrant communities at home and across the world, know that we stand with you. Immigrants don't just belong in America, immigrants have helped build America," the senator said on Twitter.
Lt. Gov. Gavin Newsom
"You're a joke and a racist, President Donald J. Trump. Resign," he said on Facebook.
Antonio Villaraigosa
"Sad to report -- this is not fake news. Another reminder -- we must speak as one to protect immigrants. Join us," the former Los Angeles mayor said on Twitter.
Washington
House Speaker Paul D. Ryan
The Wisconsin Republican said President Trump's vulgar slur about Africa was "very unfortunate, unhelpful," according to the Associated Press.
Sen. Richard J. Durbin, D-Ill.
"I cannot believe that in the history of the White House, in that Oval Office, any president has ever spoken words that I personally heard our president speak yesterday," Durbin told reporters Friday, after Trump tweeted a denial of sorts.
"I've seen the comments in the press," Durbin continued, referring to reports about the White House meeting that he attended. "I have not read one of them that's inaccurate."
Rep. Mike Simpson, R-Idaho
"I think it was stupid and irresponsible and childish. He's president of the United States. That's not how a president behaves."
Sens. Tom Cotton (R-Ark) and David Perdue (R-Ga.)
"We do not recall the president saying these comments specifically," Cotton and Perdue said in a joint statement. "But what he did call out was the imbalance in our current immigration system, which does not protect American workers and our national interest."
Hillary Clinton
"The anniversary of the devastating earthquake 8 years ago is a day to remember the tragedy, honor the resilient people of Haiti, & affirm America's commitment to helping our neighbors. Instead, we're subjected to Trump's ignorant, racist views of anyone who doesn't look like him," she said on Twitter.
Worldwide
Botswana
"The government of Botswana is wondering why President Trump must use this descriptor and derogatory word when talking about countries with whom the U.S. has had cordial and mutually beneficial relations for so many years."
Haiti
The Haitian Ambassador to the U.S., Paul Altidor, told NPR: "We've been a strong neighbor. We've been a good friend of the people of the United States. Today, Haitians are still here working hard, contributing to the social and economic fabric of this country."
Former Mexican President Vicente Fox
Senegal
"I am shocked by President Trump's statements on Haiti and Africa. I reject and condemn them vigorously. Africa and the black race deserve the respect and consideration of everyone," said Senegalese President Macky Sall in a tweet.
The African Union
The continent's leadership body was "frankly alarmed" by the comment, according to AU spokeswoman Ebba Kalondo.
"Given the historical reality of how many Africans arrived in the United States as slaves, this statement flies in the face of all accepted behavior and practice," she said.
Media coverage
Don Lemon
"This is CNN Tonight, I'm Don Lemon. The president of the United States is racist. A lot of us already knew that," the news host said on air.
Here's how newspapers presented the news: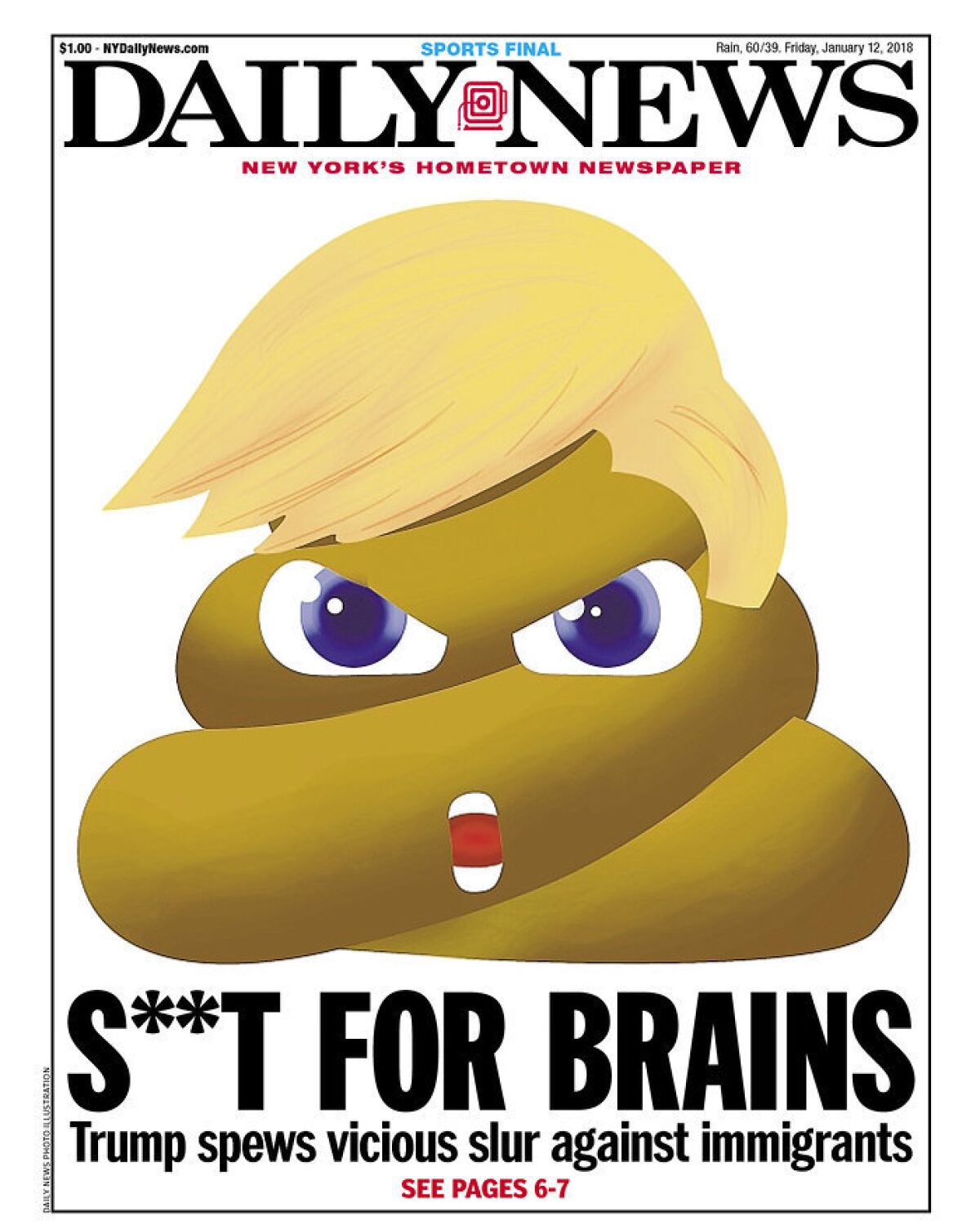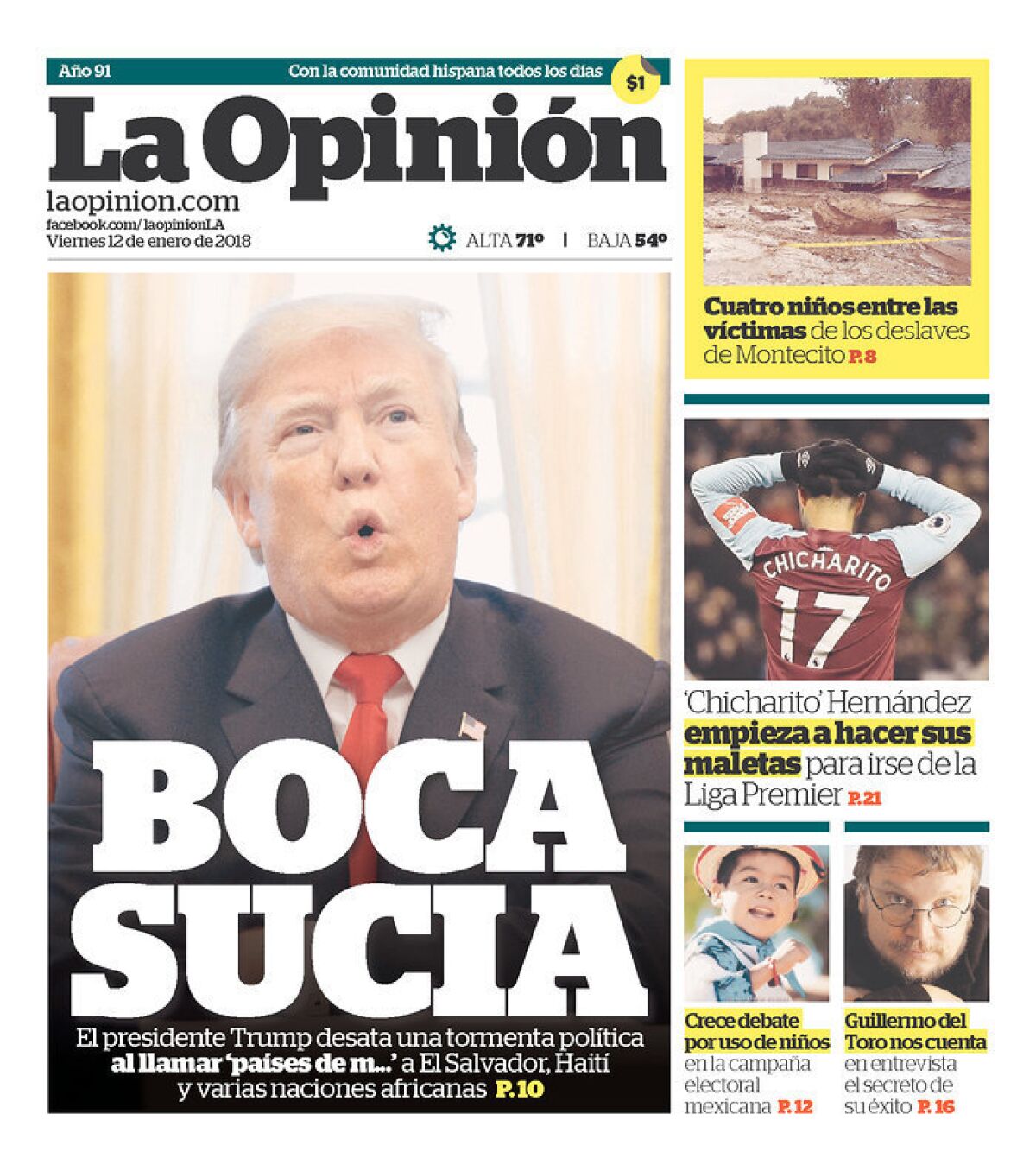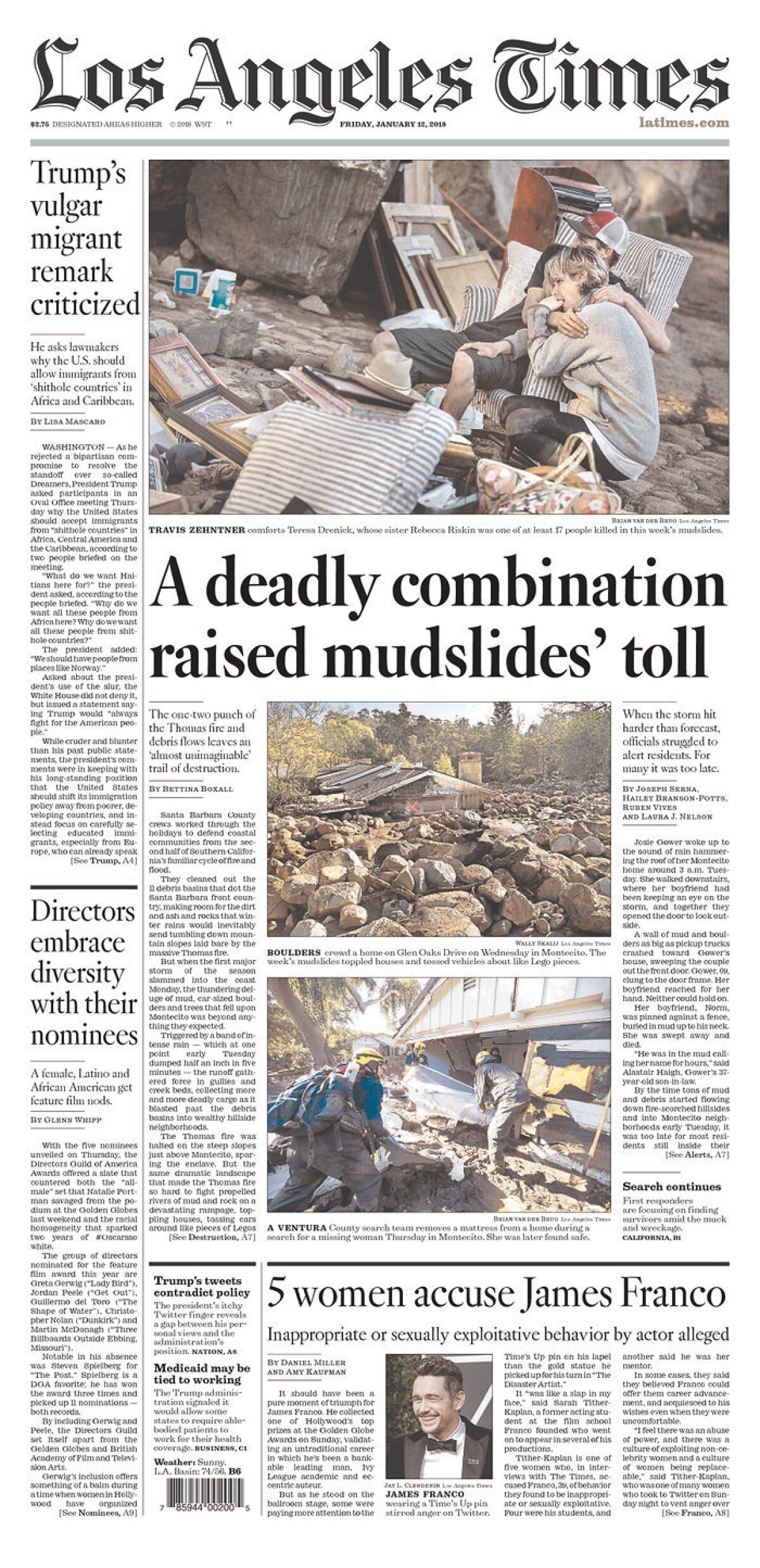 Late-night TV
In a segment about Trump's remarks earlier Thursday, Trevor Noah said "Guys, I don't know how to break this to you, but I think the president might be racist. ... As someone from South Shithole, I'm offended."
On The Late Show, Stephen Colbert also commented on the president's remarks, with the vulgarity bleeped out: "Trump reportedly said, 'Why are we having all these people from ... countries come here?' Sir, they're not ... countries: For one, Donald Trump isn't their president."
Get our Essential Politics newsletter
The latest news, analysis and insights from our politics team.
You may occasionally receive promotional content from the Los Angeles Times.