Trump bristles at criticism over planned North Korea summit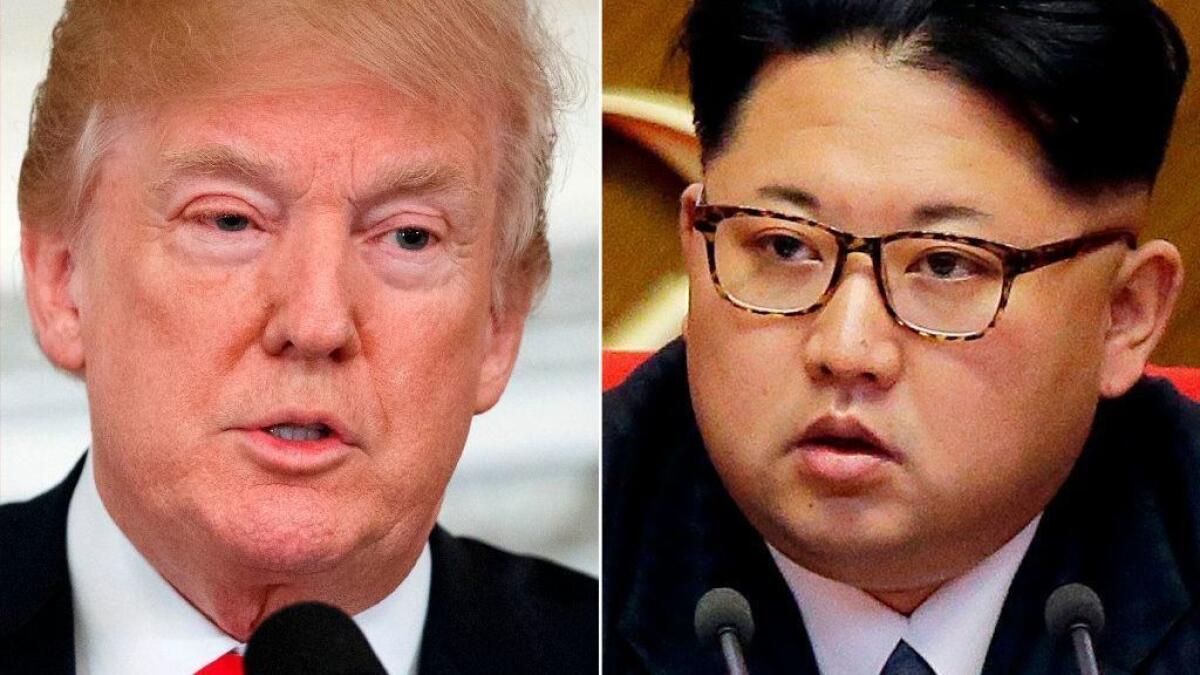 Reporting from Washington —
President Trump pushed back Sunday against criticism that his decision to hold face-to-face talks with North Korea's leader amounted to a major concession to Pyongyang, with no gain for Washington in return.
"Wow, we haven't given up anything," the president tweeted from his Florida resort.
In the same tweet, Trump asserted that North Korea had "agreed to denuclearization," apparently referring to Pyongyang's announcement last week that it would stop nuclear and missile tests and shut down a nuclear test site.
Most observers interpreted the announcement far more narrowly. Those included one of Trump's closest Republican allies in the Senate, Tom Cotton of Arkansas, who pointed to North Korea's record of failing to adhere to pledges about its nuclear program.
"I think this announcement… is better than continued [nuclear and ballistic] testing, but it's not much better than that," Cotton said Sunday on CBS' "Face the Nation," calling it an "easily reversible decision."
Cotton noted, moreover, that North Korea "made no announcement about their medium- or short-range ballistic missiles that threaten hundreds of thousands of Americans in Korea and Japan, just like it threatens our allies there."
Confusion over what "denuclearization" means to the White House — and North Korea — has raised questions about the administration's degree of preparation for the direct talks with North Korean leader Kim Jong Un, which are planned by mid-June. The precise date and venue have not been set.
Trump's legislative director Marc Short, interviewed on "Meet the Press," acknowledged that the two sides' interpretations of the term had not yet been resolved.
"I think there has to be a sit-down conversation to get to that point," he said. The U.S. view, he said, was that "it means full denuclearization — no longer having nuclear weapons that can be used in warfare against any of our allies." North Korea has made no such promise.
A leading GOP senator who has been the target of barbed tweets from Trump offered a skeptical view of whether the summit would bring any real progress toward getting Kim to abandon nuclear ambitions.
Sen. Bob Corker of Tennessee, the chairman of the Senate Foreign Relations Committee, said on ABC's "This Week" that it was unlikely the North Korean leader would give up nuclear weapons based on a friendly personal encounter.
"To think that someone's going to go in and charm him out of that is not realistic," said Corker, who has announced his retirement. But the senator said he did not rule out the possibility of positive developments from the planned meeting.
"Is there some progress that can be made? I hope so," he said.
Trump himself sought to play down expectations about the meeting with Kim, writing on Twitter that "maybe things will work out, and maybe they won't — only time will tell."
But he took another opportunity to criticize his predecessors' policies on North Korea, writing: "The work I am doing now should have been done a long time ago!"
Get our Essential Politics newsletter
The latest news, analysis and insights from our politics team.
You may occasionally receive promotional content from the Los Angeles Times.