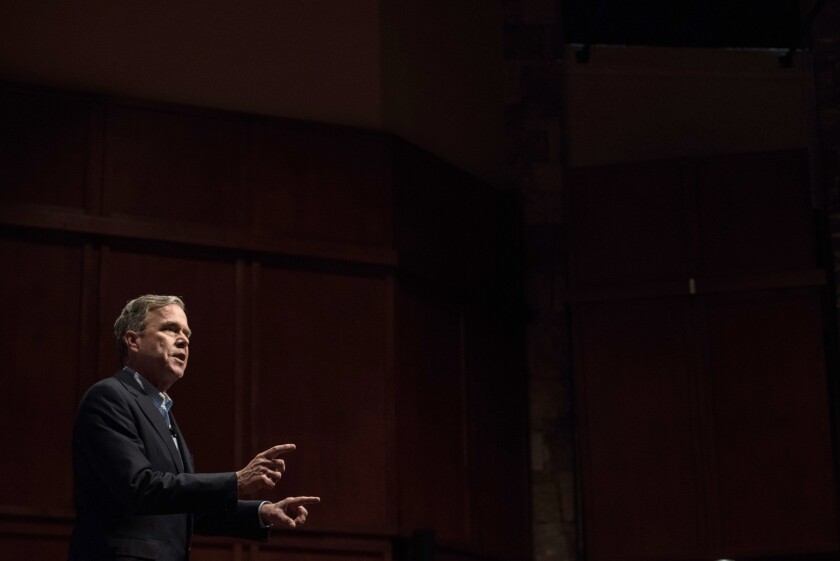 Jeb Bush endorsed Ted Cruz in the GOP presidential race Wednesday, arguing that he was the best candidate to take on the party's front-runner, Donald Trump.
"For the sake of our party and country, we must move to overcome the divisiveness and vulgarity Donald Trump has brought into the political arena, or we will certainly lose our chance to defeat the Democratic nominee and reverse President Obama's failed policies," Bush said in a statement released early Wednesday.
Bush and Cruz make for odd political bedfellows.
Bush, the former governor of Florida, was the presumed GOP front-runner when he entered the race last summer with an enormous fundraising edge, expected to capture the support of establishment Republicans. Facing an angry electorate who disdained his familial relationships to the last two GOP presidents – his brother and his father -- Bush never caught on. He dropped out of the race in February after disappointing finishes in the early-voting states.
Cruz, the Texas senator, is a tea party firebrand who has alienated his Republican colleagues in Washington with his intransigence.
Many speculated that Bush would endorse Sen. Marco Rubio before that candidate dropped out of the race earlier this month after faring poorly in their shared home state of Florida. Bush is ideologically and temperamentally more aligned with Rubio, his one-time protégé, than with Cruz.
But it's not surprising Bush decided to cast his support behind Cruz as part of a growing GOP effort to stop Trump.
The business-mogul-turned-reality-television star relished needling Bush and his family throughout the campaign, labeling Bush as "low energy" and accusing his brother, President George W. Bush, of failing to keep the nation safe from the Sept. 11, 2001 terrorist attacks and lying about his decision to invade Iraq. The attacks continued long after Jeb Bush was an afterthought in the GOP presidential race.
Bush is arguably more aligned with Ohio Gov. John Kasich -- the other candidate still standing in the GOP nomination contest -- but Kasich has failed to showed viability at the polls aside from in his home state. Bush pointed toward electability in his statement endorsing Cruz.
"Ted is a consistent, principled conservative who has demonstrated the ability to appeal to voters and win primary contests," Bush said. "Washington is broken, and the only way Republicans can hope to win back the White House and put our nation on a better path is to support a nominee who can articulate how conservative policies will help people rise up and reach their full potential."
---