A conservative actress and a celebrity mayor heat up a South Los Angeles congressional race
Ten days ago, freshman Rep. Nanette Barragán had just won the California Democratic Party's endorsement and had a clear path to securing a second term representing a heavily Democratic stretch of south Los Angeles County in Congress.
Today, the dynamic of her reelection bid has dramatically shifted.
National celebrity news and culture websites have homed in on her district as actress-turned-conservative commentator Stacey Dash announced plans to run amid rumblings that Compton's high-profile Democratic mayor, Aja Brown, is mounting a last minute candidacy.
A TMZ report Tuesday suggesting Brown will run to block Dash — a Republican best known for her role in 1995's "Clueless" — painted the race as a one-on-one fight between the two women without even mentioning Barragán.
Track the congressional races that will make the difference in California »
Brown on Tuesday filed federal paperwork to raise money for the race and kicked off her campaign Thursday in Compton.
Brown told The Times in an interview that though Dash's candidacy was a "motivating" factor in her own decision to run, she thinks she can build off her record in Compton and bring "progressive, millennial leadership" to Congress.
"Political positions do not belong to the officeholder, they belong to the people that place us in office," she told a cheering audience of supporters.
She stopped short of criticizing Barragán's representation of Compton since she took office.
"I think there is always room for improvement," Brown said. "For me its not about Congresswoman Barragán at all — its about raising the standard for what congressional representation can be in my district."
The late bids are promising to pep up an otherwise quiet race, and both Barragán and her rivals are plotting for the June 5 primary.
Former state Sen. Isadore Hall, whom Barragán defeated in a nasty 2016 contest, is working behind the scenes to boost Brown's nascent campaign. He texted at least one member of California's congressional delegation Tuesday night asking that Democrat to endorse both Barragán and Brown. Such a move against an incumbent member of Congress would be unprecedented.
Hall, also from Compton, tweeted "Let's Go!!!" after the TMZ report was published and attended her event Thursday.
Brown, 35, has outsized name recognition for a city of 97,000 and is considered the face of Compton as it has made a rebound. Crime is down, home prices are on the rise, and Compton's native celebrities have stepped up to boost their city. Tennis superstars Venus Williams and Serena Williams, rapper Kendrick Lamar and music mogul Dr. Dre all have donated to community programs there in recent years. Brown became the youngest mayor in the city's history when elected in 2013.
Complicating matters for Barragán, Brown and Dash is California's top-two primary system, which allows for the two candidates with the most votes in June to advance to November regardless of their party affiliation.
With Brown in the race, Dash faces even longer odds to win enough votes to make the top-two race in November: 61% of voters identify as Democrats while just 10% register as Republicans and 83% of district voters went for Hillary Clinton.
Dash, 51, who was a regular on Fox News, criticized President Obama and has called for Black History Month to be scrapped. A sensational TMZ headline declared Brown's interest in the race: "I'm gonna run for Congress … because Stacey Dash is a disaster."
The mayor of Compton has her own celebrity ties. Last week Brown hosted director Ava DuVernay for the first public screening of the much-anticipated "A Wrinkle In Time."
Brown's role in Compton's upswing has earned her profiles in national and international media outlets. Those celebrity photo ops could make up for the fact that only about 13% of voters in the 44th Congressional District are from Compton, according to the California Target Book.
Her role as leader of Compton could also turn out to be a liability — the State Controller's Office recently performed a review of Compton's city government. A spokeswoman for the state agency said a final report could be issued as early as next week.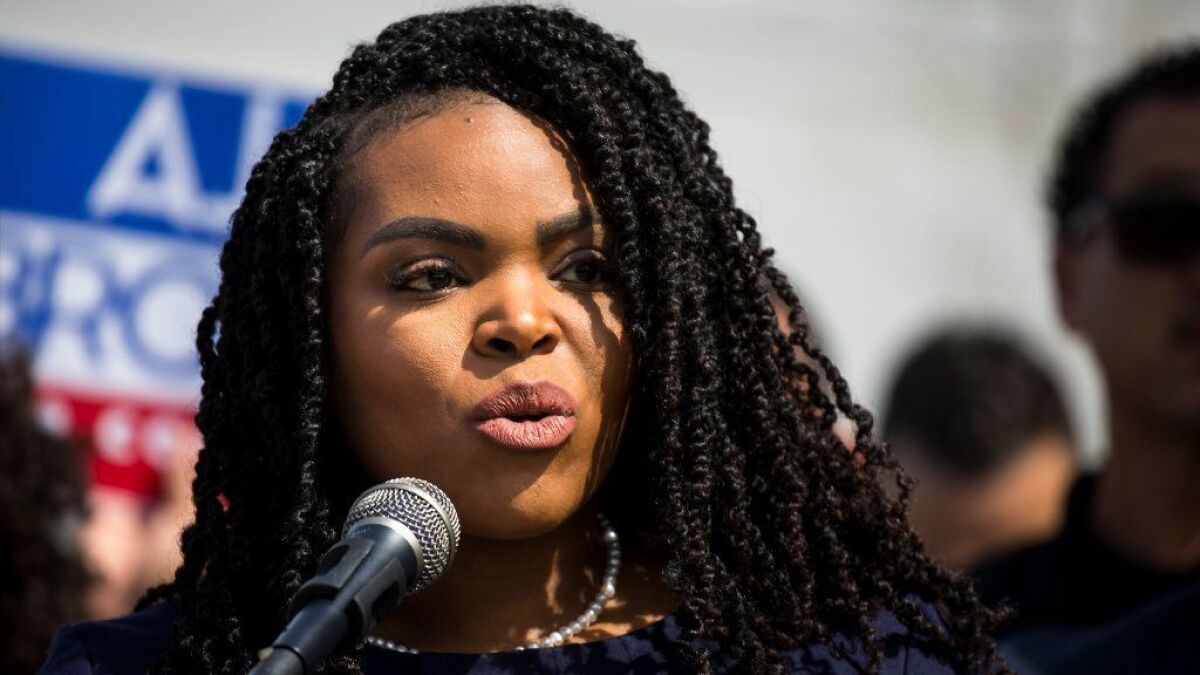 Barragán ran what started as an underdog bid for Congress in 2016 and managed to beat Hall in a contentious open-seat race with 52% of the vote.
Barragán, 41, did not sit pat as new opponents sprang up.
She has rolled out a steady stream of endorsements starting with prominent U.S. Sens. Kamala Harris and Cory Booker. Civil rights icon and Rep. John Lewis is backing her, along with 15 other members of the Congressional Black Caucus.
In total 15 members of California's congressional delegation have endorsed Barragán in the last week, including Los Angeles' Rep. Karen Bass, Rep. Jimmy Gomez and Rep. Ted Lieu. Los Angeles County supervisors Janice Hahn, Mark Ridley Thomas and Hilda Solis also are backing Barragán.
Such endorsements would be standard fare for a sitting member of Congress but are notable because Barragán managed to win without them in 2016, when Hall secured the lion's share of establishment support and official state party backing.
This is a new boost for Barragán. Last cycle her opponent — Isadore Hall — secured the lion's share endorsements from establishment Democrats as well as the party itself.
The 44th Congressional District is one of the state's most diverse. Latino voters make up 51% there while 25% are black and 5% are Asian, according to the California Target Book.
Barragán, the freshman class president, said she's more worried about her day job.
"I think it's kind of interesting that both of my opponents announced on TMZ. And we are going to run my campaign like we ran the first one, we won't take anything for granted. It's great to see that my House colleagues are standing with me and I'm going to continue to work to fight for my constituents, and that's where we are."
Staff writers Angel Jennings and Christine Mai-Duc contributed to this report.
Twitter: jpanzar
ALSO
Conservative commentator and 'Clueless' star Stacey Dash running for Congress in California
Race, oil and the environment all play into this L.A. congressional race
Track the California congressional races that will make the difference
---
UPDATES:
March 9, 8:50 a.m.: This article was updated with details from Brown's announcement.
This article was originally published March 7 at 11:50a.m.
---
Life is stressful. Our weekly mental wellness newsletter can help.
You may occasionally receive promotional content from the Los Angeles Times.