Villaraigosa reflects after a bruising loss in California governor's race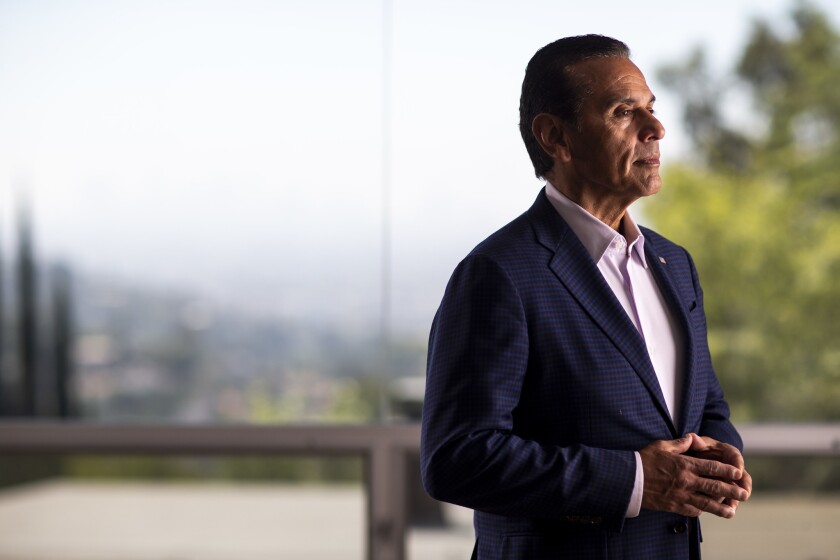 In his sun-splashed home in the Hollywood Hills, Antonio Villaraigosa has been busy writing thank-you notes.
A week after the former Los Angeles mayor's loss in the California governor's race, he has penned more than 100 — and has many more to go. He's talked with longtime friends including Hillary Clinton and dined with allies such as philanthropist Eli Broad, who contributed more than $3.5 million in support of Villaraigosa's bid.
What he hasn't been doing, Villaraigosa said, is second-guessing campaign tactics that led to a distant third-place finish in the June 5 primary, including a bruising defeat on his home turf to fellow Democrat Gavin Newsom. It was probably his final run for political office.
"I've never been a guy that looks back," Villaraigosa said as he glanced at stacks of blank greeting cards on his dining room table, an expansive view of the Los Angeles skyline visible in the background. "I have no regrets. I left it all on the field."
Villaraigosa, 65, has wanted to be governor for at least a decade. He decided against a 2010 run, he said, because as mayor of Los Angeles, he didn't want to leave the city as it recovered from a recession.
When he broached a 2018 campaign, Villaraigosa said his allies, donors and advisors urged him not to do it.
"Virtually all my friends thought I was insane," he said, pointing to his lucrative post-mayoral career in the private sector after a humble upbringing and previous work as a labor organizer and elected official. "They saw I was finally making a few dollars.… Almost everybody thought it was too risky, I had too much to overcome."
Those closest to him cited several reasons to turn back: He left office and the public eye in 2013 after eight years as mayor, had never run for statewide office, and wasn't well known outside Los Angeles. He previously served as speaker of the state Assembly, leaving the statehouse in 2000.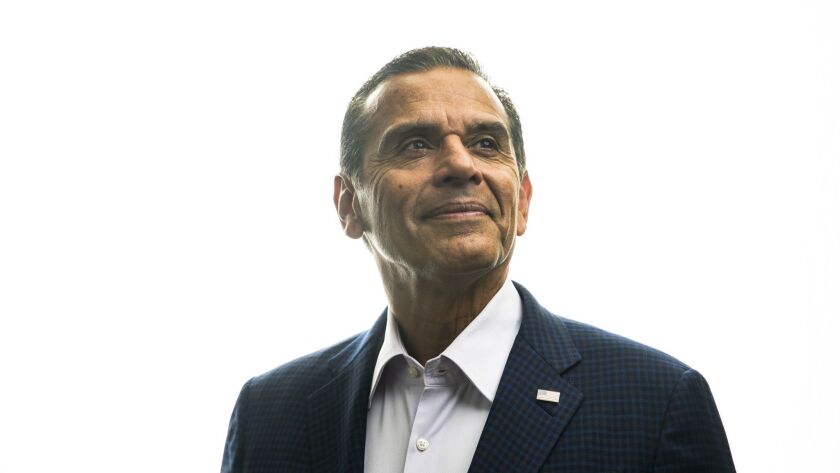 But once he decided to do it, he said his supporters backed him because they had seen him come from behind before and emerge victorious, notably in the 2005 mayor's race. They generously supported his bid, donating to his campaign and an independent expenditure committee for a combined $32 million spent boosting Villaraigosa.
How Villaraigosa lost the governor's race despite tens of millions of dollars spent to boost his bid>>
"A number of them said, 'You never cease to amaze me. You always seem to pull it through. Let's go for it,'" Villaraigosa said. "But no one was excited about it and almost everybody, the vast majority of their input was, 'I don't think you should do this. It's too hard.'"
Villaraigosa said he thinks the greatest challenge he faced was being out of elected office for several years.
"There's no question that five years is a long time when running statewide," he said. "It's particularly true for up north — people didn't know me at all, they didn't know my work … all the stuff I did as speaker and mayor."
He also said President Trump's decision to endorse John Cox was a game-changer in the race, enabling the Republican businessman to consolidate the GOP vote to place second in the top-two primary behind Newsom, advancing him to the general election in November. Villaraigosa added that the volume of news coming out of the Trump administration seemed to eclipse coverage of the governor's race.
Follow California politics by signing up for our email newsletter »
But he declined to weigh in on the criticism of decisions made by his campaign and the independent-expenditure committee funded by wealthy charter-school supporters that backed his bid. Prognosticators blamed Villaraigosa's loss on his late entry in the race, the at-times dizzying messaging from his campaign and the independent group, and a lack of investment in turning out Latino voters.
"Everyone knows I like the horses. I used to joke with [my staff] that the race is important, the length of the race is important, the track is important, the trainer is important and the jockey is important, but you need a horse," Villaraigosa said. "Win or lose, you put it on the horse."
He refused to criticize Newsom, whom he endorsed in his concession speech. Villaraigosa said he tried to call the lieutenant governor on election night, but the men have yet to speak and are expected to meet in coming days.
Villaraigosa did push back at criticism over his decision to work for Herbalife after leaving the mayor's office. His rivals, notably Newsom, seized on Villaraigosa's association with the company, saying the multilevel marketing company preys on communities of color and lower-income families.
"Herbalife may have been an attack point, but that was just an attack point — they were always going to have one," Villaraigosa said. "If they hadn't had that one, they would have had the bank," referring to his work for Banc of California.
Villaraigosa did not definitively rule out running for office again, but strongly implied he would not. He pledged to remain involved in policy matters close to his heart.
"I'm not thinking about elected office. I had my run," Villaraigosa said. "I'm thinking about the issues I raised. I said from the beginning the biggest challenge facing the state and the country is the challenge of economic justice, a challenge of an economy that's not working for way too many people, not just the poor but the middle class."
He also said he was concerned about the future of the Democratic Party.
"I think our party needs to find its soul," he said.
Mid-interview, Villaraigosa received a text from one of his daughters asking how his morning was going.
"I'm blessed," he told the handful of people at his house. He said that explains how he wants to spend the next several weeks before seeking a new job: Helping his staffers find employment. Planning a long-delayed honeymoon with the woman he married just before launching his gubernatorial campaign.
And finishing those stacks of thank-you notes.
Times staff writer Phil Willon contributed to this report.
Coverage of California politics »
For the latest on national and California politics, follow @LATSeema on Twitter.
---
Life is stressful. Our weekly mental wellness newsletter can help.
You may occasionally receive promotional content from the Los Angeles Times.