California Atty. Gen. Xavier Becerra clashes with challengers over all his lawsuits against the Trump administration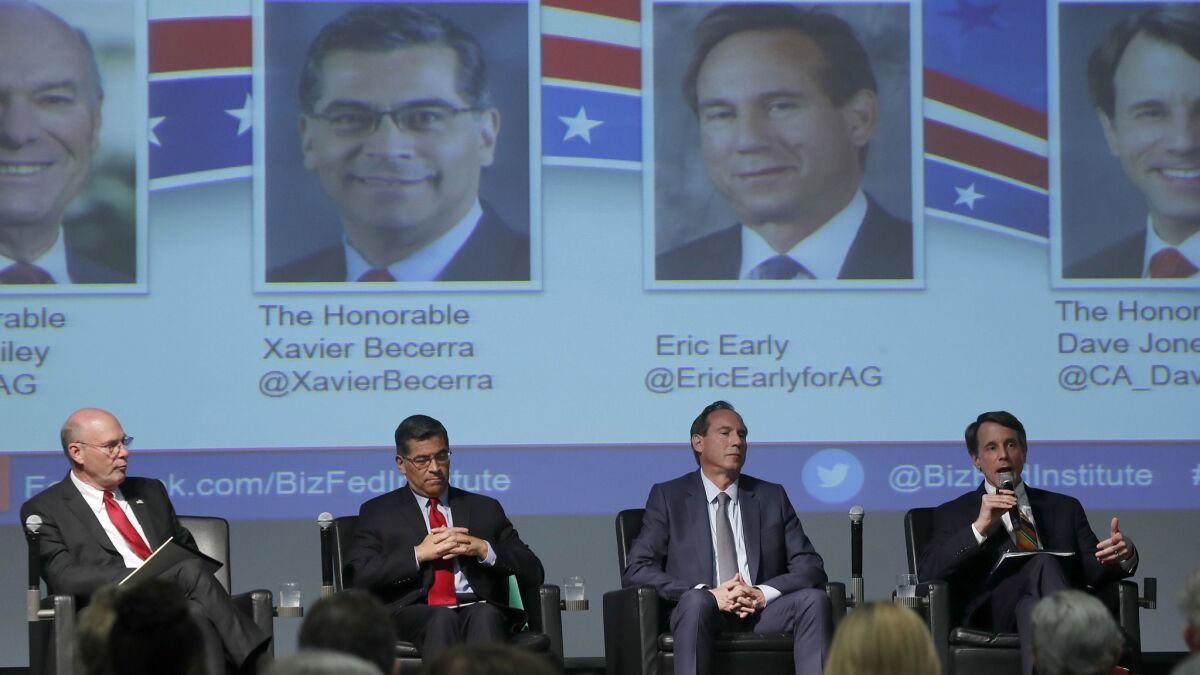 Reporting from Sacramento —
California Atty. Gen. Xavier Becerra is probably best known to California voters as the man who has sued the Trump administration more than 30 times, a feat he boasted about at a debate Tuesday ahead of next month's primary election for the attorney general race.
Becerra's rivals worked to turn the focus on the federal government against him.
"Quite frankly, I think Mr. Becerra is obsessed with Donald Trump. It's not the role of state attorney general to be suing our federal government every five minutes," said Republican Eric Early, a Los Angeles attorney. "It's outrageous. There are all kinds of problems in this great state that are being ignored."
Becerra was pummeled with criticism over his actions on immigration, the environment, guns and crime.
"My job as AG is to protect California families, to protect our values and to protect our resources," Becerra, a Democrat, told the audience of business leaders in Downey at his first of two debates Tuesday. Earlier in the day he sued the Trump administration to challenge a new policy threatening funding to Planned Parenthood.
State Insurance Commissioner Dave Jones, a Democrat who also is a candidate, said he agrees with Becerra that the attorney general needs to "resist" the Trump administration. "But there is more to the office than suing Trump," he said, adding "a lot more is not getting done in the attorney general's office."
He said Becerra is at fault for delays in creating a database for opioid prescriptions and a failure to go after oil companies on environmental issues. There also was sharp debate as the rivals accused Becerra of not doing enough to collect guns from 10,000 people in California who improperly possess firearms despite felony convictions or serious mental health problems.
At one point Jones addressed Becerra directly with his critique, saying, "You have to do the job."
Becerra responded angrily to Jones, saying such criticism is unfair to state agents who risk their lives to collect guns from criminals. "That's a low blow to the men and women who have to do this every day," Becerra said, adding he has asked for more money to seize firearms from criminals.
Republican candidate Steven Bailey, a retired El Dorado County judge, called the slow pace of gun collection a "travesty."
"It's time that the attorney general was focused on California's problems, not Washington's problems," Bailey said, calling Becerra's legal challenges to the Trump administration "frivolous lawsuits that have no basis."
In response, Becerra said his office has taken action against criminal gangs, consumer fraud and those committing environmental crimes, while he said he also has been promoting economic development and jobs.
"At the same time, we will go after anyone who tries to stop us from becoming that economic engine, including the federal government, which is constitutionally overreaching its power," Becerra said.
Becerra, a former 12-term member of Congress, became attorney general in January 2017 after he was appointed by Gov. Jerry Brown to replace Kamala Harris, who was elected to the U.S. Senate.
The event was sponsored by the BizFed Institute, a nonpartisan organization that advocates for economic development in California, and the Southern California News Group.
Many of the same issues were argued over by the candidates at a second debate Tuesday evening on the campus of UC Riverside. Asked about priorities, Jones told the audience that one thing he would pursue is "criminal justice reform," while Bailey said past changes labeled as reform have resulted in "unsafe streets, unsafe schools."
Early also challenged the new laws, including Proposition 47, saying that they mean too many criminals are getting out of jail early to reoffend. Becerra said "job one is public safety" for the attorney general.
In the first debate, Jones said he agreed with Becerra's support for California's sanctuary state law, which restricts law enforcement cooperation with immigration agents. The Republicans on the debate stage attacked the law.
Coverage of California politics »
"Felons here illegally are being treated better than our taxpayers," Early said.
Bailey said the "sanctuary state" law is unconstitutional, and he supports the federal government's lawsuit challenging the state law. "It is simply a protection of convicted criminals," he said.
Becerra said he respects federal law on immigration, but he defended the state law. "The federal government can't tell California how to use its police," he said.
Asked about homelessness, Becerra said state and local governments have to collaborate on providing shelter for those living on the street and make "a better investment" in growing the state's stock of affordable housing.
"None of that is happening on your watch while you sue the Trump administration, Mr. Becerra," Early responded. "There are tent cities popping up in every major city in our state."
Jones said there are laws requiring cities and counties to provide zoning for homeless shelters and affordable housing. "Guess what? The attorney general is not enforcing that law," Jones said.
At one point, Becerra drew a laugh with a nod to being criticized by candidates from each political party: "I feel like Goldilocks: too hot or too cold. I think I'm just right."
Twitter: @mcgreevy99
---
UPDATES:
8 p.m.: This article was updated with information from Tuesday evening's debate.
This article was originally published at 5:50 p.m.
---
Life is stressful. Our weekly mental wellness newsletter can help.
You may occasionally receive promotional content from the Los Angeles Times.