Kamala Harris wins endorsements from Barbara Boxer and Dianne Feinstein in U.S. Senate race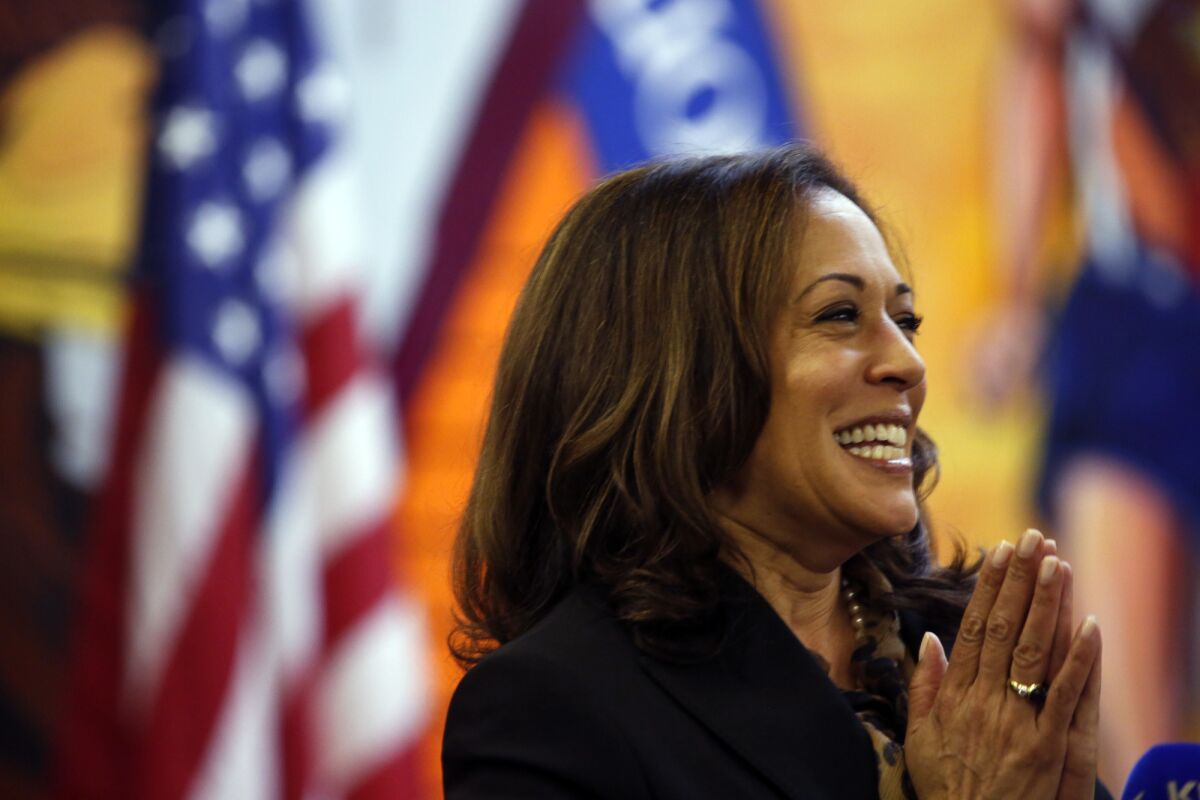 Reporting from Sacramento —
U.S. Sens. Barbara Boxer and Dianne Feinstein on Thursday endorsed state Atty. Gen. Kamala Harris for U.S. Senate, cementing Harris as the chosen candidate among California's top Democrats and dealing another stinging blow to the campaign of rival Rep. Loretta Sanchez.
The two senators join a coveted list of popular Democrats who have thrown their support behind Harris in the race between two Democratic opponents, rejecting the Orange County congresswoman.
President Obama, Vice President Joe Biden and Gov. Jerry Brown have all backed Harris. The California Democratic Party has spent more than $560,000 on Harris' Senate campaign, but not offered a penny to help Sanchez.
Boxer, who is retiring from the Senate after four terms, described Harris as the perfect choice to succeed her in Washington and carry on her progressive agenda, implying that Sanchez failed to meet that test.
"I said at the start of the race between Atty. Gen. Kamala Harris and Congresswoman Loretta Sanchez that they were both my friends and supporters. Therefore, I have stayed neutral. However, I also said that if differences developed that indicate that one candidate emerges as the progressive choice that I would endorse the individual. That day has come," Boxer said in a statement released by the Harris campaign.
"California deserves a continuation of clear progressive leadership in the U.S. Senate. For almost 50 years, the seat that I hold has been a leadership seat on human rights, women's rights, civil rights, voting rights, immigrants' rights, fair trade, a clean environment and a voice for all families — no matter their circumstances," Boxer added. "Kamala Harris shares those values with me. Her broad array of endorsements underscores this."
For Sanchez, Feinstein's decision may be the most distressing. On the campaign trail, the Orange County congresswoman has spoken fondly of her experiences working with Feinstein in Washington over the last two decades. Sanchez's lead campaign advisor, Bill Carrick, also served as a longtime political consultant to Feinstein, working as her media advisor when she was first elected to the Senate in 1992.
"In this U.S. Senate campaign, Kamala has been a consistent voice of unity and optimism at a time when too many political leaders have tried to divide our communities along racial and religious lines," Feinstein said in a statement. "I wholeheartedly endorse Kamala's campaign and look forward to having a strong partner in Kamala Harris serving alongside me in the U.S. Senate."
Feinstein's comment appears to indirectly reference a series of controversial comments and missteps Sanchez has made during the campaign.
During a Spanish-language interview in July, Sanchez implied the president may have endorsed the attorney general in part because they are both black. And shortly after the December terrorist attack in San Bernardino, the congresswoman was criticized by Muslim groups for suggesting in a television interview that 5% to 20% of Muslims support a caliphate — a strict Islamic state.
Sanchez for months has said that Harris, who served as San Francisco's district attorney before she was elected attorney general, has been the darling of the state's Bay Area-based Democratic establishment.
As a result, Sanchez has tried to frame herself as an underdog outsider up against the "insider" candidate, perhaps in hope of tapping into the same populist independent theme that propelled Vermont Sen. Bernie Sanders in his race against Hillary Clinton for the Democratic presidential nomination.
"It's all about the insiders. We knew this from the beginning," Sanchez said in February, after the state Democratic Party voted overwhelmingly to endorse Harris for Senate. "Getting into the race was not going to be easy, because the insiders already chose who would be the next senator."
Follow @philwillon on Twitter
ALSO
Rep. Loretta Sanchez implies Obama endorsed Senate rival because they are both black
Obama, Biden endorse Kamala Harris for U.S. Senate
---
Life is stressful. Our weekly mental wellness newsletter can help.
You may occasionally receive promotional content from the Los Angeles Times.