Animal-welfare groups clash over Proposition 12, which promises cage-free hens by 2022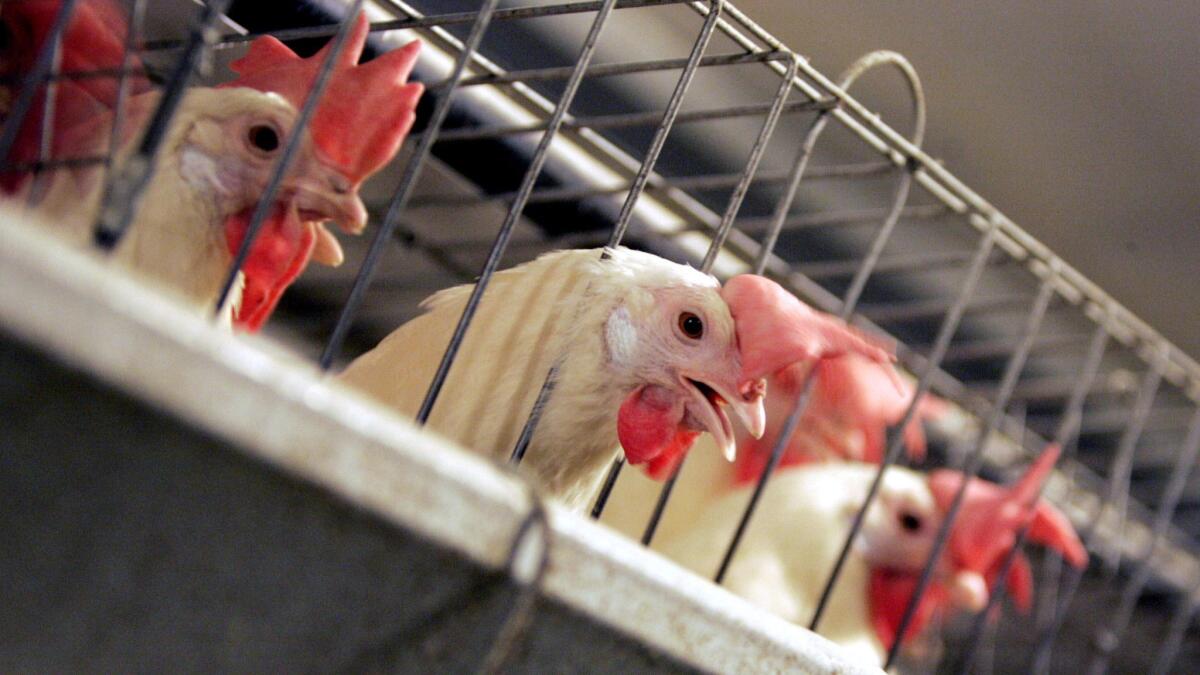 Reporting from Sacramento —
Animal-welfare activists have split over an initiative on the Nov. 6 statewide ballot that would phase in requirements to provide more space for egg-laying hens, breeding pigs and calves raised for veal in California.
The dispute over Proposition 12 centers on the amount of space the measure would require for each animal, and a multi-year delay for the new standards. Some activists say the measure is inhumane because it does not give poultry and livestock enough room to live in.
Starting in 2020, it would ban the sale of eggs from hens confined to an area with less than 1 square foot of usable floor space per animal. And beginning in 2022, hens would have to be kept "cage-free," although that could include an indoor area that provides 1 to 1.5 square feet of space for each hen as long as they can move throughout the structure.
Proposition 12 was proposed by a coalition led by the Humane Society of the United States.
"Caging animals in small spaces where they can barely move is cruel and inhumane," said Josh Balk, a vice president with the Humane Society. "Voters will never accept the idea of keeping animals in cages."
Coverage of California politics »
So far, supporters of Proposition 12 have far outraised opponents, collecting more than $16 million for the campaign to pass the measure, with $4 million coming from the Open Philanthropy Action Fund, a group bankrolled by Facebook co-founder Dustin Moskovitz and his wife, Cari Tuna.
The measure faces opposition from some farm industry groups including the National Assn. of Egg Farmers, who say it will lead to less humane conditions, more animal disease and higher prices for consumers.
The Assn. of California Egg Farmers, which also opposes Proposition 12, estimates the state has 13.7 million hens producing 3.9 billion eggs annually, which makes it the seventh largest egg-producing state in the country.
The initiative is also opposed by People for the Ethical Treatment of Animals and and the Humane Farming Assn., which object that the initiative does not go far enough in providing humane conditions for hens, pigs and calves.
"We're hoping Californians will see this for the weak measure that it is," said Ben Williamson, a spokesman for PETA. "It keeps hens in cages until 2022 and then leaves them in crammed warehouses with one square foot of space thereafter. We think we can do more and we should do more."
In 2008, PETA and the Humane Society both campaigned in support of Proposition 2, a California initiative that was approved by voters and that requires hens, veal calves and pigs to be kept in sufficient space to be able to turn around freely, lie down, stand up and fully extend their limbs.
While many farms installed bigger cages, the Humane Society sought to build on the 2008 measure with Proposition 12.
The initiative on the Nov. 6 ballot would require each egg-laying hen to be given at least one square foot of floor space starting in 2020, and then require that chicken, duck and goose hens be kept outside cages beginning in 2022.
The ballot measure would also require each calf raised for veal to be provided with at least 43 square feet of floor space beginning in 2020, while farms would have to provide breeding pigs with at least 24 square feet of usable floor per animal starting in 2022.
The Humane Society's Balk asserted that PETA's opposition stems from an objection to the human consumption of eggs.
"While passing the most far reaching law for farm animals of all time still might not be good for enough some, and they prefer a status quo where animals are still confined in cages, I just don't think that represents mainstream, everyday California voters who believe in taking a very big positive step in the right direction to treat animals better," Balk said.
Williamson countered that efforts by animal-welfare activists on Proposition 12 "waste time, resources and a real opportunity to improve conditions for hens, instead simply re-enforcing the egg industry's own requirement."
The opposition has raised some $570,000 from the political arm of the Humane Farming Assn., which has been opposing factory farming for years. That group, like PETA, supported Proposition 2, but had a "falling out" with the Humane Society over the measure's failure to result in cage-free egg production as they felt was the intent of the ballot measure, according to association president Bradley Miller.
"Proposition 12 could allow farmers to provide less space than is required under Proposition 2 if properly interpreted and enforced," Miller said.
The egg industry is not financing an organized campaign against Proposition 12 because the measure would increase the number of hens in inhumane conditions, Miller said.
However, the new initiative is criticized by Ken Klippen, president of the National Assn. of Egg Farmers, who says it will create "less humane" conditions by allowing chickens to peck at and hurt each other and more easily spread disease, leading to more hen deaths.
"Food safety is a primary concern," Klippen said in a statement, adding that "chickens pick up roundworms when they come into contact with infected feces on the ground."
Klippen also said the change will make eggs more expensive for consumers and "remove consumer choice" that would allow shoppers to buy less expensive eggs produced by birds in humane cages.
The state's independent Legislative Analyst's Office concluded the initiative "would likely result in an increase in prices for eggs, pork and veal" for consumers, citing the cost of farmers having to remodel the housing that holds animals.
An economic study commissioned in 2016 by the egg industry for a similar ballot measure in Massachusetts estimated that switching to cage-free farming would add one or two cents to the price of each egg purchased by consumers.
Twitter: @mcgreevy99
Get our Essential Politics newsletter
The latest news, analysis and insights from our politics team.
You may occasionally receive promotional content from the Los Angeles Times.