Here's how California's congressional delegation has changed and the races we're still waiting on
Reporting from Washington —
California voters are sending a slightly more diverse delegation to represent them in Congress next January, but it will remain largely the same at its political core.
Results in just two of California's congressional races were still too close to call Wednesday afternoon and in both, the incumbents were in the lead.
Regardless of those outcomes, California Democrats will continue to hold a majority of the state's 53 districts. They now hold 39 seats to Republicans' 14 seats, and the final ratio for the next two years is likely to be similar.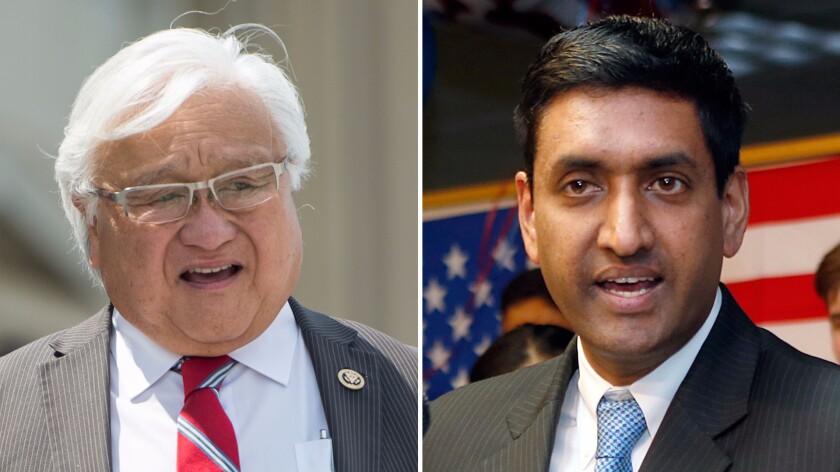 California's newest members include three Latinos and an Indian-American, adding to what is already the most diverse congressional delegation in the country.
Fremont Democrat Ro Khanna took out Rep. Mike Honda (D-San Jose) on his second attempt at the Silicon Valley's 17th District Tuesday night, winning with nearly 60% of the vote.
Honda is the only incumbent to lose his congressional seat so far. A longtime progressive voice in the Bay Area, he's served eight terms, but changing demographics in the district and a lingering ethics complaint were too much this time.
"That the son of Indian immigrants could run against a Japanese American survivor of internment to be the political face of Silicon Valley suggests just how far America has come," Khanna said in a statement. "I don't think my parents would ever have imagined it."
In a bit of a surprise, former Hermosa Beach Councilwoman Nanette Barragán won a heated race against Compton state Sen. Isadore Hall with 51.2% of the vote to replace Rep. Janice Hahn (D-San Pedro) in the 44th District.
With 55% of the vote, Democratic Santa Barbara County Supervisor Salud Carbajal won an expensive race against Republican Justin Fareed. He replaces retiring Rep. Lois Capps (D-Santa Barbara) to keep the Central Coast's 24th District in Democratic hands.
California's election results »
Soon to represent Orange County's 46th District will be Democrat Lou Correa, who beat Garden Grove Mayor Bao Nguyen to fill the seat now held by Rep. Loretta Sanchez (D-Orange).
Going to Congress will be a homecoming of sorts for Monterey County Deputy Dist. Atty. Jimmy Panetta, who won 70% of the vote to represent the Central Coast's 20th District. Panetta's father, Leon Panetta, represented the area prior to Rep. Sam Farr (D-Carmel), who is retiring in January.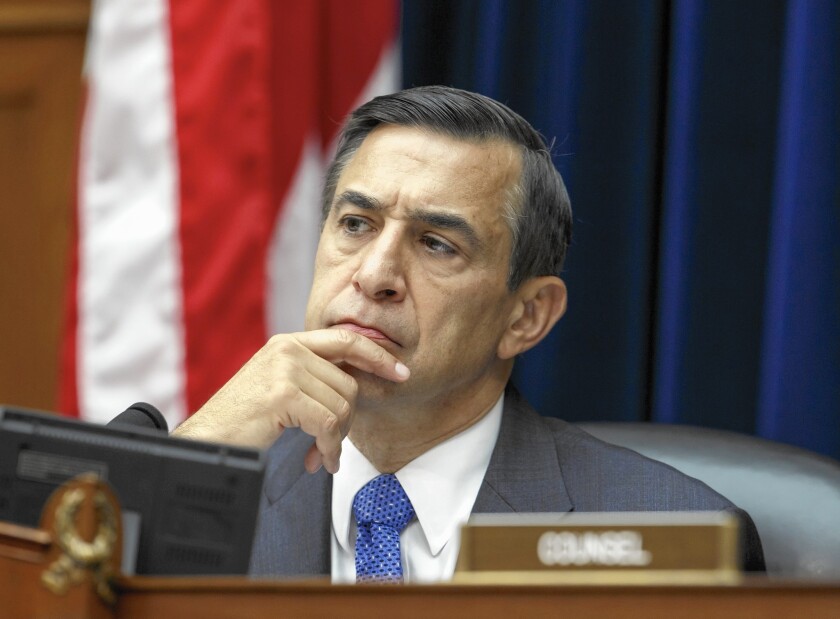 Still unknown is who will win the 7th and 49th districts, where Reps. Ami Bera (D-Elk Grove) and Darrell Issa (R-Vista) have slight leads over their challengers.
Bera's lead in his race against Sacramento County Sheriff Scott Jones was down to about a 2,000 votes on Wednesday afternoon. The contest is the GOP's last chance to pick up a seat in California.
Bera's 2012 and 2014 wins went undecided on election night too, and he appeared unconcerned in a statement Tuesday night.
"I have full confidence that the professionals who work at the Sacramento County Registrar will ensure that every ballot is counted, and right now we need to let them do their job," he said.
Issa's lead is a bit wider, with nearly 4,000 votes separating him and former Marine Col. Doug Applegate. Before the primary contest, the race wasn't expected to be at all close, but it has proved to be one of the tightest of Issa's eight-term career. Tuesday was also the first time the majority of Orange County voters chose a Democrat for president since the Great Depression, and it appears the Associated Press is being cautious about calling the race.
Because of a new state law, it could be Monday before California even knows how many vote-by-mail ballots are outstanding, so it may be a while before these races are decided.
Democrats weren't able to win any of the other districts they targeted, leaving battleground seats with Republican incumbents.
Democrats had hoped to make inroads with the Central Valley's growing Latino population, but Rep. David Valadao (R-Hanford) and Jeff Denham (R-Turlock) each won reelection in their largely agricultural districts.
Rep. Steve Knight (R-Palmdale) also slid into another term in the 25th District, a seat Democrats had aimed to flip. Knight is the last Republican representing L.A. County in Congress.
As for California's 17 ballot propositions, 14 had been called as of Wednesday afternoon. Among those not called are Proposition 67 on whether to keep or get rid of the state's plastic bag ban, and the vote to keep it had the lead on Wednesday. Voters also appeared to be leaning toward rejecting Proposition 53, which would force a statewide vote on bonds bigger than $2 billion.
Follow @sarahdwire on Twitter
Read more about the 55 members of California's delegation at latimes.com/politics
ALSO:
Live California election results
Trump vows America will 'no longer settle for anything less than the best'
---
Get our Essential Politics newsletter
The latest news, analysis and insights from our politics teams from Sacramento to D.C.
You may occasionally receive promotional content from the Los Angeles Times.