California Democrats worry that infighting will distract party leaders from taking on Trump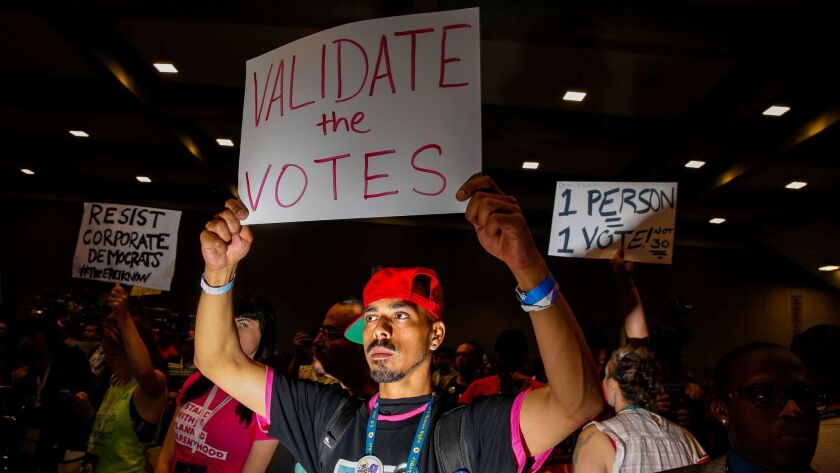 Reporting from Sacramento —
Top California Democrats worry that the escalating feud over the outcome of the state party's selection of a new leader may fracture the membership and undercut the state's emerging role as the nation's political counterweight to the policies of President Trump.
Kimberly Ellis, a progressive Bay Area Democrat who tapped into a wellspring of disaffected Bernie Sanders backers, continues to blame her narrow loss on voting irregularities she alleges corrupted the election of Eric Bauman as chairman last month.
Bauman accuses Ellis of distorting the truth and being unable to accept defeat, and the war of words has escalated. His influential allies, including powerful labor unions and state Assembly Speaker Anthony Rendon, have called on Ellis to concede before she damages a party that now wields almost unprecedented political power in California.
Woven through the very public dispute have been allegations of voter fraud and back-room dealing as powerful Democratic leaders pleaded for both sides to find a peaceful resolution.
"It's out of hand," said former state party Chairman John Burton, who did not endorse in the race for his successor. "It certainly isn't helpful."
The stakes are high, with Trump in the White House and a fast-approaching 2018 election that provides Democrats an opportunity to take control of the House of Representatives. While California's 8.7 million registered Democrats may be unaware of the state party's leadership battle, the organization holds enormous sway over the party's politicians and the positions they take — using its fundraising machine and statewide network of activists to support its favored candidates.
The state Democratic Party has recovered from similar clashes in the past, most recently after the 2004 presidential election when energized followers of Howard Dean's grass-roots presidential campaign felt shut out by California's old-guard Democrats backing eventual party nominee John Kerry.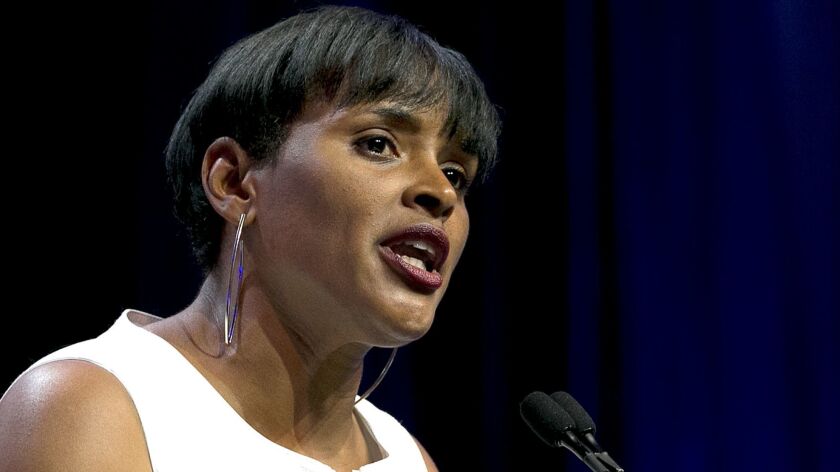 State Controller Betty Yee, an Ellis supporter, said she was disturbed by the tenor of the dispute, especially coming from two Democrats who campaigned on their devotion to progressive ideals.
In a message sent to party delegates, Yee urged Ellis and Bauman to find a peaceful resolution, saying Californians are counting on the Democratic Party to "uphold our values."
Still, Yee supports Ellis' call for an independent audit of the election held during the California Democratic Party's convention in Sacramento on May 20. Ellis lost to Bauman by 62 votes, with just under 3,000 party delegates casting ballots.
Ellis has released a six-page memo detailing hundreds of voting deficiencies she said her campaign found during a review of the ballots and other election material. Among the claims is that someone double-voted. Bauman says that situation was a person signing the ballot of an Orthodox Jewish delegate who could not sign on the Sabbath — an accommodation the party has long allowed. Those questionable votes may have swayed the election to Bauman, she alleged.
If Bauman is confident his victory was above-board, he shouldn't have any qualms about allowing independent auditors to verify the results, she said.
"Instead of us calling for unity what we should be calling for is truth," Ellis told The Times. "We feel very strongly that we won this race outright, fair and square."
Bauman has repeatedly dismissed Ellis' calls for an independent audit, calling the memo "scurrilous allegations with no facts." The party's compliance review commission, made up of six members appointed during Burton's tenure, is going over the evidence and will rule later this month.
"Just because a candidate didn't win the election doesn't mean they get to rewrite the rules," Bauman said.
Bauman said he's made every effort to stay focused on his job as chairman, meeting with other party officers to plan for the 2018 election. Since Bauman started May 21, he's been busy hiring staff and focusing on priorities such as combating the GOP-led recall campaign against state Sen. Josh Newman (D-Fullerton).
Bauman has the advantage of serving in the job, and hasn't hesitated to use the state party's infrastructure to defend his victory and paint Ellis as a sore loser.
Chris Masami Myers, the party's executive director and a holdover from the Burton regime, issued an official party statement that Bauman was chosen in an "open, fair election." The media relations firm hired by the party after Bauman's election, Paschal-Roth Public Affairs, has been sending out press releases this week from Democrats and liberal organizations urging Ellis to end her challenge. Ellis backers argue this constitutes a conflict of interest, and say an interim chair should be appointed until the matter is resolved.
The race for state party chair evolved into a choice between an established party insider — Bauman, a union organizer born in the Bronx -- versus an outsider embraced by insurgent Sanders supporters. The former director of a nonprofit devoted to electing more women to office, Ellis believes the party is too beholden to special interests and corporate donations. The convention where he prevailed was an example of the tense divide — some delegates shouted down Burton during his opening remarks and walked out of the convention hall when Bauman took the stage after his victory.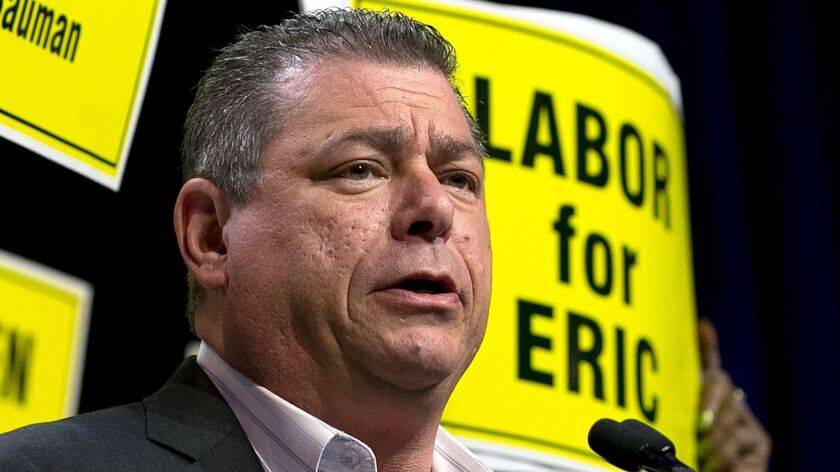 California politics news feed | Sign up for the newsletter
Ellis arrived at the convention with tremendous momentum, in part because of strong support from the California Nurses Assn., a major Sanders backer and forceful advocate in favor of a state-sponsored single-payer healthcare system. The association's executive director, RoseAnn DeMoro, warned party leaders that if they ignored the demands of the progressive movement they would be doing so at their own political peril.
"If you dismiss progressive values and reinforce the dynamic status quo, don't assume the activists in California and around this country are going to stay with the Democratic Party," she told delegates at the convention.
The conflict in many ways mirrored the divide in the Democratic National Committee's election of a new chairperson earlier this year. Former Obama Labor secretary Tom Perez, who backed Hillary Clinton in the presidential race, was seen as the establishment Democrat while Rep. Keith Ellison of Minnesota, a Sanders supporter, was portrayed as the outsider.
Perez won the hard-fought contest by just 35 votes and made Ellison his deputy chair, helping soothe some of the bitterness between the two factions.
"We don't have the luxury, folks, to walk out of this room divided…. we've got earnest and sincere work to do," Ellison said at the time.
Don't expect to see a similar kumbaya moment in California. The state party elects its vice chairs separately, and Ellis has refused any peace offering to drop her challenge.
Los Angeles Mayor Eric Garcetti sees the clash as a family squabble within the party, saying only party insiders and political reporters are playing attention. Garcetti predicted the feud will quickly melt away given the enormous challenges the party faces.
"We've got races in 2018 in [congressional] districts that were …. held by Republicans who voted against the Affordable Care Act," Garcetti said. "If that doesn't unify us, what will?"
Twitter: @philwillon @LATSeema
ALSO:
Fight in California Democratic Party goes on: 'It is believed that the wrong individual is serving as chair'
'Old school versus new school:' The battle over who will run the California Democratic Party
Cursing like a sailor, John Burton helped steer California into deep blue waters
---
For reporting and exclusive analysis from bureau chief John Myers, get our California Politics newsletter.
You may occasionally receive promotional content from the Los Angeles Times.