Number of criminals who improperly own guns increases in California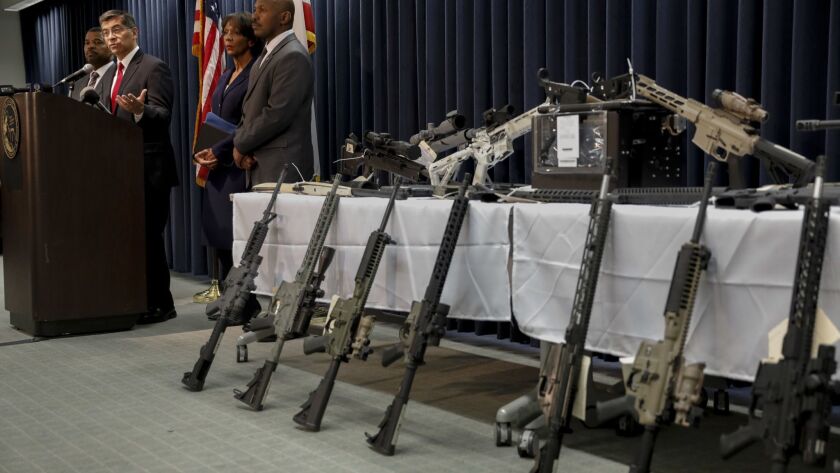 Reporting from Sacramento —
The number of criminals and mentally ill people who improperly own firearms in California has increased in the last year to more than 23,200, as a record number of people have been added to the list by the courts amid a surge of gun buying, state Atty. Gen. Xavier Becerra said Friday.
The first program of its kind in the nation, the Armed and Prohibited Persons System in the California Department of Justice matches the names of people who have bought firearms with those later prohibited from possessing guns because they have been convicted of crimes or found to be severely mentally ill. The number of people on the list is up from 22,574 prohibited gun owners at the start of 2018 — a figure that was revised drastically upward from last year's initial report — and 10,266 a decade ago.
This week's report revised the number of armed and prohibited people in the database from January 2018, including cases in which gun owners have not been located by investigators after three visits to their known address.
The swelling of the backlog occurred even though agents with the state Department of Justice seized firearms from a record 4,142 people last year, Becerra said at a Sacramento news conference surrounded by confiscated rifles and pistols.
"We have tons of cases coming in," Becerra said. "More cases are coming in than our 50 agents can process."
Gov. Gavin Newsom recently proposed adding $5.6 million to next year's budget for the program, a 50% increase over this year.
That could expand the gun seizure unit by 20 agents, but Becerra said he is having a hard time hiring more people because their salaries are not competitive with the pay offered by other law enforcement agencies, including the California Highway Patrol.
The expanded list caused alarm among some legislators, including Assembly Republican Leader Marie Waldron of Escondido, who have said Becerra has failed to confiscate guns from dangerous people.
Waldron suggested Becerra has been too busy suing the Trump administration — he has filed 46 lawsuits thus far — to make the gun program work.
"Republicans have demanded oversight and accountability in the APPS program, but Democrats have rejected our requests at every opportunity," Waldron said. "This failure is the result. Maybe Atty. Gen. Becerra should focus a little less on fights with the federal government and a lot more on his job as California's top law enforcement officer."
The issue was also raised in last year's election for attorney general, with Republican challengers criticizing Becerra for not doing enough to make the program work.
Becerra said that in just over the last decade, the number of known firearm owners in California has more than doubled from 927,686 in 2008 to 2,516,836 as of Jan. 1.
The legislature tried once before to get rid of the APPS backlog after the 2012 mass shooting at Sandy Hook Elementary School in Newtown, Conn., resulted in the death of 20 children and six adults.
Within months, the Legislature approved $24 million over three years to the office of then-Atty. Gen. Kamala Harris with the understanding that it would allow the Justice Department to whittle away at the backlog of prohibited persons that had topped 20,000 people.
Becerra said that original backlog is down to 538 cases, and those remaining will be resolved by March 31. However, the number of people being added to the list has increased over the last six years by 56,557, and the DOJ has not been able to remove guns in all of those new cases.
In thousands of cases — 6,539 last year — people are removed from the list because they have died or the prohibition has expired.
Becerra recommended changes to be considered by the Legislature, including pay increases for the special agents who face dangerous circumstances in knocking on doors and asking felons to give up their guns.
"My office remains committed to our mission: taking firearms away from dangerous and violent individuals," he said. "We look forward to working with our governor and Legislature and our local partners to fulfill this mission."
Twitter: @mcgreevy99
---
For reporting and exclusive analysis from bureau chief John Myers, get our California Politics newsletter.
You may occasionally receive promotional content from the Los Angeles Times.