High-stakes California governor's race debate gets testy as personal and political attacks fly
Reporting from San Jose —
The candidates running to become California's next governor aggressively clashed in the most contentious and consequential face-off of the campaign Tuesday night, trying to make the case that they are best suited to lead the state as voters begin receiving ballots in the mail.
Democrat Gavin Newsom took the stage with a target on his back as the clear front-runner. And the attacks grew deeply personal as the candidates were asked about marital infidelities Newsom and former Los Angeles Mayor Antonio Villaraigosa had while they were in office. Newsom had an affair with a close friend's wife who worked for him when he was mayor of San Francisco.
"If you can't trust Gavin with his best friend's wife, how can you trust him with your state?" Republican Assemblyman Travis Allen asked.
Newsom responded that he had apologized for the relationship and admitted he was wrong, but he also alluded to the numerous allegations about inappropriate behavior that have been leveled at President Trump.
"It's hard, with respect, to hear from Mr. Allen, who is a devout supporter of Donald Trump, talk about the issue of sexual harassment," Newsom said.
Though Newsom took many hits, several blistering exchanges took place between the three candidates within reach of second place in the June 5 primary — Democrat Villaraigosa and Republicans John Cox and Allen — as well as state Treasurer John Chiang, who had perhaps the most to gain during the debate.
Chiang was once seen as the dark horse of the Democratic field, but his campaign has yet to ignite. A poll released in April by the nonpartisan Public Policy Institute of California put him in fourth place, favored by just 7% of likely voters.
Perhaps as a result, Chiang's campaign has gotten more combative, ripping Villaraigosa for accepting donations from an attorney on Bill Cosby's legal team, criticizing Newsom for flip-flopping on single-payer healthcare and attacking both for their records as mayor. But those attacks have largely come from Chiang's staff — not him — something that changed Tuesday night.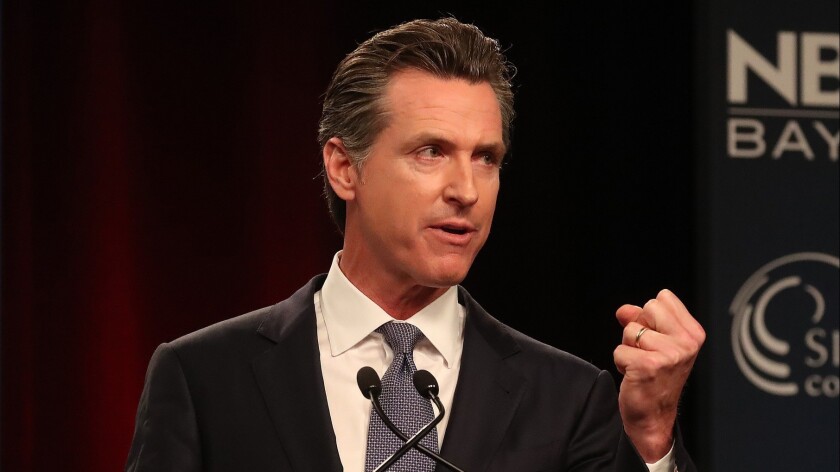 He repeatedly attacked Newsom and Villaraigosa by name, saying that their proposals to build 3.5 million homes were unrealistic, accused them of "criminalizing" homelessness when they were mayors of San Francisco and Los Angeles, respectively, and blasted them for supporting funding from the Trump administration for sending the California National Guard to the border.
"Fake news," Villaraigosa responded.
The two Republicans on the stage repeatedly attacked each other as they attempted to consolidate support among GOP voters. Cox accused Allen of improperly using $300,000 donated to an effort to repeal the gas tax, while Allen labeled Cox "my angry opponent from Chicago."
Moderator Chuck Todd cut them off, saying, "You guys can take that behind the scenes later."
The 90-minute debate, probably the last among all the top candidates before the June 5 primary, took place at the California Theater in San Jose and was sponsored by the Silicon Valley Community Foundation and NBC Bay Area. Topics discussed included high-speed rail, affordable housing and homelessness. But the conversation turned time and again to bickering between the candidates.
Villaraigosa was also asked about the affair he had with a television reporter while he was mayor of Los Angeles.
"I also acknowledge that I made a mistake. I lost my marriage. I lost my family for a time. I took responsibility for it," Villaraigosa said.
Throughout the debate, Villaraigosa argued that he had the proven track record to lead California, and subtly swiped at Newsom when he spoke of the need to focus on the state's needs rather than publicly sparring with Trump.
"Talking and tweeting about Trump every day is not going to solve problems, it's not going to fix our healthcare or our schools," he said.
Newsom, the state's lieutenant governor, leads in fundraising and the polls. He has not participated in a debate in more than a month, and as expected, he took fire from all sides, notably on immigration policy.
Newsom called himself the "poster child" of the sanctuary city policies, but that didn't stop attacks on his record as mayor by both Chiang and Allen.
Chiang accused Newsom of turning over an undocumented child to federal immigration officials about a decade ago under a city policy he imposed as mayor, which allowed law enforcement to report children in the U.S. illegally who were accused of felonies to Immigration and Customs Enforcement. When the San Francisco Board of Supervisors overturned Newsom's policy, the mayor's office continued to turn over arrested undocumented juveniles to federal authorities, according to a report in the San Jose Mercury News.
Newsom never responded to Chiang.
Allen, an advocate for the controversial border wall, ripped Newsom for supporting the sanctuary city policy in San Francisco that Allen blamed for the 2015 death of Kate Steinle, who was killed by a Mexican national who had previously been deported.
Newsom said the real solution is comprehensive immigration reform at the federal level, and called Allen's reference to Steinle "shameful."
"Until that happens, we will defend our values, we will defend our diverse communities, we will defend our Dreamers and we will push back against Travis Allen and John Cox — and push back against Donald Trump and Jeff Sessions and all the others here who are trying to divide us," Newsom said.
Delaine Eastin, the former state schools chief, described Trump as a "racist misogynist."
"I believe the state of California needs to stand tall on behalf of the things that we believe in, and we need to not let people misrepresent what's going on here," she said before turning to Cox, who decried high education spending in California. "We have not had vast increases in education. We are 41st in per-pupil spending. We used to be fifth, we used to be tied with New York. New York is now spending twice as much as California on every kid's education. That's wrong."
Todd concluded the debate by asking the six candidates what they thought of California's top-two primary system, and whether they would face a Republican or Democrat in the general election. No Republican has won a statewide race in California since 2006, so any Democrat who advances to the November election would have a much better chance of winning if they're facing off with one of the GOP candidates.
"A Republican would be ideal in the general election," Newsom said with a grin, then glanced over at Cox and Allen. "Either one of these would do."
"Be careful what you wish for, Gavin," Cox said.
Chiang said he didn't care whom he faced, implying that he'd be happy just to be on the ballot in November.
Allen used the question to take another shot at his GOP rival, who earlier in the debate acknowledged that he did not vote for Trump in the 2016 presidential election but said he wishes he had.
"There's only one Republican in the race anyway," Allen said.
Follow live coverage of the debate »
Twitter: @LATseema
Twitter: @philwillon
Updates on California politics
ALSO
California Republicans can't agree on a candidate for governor at state party convention
In his bid to be California's next governor, John Chiang touts his battles with a previous one
California's next governor: These are the people running in the June 5 primary
---
UPDATES:
9:10 p.m. This story has been updated throughout with details of the debate.
This story was originally published at 12:05 p.m.
---
Get our Essential Politics newsletter
The latest news, analysis and insights from our politics teams from Sacramento to D.C.
You may occasionally receive promotional content from the Los Angeles Times.