Retirement watch: The four California members of Congress most likely to bow out by 2018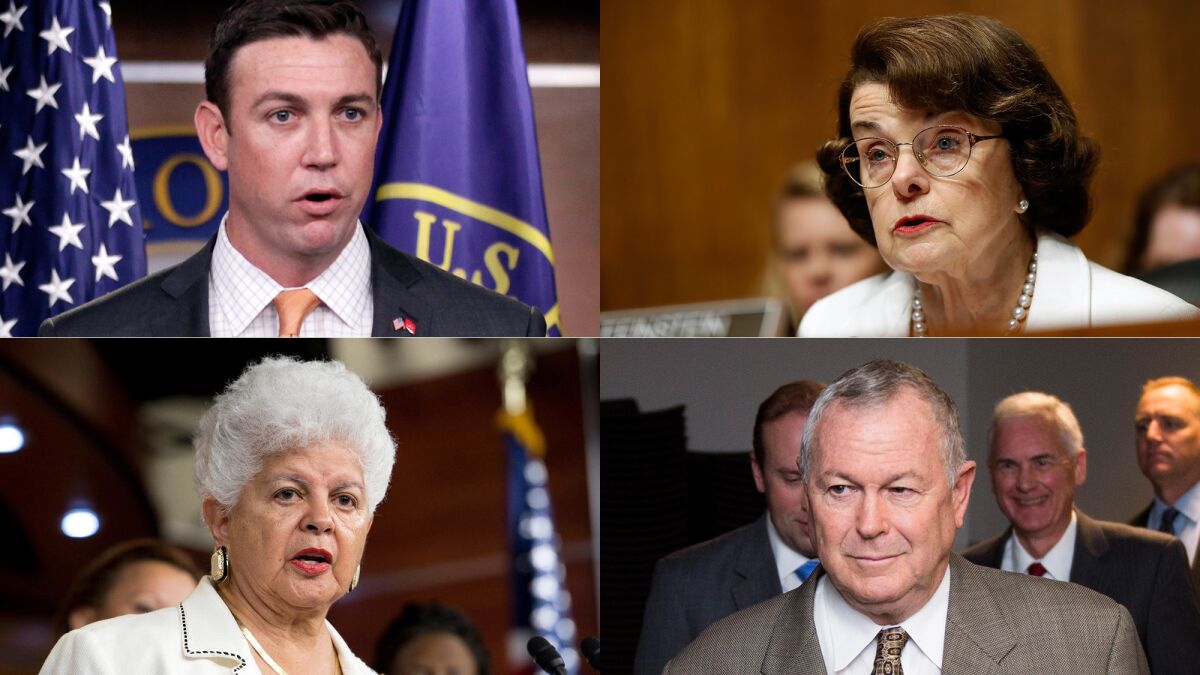 No one in the country's largest state delegation to Congress has announced plans to retire by 2018. Yet.
Democrats need to flip 24 seats to win back control of the House next year, and that will likely require winning at least a few of the nine Republican California districts Democrats have their eyes on. But it is unlikely any of the most vulnerable California Republicans will make it easier on them by retiring.
Districts with no incumbent are traditionally more likely to switch parties, and Republicans who hint at retirement can expect to get a lot of pressure from House leaders, including Majority Leader Kevin McCarthy (R-Bakersfield), to stick it out. So far, none really have.
Nonetheless, representatives sometimes see a national partisan wave coming and decide to get out so they don't have to serve in the minority party, and no amount of badgering from leadership can sway them. Others may have health or family issues drawing them home, or are facing brewing scandals.
On the Democratic side, too, few members have publicly signaled they might be ready to leave Washington.
The filing deadline isn't until March, so members will likely take their time over the next few months to decide whether to run again.
For now, this is who we're keeping an eye on. The list has shifted a bit since we last looked in December.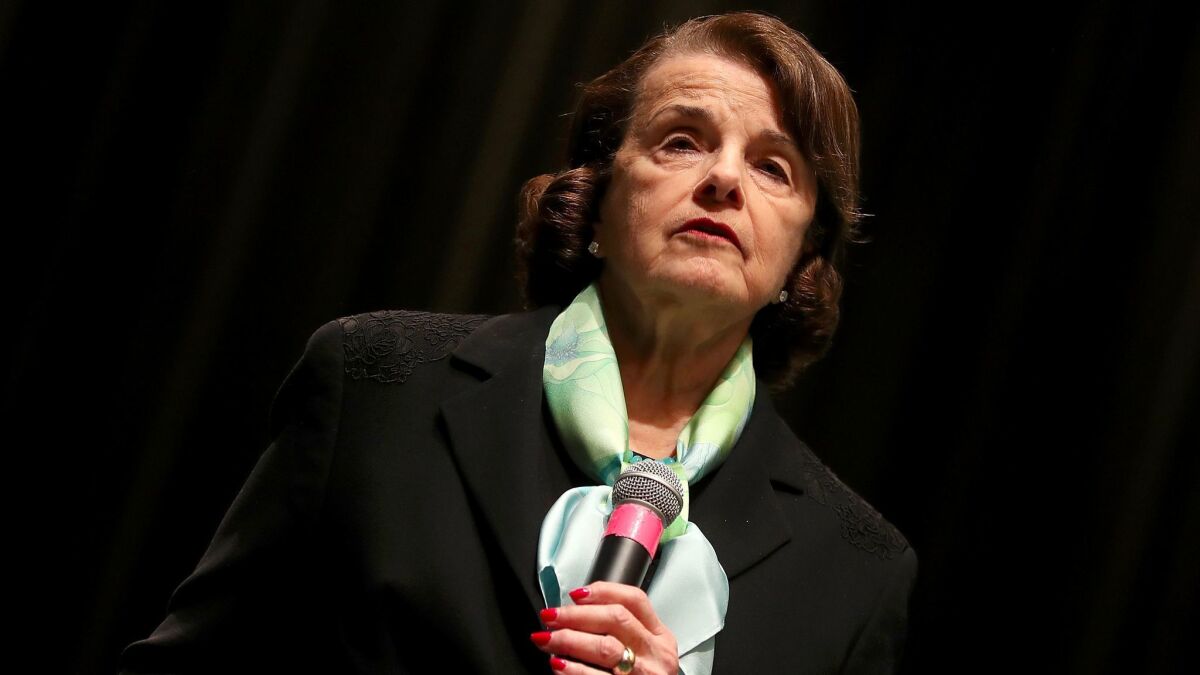 Sen. Dianne Feinstein (D-Calif.)
What the senior senator decides to do will have ripple effects throughout California politics. Feinstein has held the seat for a quarter of a century, and at 84, it isn't yet clear whether the oldest member of the Senate will seek another six-year term.
She has also been under pressure from the left, with a few potential primary challengers — including state Senate leader Kevin de León — stoking criticism of her moderate reputation.
Feinstein has indicated that she'd like to continue serving, and said in April she'll announce her plans once some family health issues are resolved.
She skipped the Democratic National Convention in Philadelphia last summer after her husband was diagnosed with lung cancer. She was also fitted with a pacemaker in January.
But she's definitely fundraising like someone who plans to run. She has raised $1.35 million since the beginning of the year, and has $3.57 million in the bank.
Feinstein is the highest-ranking Democrat on the Senate Judiciary Committee, which is ramping up its investigation of Russia interference in the 2016 election and the Trump campaign's potential involvement.
That could be a powerful incentive to stay another term.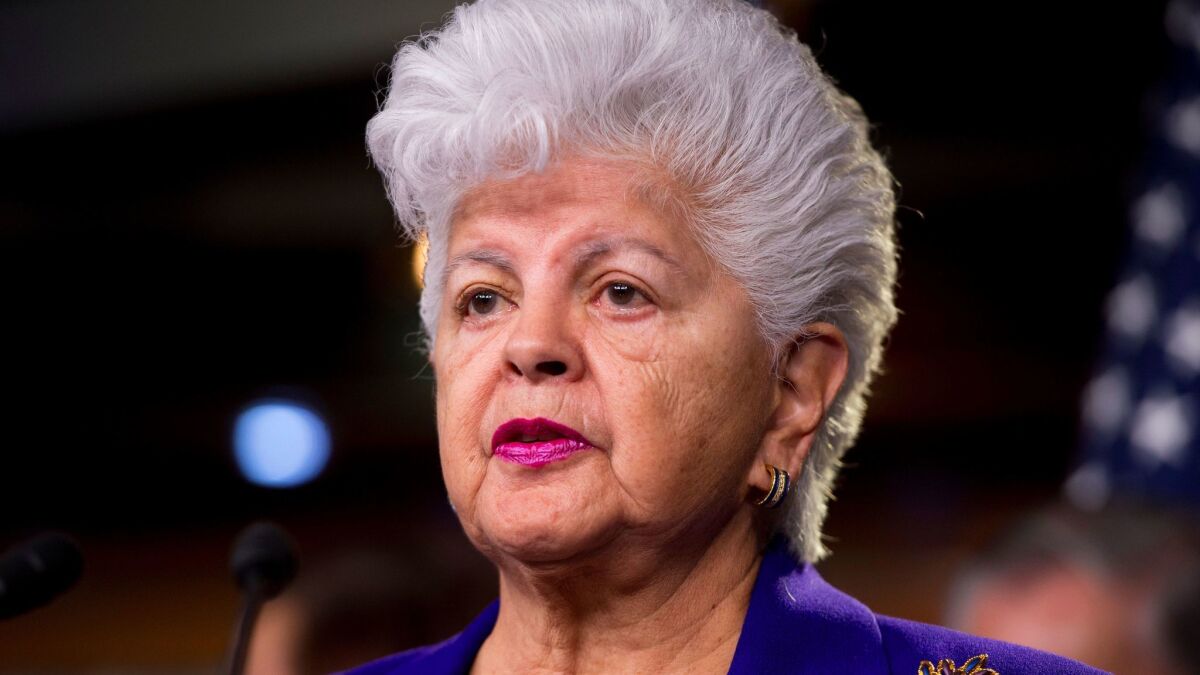 Rep. Grace Napolitano (D-Norwalk)
When she made a formal announcement she'd seek another term in April, the 80-year-old Napolitano pointed to her seniority and experience — 10 terms in Congress — as her reason.
But she's on our list because she missed several weeks of votes this summer while her husband, Frank Napolitano, underwent chemotherapy and radiation to treat esophageal cancer. Napolitano worked in the district while she was away from Washington.
The congresswoman easily beat former Democratic state Assemblyman Roger Hernandez of West Covina last November, and her staff says her husband's health hasn't changed her plan to seek an 11th term.
Napolitano raised $163,626 in the first six months of the year. Mary Ann Lutz, former mayor of Monrovia and a former Napolitano aide, has more than $100,000 in the bank, but has said she plans to run only if Napolitano retires.
Rep. Dana Rohrabacher (R-Costa Mesa)
Rohrabacher, the longest serving Republican in the delegation, has long been the subject of retirement rumors. The 70-year-old was on our December retirement watch list, and potential candidate Orange County Republican Scott Baugh is in the wings with more than half a million dollars — more than Rohrabacher — but has not entered the 2018 race.
With the ongoing FBI and congressional investigations into Russia's interference in the 2016 election, Rohrabacher has been the subject of dozens of media reports speculating about his long-known friendliness toward Russia.
How Rohrabacher's higher media profile will affect a 2018 run isn't clear. Rohrabacher has said he's not too worried. He won reelection in 2016 by 16.6%
Still, his district narrowly went for Democratic presidential candidate Hillary Clinton, and he has drawn a handful of well-funded Democratic opponents as well as a Republican challenger.
Rep. Duncan Hunter (R-Alpine)
On paper, it may not look as if the 40-year-old Hunter would consider retiring. The combat veteran replaced his father in Congress in 2009. He won his last election by nearly 27 percentage points and oversees an influential military-related subcommittee.
He's got more than half a million dollars in the bank. But last quarter, he only brought in about as much as he spent on legal fees to defend himself and others against an FBI investigation into whether he misused tens of thousands in campaign funds on things such as flying the family rabbit on a plane and payments to nail salons, his children's private school tuition and a trip to a Phoenix resort.
More than a half-dozen people have filed to run against Hunter, including two Republicans. Many of them are using the investigation to attack Hunter.
If the FBI moves to indict, Hunter may come under pressure from the party to step aside so a reliably Republican district stays in the GOP's hands.
Follow @sarahdwire on Twitter
Read more about the 55 members of California's delegation at latimes.com/politics
ALSO:
Jolted by Trump, Orange County Democrats see a shot at victory on GOP turf
California's House Republicans voted for the Obamacare repeal that seems dead. Here's what they're saying now
---
Life is stressful. Our weekly mental wellness newsletter can help.
You may occasionally receive promotional content from the Los Angeles Times.