California lawmakers try once again to make it easier to prosecute police officers for killing civilians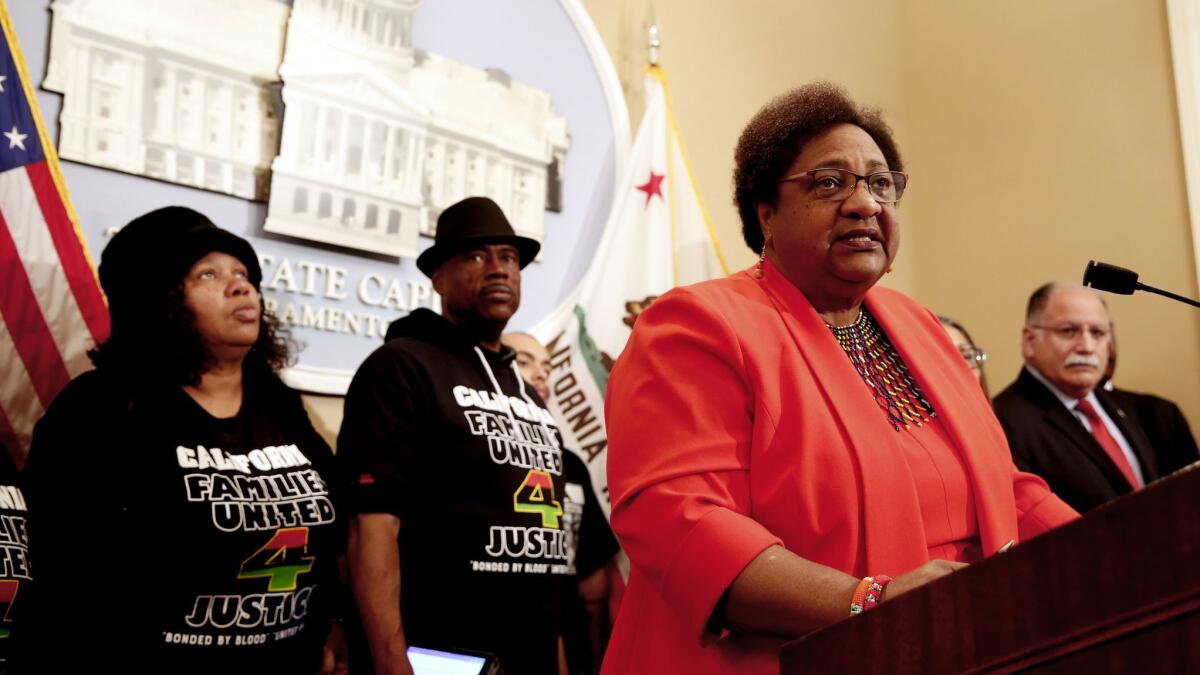 Reporting from Sacramento —
A year after the failure of legislation that would have made it easier to criminally prosecute police officers for killing civilians, California lawmakers will once again debate stricter legal standards for officers who use deadly force.
This week, legislators are introducing two competing bills on the issue, setting up a renewed clash between civil-liberties organizations and law-enforcement groups. One bill, backed by the American Civil Liberties Union and similar groups, would allow district attorneys to more easily prosecute police officers for killing civilians. The other, which has the support of police unions and management, would instead focus on internal department policies and training.
"California is known to be on the cutting edge of change in that which is good," said Assemblywoman Shirley Weber (D-San Diego), author of the legislation supported by civil liberties groups. "Yet our law enforcement policies are old, outdated and deadly."
California Senate shelves high-profile bill that would hold police more accountable for killing civilians »
Under the law, police can use deadly force if it's "objectively reasonable" for them to do so.
Weber's Assembly Bill 392 would make two key changes to the legal standard: First, it would allow prosecutors to take into account an officer's actions prior to a killing that could have negligently placed the officer in harm's way. Second, officers could use deadly force against someone fleeing arrest only if they believe that person has committed a violent felony and it's necessary to prevent death or serious bodily injury, encouraging prosecutors to consider whether police could have deescalated the situation with verbal warnings or used nonlethal force beforehand.
Lawmakers pointed to the May 2017 killing of Mikel McIntyre by Sacramento sheriff's deputies as a case in which police could be charged under the proposed new standards. In that incident, three officers fired 28 rounds at McIntyre, a 32-year-old black man who threw rocks at officers and a police dog and fled arrest during a mental health incident.
A county inspector general found that the police response was at times excessive and unnecessary. But while Sacramento Dist. Atty. Anne Marie Schubert said officers could have used tactical approaches that did not involve using deadly force, she declined to prosecute because she contended the response was reasonable given the threat McIntyre presented.
At a Wednesday news conference, Weber was joined by family members of people killed by police officers, including Cephus Johnson, the uncle of Oscar Grant, an unarmed black 22-year-old who in 2009 was killed by a white Bay Area Rapid Transit officer in Oakland. Johnson said Weber's legislation "aims to save lives and prevent tragedies."
"Current law results in officers killing civilians far more than necessary, leaving many families in the community devastated and the general public less safe," Johnson said.
Weber's bill was announced a day after a coalition of law enforcement groups unveiled a plan of their own. Legislation from Sen. Anna Caballero (D-Ceres) seeks to strengthen internal departmental rules, including requiring officers to attempt to deescalate an encounter before using deadly force. The bill, which has yet to be formally introduced, would also increase officer training responsibilities.
Law-enforcement groups including the Peace Officers Research Assn. of California, or PORAC, the state's largest law-enforcement labor organization, and the California Police Chiefs Assn. are also asking for $300 million in state funds over three years to pay for mental health and homelessness programs, among others.
Police officials said their approach would save the lives of civilians while also keeping officers safe.
"The key is focusing on training," said David Mastagni, an attorney who represents police labor unions. "When an officer is faced with a life or death situation, you revert to what you train and what you know."
Caballero said addressing training and internal policies is a better approach than increasing criminal liability because officers often have to make split-second decisions where the danger to themselves and others can be unclear.
"The difficulty is prejudging things ahead of time," she said. "Every use of force is situational."
Weber introduced last year's version of her bill following the shooting of Stephon Clark, an unarmed 22-year-old black man killed in his grandmother's backyard when Sacramento police say they mistook his cell phone for a weapon. Weber's original bill would have allowed prosecutors to bring criminal charges against officers in killings in which verbal warnings or nonlethal force were not attempted.
But after opposition from police groups, Weber scaled back her legislation so it would lead to increased civil penalties and internal discipline instead of criminal charges. Senate President Pro Tem Toni Atkins (D-San Diego) shelved that version of the bill in a legislative committee after it was clear it didn't have enough support.
Atkins then helped coordinate months-long negotiations between law-enforcement and civil-liberties groups in an effort to reach a deal on new legislation. But the talks collapsed, leading to the separate bills.
"I will continue to be engaged to find common ground," Atkins said.
Weber and colleagues who support her effort said they were trying again to change standards for prosecuting officers because doing so would hold them the most accountable.
"Our laws should not and cannot continue to protect officers who use unnecessary force," said Sen. Steven Bradford (D-Gardena).
Coverage of California politics »
Get our Essential Politics newsletter
The latest news, analysis and insights from our politics team.
You may occasionally receive promotional content from the Los Angeles Times.