California cities sue state over home deliveries of pot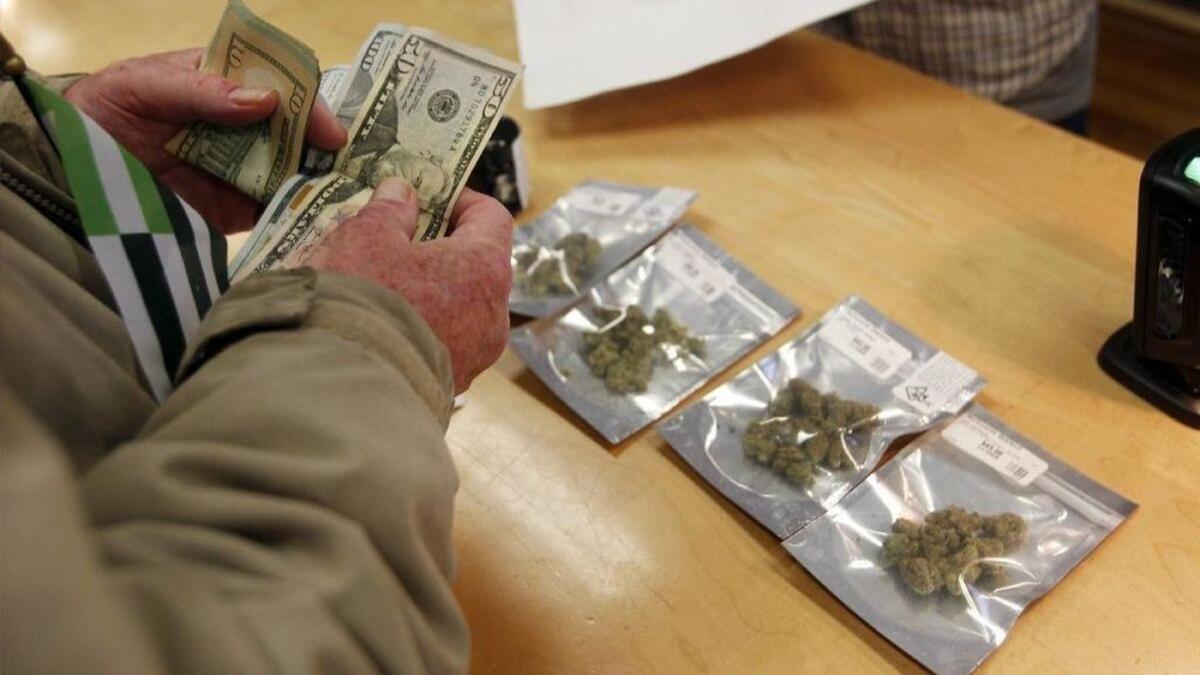 Reporting from Sacramento —
In the first significant challenge to California's open cannabis market, 24 cities that restrict pot sales sued Gov. Gavin Newsom's administration Thursday, arguing that by allowing home deliveries in their city limits, the state is violating 2016's Proposition 64, which legalized recreational marijuana.
The lawsuit, which was filed in Fresno County Superior Court against the California Bureau of Cannabis Control and its chief, Lori Ajax, comes in response to a regulation adopted by the agency in January that permits state-licensed firms to deliver cannabis in cities that have banned pot shops. Officials from cities with prohibitions on pot sales objected to the rules, voicing concerns that home deliveries of cannabis would lead to robberies of cash-laden vans and an influx of illegal sellers blending in with licensed delivery fleets.
To avoid opposition from city leaders and police chiefs, backers of Proposition 64 offered assurances in 2016 that the measure would preserve local control of pot sales. The lawsuit notes that the ballot proposition's introduction said that it "safeguards local control, allowing local governments to regulate marijuana-related activities."
The cities behind the suit contend that the bureau lacks legal authority to allow deliveries in conflict with local ordinances because Proposition 64 and a law signed by then-Gov. Jerry Brown guarantee local governments veto power over pot sales in their jurisdictions.
Read the lawsuit 24 cities filed against California over home delivery of cannabis »
"We don't want deliveries in our city because of the concern over criminal activity," said Walter Allen III, a city councilman in Covina and retired police officer. "The problem we have is the state has taken it upon itself to bypass Proposition 64 and supersede our local ordinances, and we are really upset about that."
Plaintiffs including the cities of Covina, Downey, Riverside and Beverly Hills are among the 80% of California's 482 municipalities that have banned stores selling cannabis for recreational purposes. Other cities that have joined the lawsuit allow retail stores but want to ensure that only businesses they have screened and licensed are able to make home deliveries within their city limits.
Beverly Hills bans cannabis stores while limiting deliveries only to medical marijuana provided to patients. But the state rule means recreational cannabis can also be delivered, said Mayor John Mirisch, who called the state's interpretation of Proposition 64 a "bait and switch."
One year of legal pot sales and California doesn't have the bustling industry it expected. Here's why »
Riverside Mayor Pro Tem Mike Soubirous said his city should be able to regulate when deliveries are made and who makes the deliveries, but said he believes the state rule has rendered him powerless to make those decisions.
"The council should be able to run interference for the residents and protect their quality of life," said Soubirous, a former lieutenant commander in the California Highway Patrol.
The lawsuit could jeopardize ongoing state efforts to expand cannabis sales as delivery services compete with retail storefronts in California over a legal market estimated last year to be valued at nearly $1 billion.
"The negative impact delivery bans would have on the industry and the state cannot be understated," said Josh Drayton, a spokesman for the California Cannabis Industry Assn. "By taking away many state consumers' only legal way to purchase product, jurisdictions would not only miss out on beneficial local tax revenues, but would drive down state revenue by forcing consumers into the illicit market."
Proposition 64 provided for state licensing of marijuana growers and sellers, allowing purchase and possession of up to 28.5 grams of cannabis by adults 21 and older for recreational use. With supporters of legalization arguing home delivery is important to providing safe access to the legalized drug, the state cannabis bureau said its regulation is in keeping with the intent of the ballot measure as long as deliveries are handled by state-licensed firms.
The lawsuit asks the court to rule that the state regulation is invalid "because it is inconsistent with the statutory authority of local jurisdictions to regulate or prohibit the delivery of commercial marijuana to a physical address within their boundaries." The cities behind the lawsuit said they are not opposed to deliveries in cities where they are welcomed.
In approving home delivery in all cities, Ajax cited a provision of a law approved by the Legislature that says, "A local jurisdiction shall not prevent delivery of cannabis or cannabis products on public roads" by a state licensee.
Police chiefs warn of increased crime if California allows pot deliveries statewide »
The lawsuit, which also includes Santa Cruz County as a plaintiff, argues that provision does not allow deliveries to the doorsteps of private homes, citing a memo from the Legislative Analyst's Office.
"Driving through a local jurisdiction on a public road, as the Legislative Analyst noted, is not the same as conducting a recreational marijuana transaction in the doorway of someone's house," the lawsuit says.
The cities' legal challenge notes that the official voter information guide for Proposition 64 said the initiative would create a governing system that allows local governments to regulate marijuana-related activities. A 2016 report on the initiative by the Legislative Analyst's Office also told voters that the ballot measure allowed cities and counties to completely ban pot businesses.
"The promise to the voters and to the cities and counties who went neutral on Prop. 64 was that they would be able to decide what types of commercial cannabis would be available within their community," said Douglas L. White, an attorney for the cities. "And we now have a state agency effectively undermining and breaking that promise that was made."
The lawsuit is also supported by the League of California Cities, which said in a statement that the home-delivery rule "undermines the voters' intent."
Drayton acknowledged that Proposition 64 gives local governments authority over commercial cannabis activity, but he said his group and the state believe it "does not give jurisdictions express authority over consumer access in general, which is what we are talking about when it comes to delivery."
A response to the lawsuit was not immediately available from Newsom.
Assemblyman Rob Bonta (D-Alameda), a leading architect of laws behind California's cannabis system, said he supports medical marijuana delivery for patients and said there is a "compelling case" for delivery in general. Still, he has concerns about how the rule was adopted.
"I have long believed that the issue of statewide delivery should be addressed by the Legislature, not via regulations," he said. "Proposition 64 clearly promised a strong degree of local control over cannabis-related activities."
California is awash in cannabis cash. Some is being used to bribe public officials »
A representative for Ajax said the bureau chief declined to comment.
Khurshid Khoja, vice chairman of the National Cannabis Industry Assn., said the cities are "overreaching" with a lawsuit.
"They're trying to redefine the constitutional rights of individual adult consumers to engage in activity that is customary, traditional and incidental to being in a residential zone," said Khoja, a Sacramento attorney who represents licensed cannabis retailers. "They are couching this power grab as a reasonable restriction on commercial businesses, but they can't ban all deliveries without affecting individual rights now guaranteed under Prop. 64."
Those that stand to benefit from the state rules allowing home deliveries include 311 state-licensed delivery firms, as well as companies such as Weedmaps, which help consumers find and evaluate delivery businesses.
Eaze, an online platform that arranges deliveries, has a database of 450,000 cannabis consumers. Licensed retail firms working with Eaze have made deliveries to just under half of all cities in California since Jan. 1, 2018, said Elizabeth Ashford, a spokeswoman for the company.
"There's a clear appetite for legal cannabis in jurisdictions that won't zone businesses," Ashford said. "But make no mistake, without access to legal delivery in these places, these consumers will turn to the illegal market."
There are still more storefront sellers in California — 915 have been licensed so far — than firms that hold delivery licenses.
Assemblyman Ken Cooley (R-Rancho Cordova) has introduced legislation that would clarify that cities have veto power over home deliveries.
The home delivery rule "is contrary to the language of Proposition 64. It's a unilateral act in violation of law," said Cooley, a former mayor of the city of Rancho Cordova, near Sacramento.
City officials, he said, "are the ones who are most attuned to what will add to the community's quality of life."
Downey Mayor Rick Rodriguez said residents in his city are concerned that pot businesses will be a magnet for crime.
"We don't want marijuana in our city. Our residents are clear about that," he said. "This skirts that original agreement in Prop. 64. We feel lied to. It's a broken promise."
Sign up for our Essential Politics newsletter »
Twitter: @mcgreevy99
Get our Essential Politics newsletter
The latest news, analysis and insights from our politics team.
You may occasionally receive promotional content from the Los Angeles Times.