California Democratic Party and open-government groups fight proposal to lift contribution limits for legislative leaders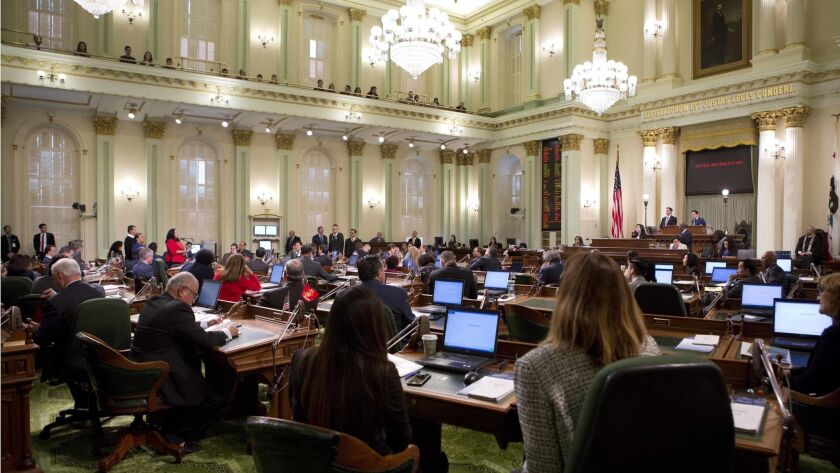 Reporting from Sacramento —
Faced with opposition from the California Democratic Party and open-government advocates, divided state lawmakers advanced a bill Tuesday that would increase the amount of campaign money that can be accepted by Democratic and Republican legislative leaders.
The proposal approved Tuesday by a 3-2 vote of the Senate Elections and Constitutional Amendments Committee would allow partisan caucuses in the Legislature to accept campaign contributions of $36,000 from individual sources for state races, up from the current limit of $4,400.
The bill would also allow the caucus committees to make unlimited contributions to state candidates and accept unlimited funds for independent expenditures not coordinated with favored candidates.
Assembly Bill 84 "would be the biggest rollback of California's campaign finance law in at least a decade," Nicolas Heidorn of California Common Cause told the panel.
Common Cause is joined in opposing the bill by the California Clean Money Campaign, the California Public Interest Research Group, the League of Women Voters of California, Money Out Voters In and the state Democratic Party.
One party official said the bill was like legislative leaders "filing divorce papers" from the state party, which has played the leading role in endorsing and funding Democratic candidates in the past.
The measure allows Democratic candidates to sidestep a party process that includes pledges for candidates not to accept campaign contributions from some special interests, including fossil fuel firms and for-profit prison corporations, said Daraka Larimore-Hall, vice chairman of the state Democratic Party.
"There's too much money in politics," he told the committee. "This bill is a step backwards. California politics simply does not need more opportunities for big checks to go to campaigns."
Helen Hutchison, the president of the League of Women Voters of California, decried the last-minute push to get approval for a month-old bill with just three weeks left in the session.
A bill amending "a law that is designed to prevent corruption," she said, "should surely not be crafted in back rooms and passed at the 11th hour without any real opportunity for meaningful public input."
Coverage of California politics »
Assemblyman Kevin Mullin (D-South San Francisco), who authored the bill, said the current system makes it difficult to determine who is donating to legislative leaders. He added that there are currently no limits on independent expenditure campaigns.
"This is an anti-dark-money bill," he said.
His measure was supported by Democratic Sens. Bob Hertzberg of Van Nuys and Connie M. Leyva of Chino, and Republican Sen. Joel Anderson of Alpine.
Leyva noted the bill requires monthly campaign finance disclosures by political parties and the proposed caucus committees, adding that it is "far more transparent than the current process we have."
The measure was opposed by Democratic Sens. Ben Allen of Santa Monica and Henry Stern of Canoga Park.
Stern, the committee chairman, said the measure could provide more disclosure to counter the independent expenditure campaigns that can raise and spend unlimited funds and are often dominated by interests such as the oil industry. But Stern was concerned about the bill being introduced late in the session without going through the normal legislative process.
"l can't [support it] from a process perspective," Stern said. "This isn't fully baked in my view."
The measure must still be approved by the full Senate and Assembly by the end of this month.
Twitter: @mcgreevy99
---
Life is stressful. Our weekly mental wellness newsletter can help.
You may occasionally receive promotional content from the Los Angeles Times.