Delaine Eastin is fighting for momentum in the governor's race — and she's going to all 58 counties in California to do it
Delaine Eastin was a sophomore in high school when a drama teacher urged her to try out for a part in "The Man Who Came to Dinner." She hesitated until he told her: "This is a metaphor for your whole life. If you never try out, you will never get the part."
Eastin auditioned and won the role. Decades later, the advice sticks with the former state schools chief, this time in her unlikely run for governor.
Despite calls for more women in leadership roles in state politics following sexual misconduct allegations in Sacramento, Eastin has been largely overlooked in the race, lagging far behind her Democratic rivals in fundraising and the polls.
California has never elected a female governor. And Eastin, one of nine women to be elected to statewide office in California's history, hopes to break that barrier in November, 26 years after California sent two women to the U.S. Senate in the "Year of the Woman." But few voters know her because she left the Capitol 15 years ago. So Eastin is barnstorming the state, appearing in all of California's 58 counties.
"If I can get in front of enough people, I have a really good shot," she said in an interview during a recent 18-hour day of campaigning. "It is daunting, but I am feeling really quite encouraged."
It's a strategy that works in Iowa or New Hampshire, but is almost impossible to replicate in a state as large as California, with its 19 million registered voters.
But Eastin, 70, is trying, and she frequently receives a warm reception.
UCLA students rushed to take pictures with her at a March UC Regents meeting after she passionately called for a recommitment to education when a tuition increase was considered. She often delivers memorable lines to win over audiences in her public appearances, including her take on student testing during a recent debate: "You don't fatten a hog by weighing it more often."
At the California Democratic Party convention earlier this year, Eastin had a surprisingly strong showing: Despite registering in the single digits in the polls, she won the backing of 20% of state party delegates. And at a gathering of liberal clubs in Ventura last month, attendees compared her to former presidential candidate Sen. Bernie Sanders (I-Vt.).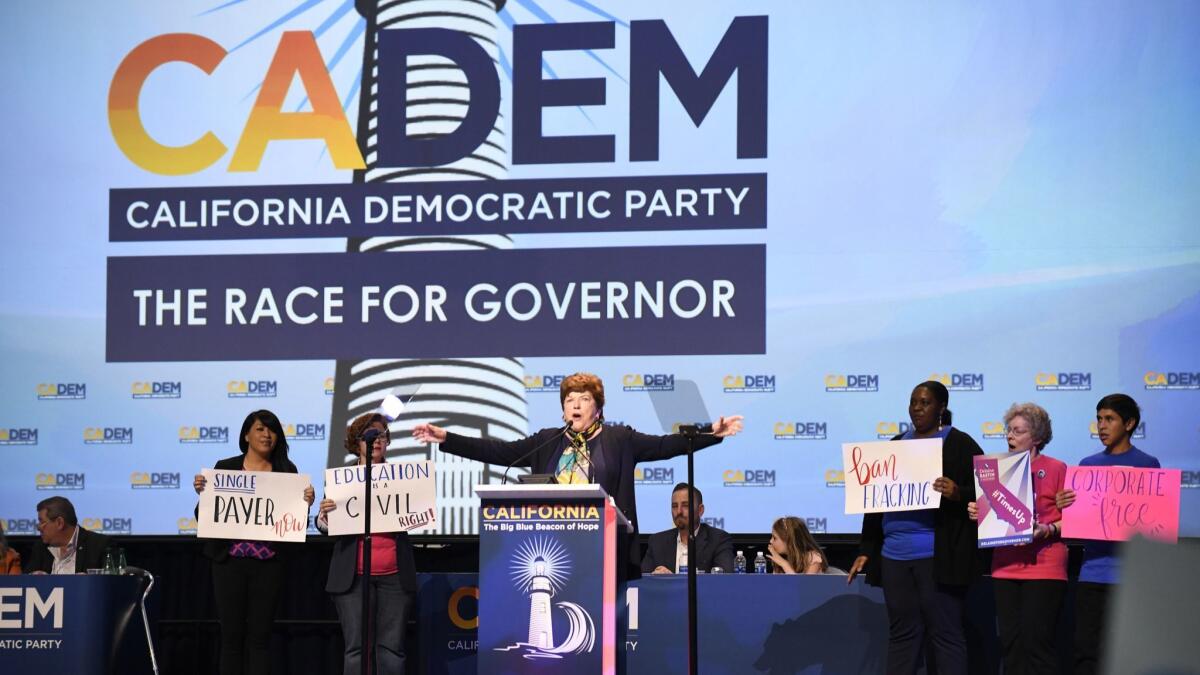 Follow California politics by signing up for our email newsletter »
"Her platform is similarly progressive," said Troy Corley, a 59-year-old entrepreneur from Oxnard. "Everything I wanted with Bernie, she represents."
The foundation of her campaign platform is education, including universal state-funded preschool, more money for K-12 schools and reduced and free tuition for in-state residents at California's colleges and universities. Improving education opportunities would have a ripple effect throughout the state, Eastin said, arguing that it would reduce homelessness and crime, and result in the state's residents being healthier.
She also attributes the state's economic success to state leaders' education efforts decades ago.
"When you understand the modern economy, you're just a damn fool if you don't invest in education. Silicon Valley is here for a reason," Eastin told voters in Ventura as she recalled paying $82.50 per semester for tuition at UC Davis. "Have you been to Silicon Valley? There's no Tigris, no Euphrates. The fertile crescent was education."
Eastin's passion for supporting public schools is rooted in her childhood. Her parents, a machinist from Appalachia and a women's clothing store clerk from San Francisco, did not attend college. But they emphasized the importance of education: Her father gave her $1 for every poem she memorized, put a second mortgage on their home to fund her college costs and wept at her graduation, she said.
"My dad said education gives you choices. He felt like he didn't always have choices," Eastin said, recalling that her father decided to forgo college and joined the military after his father filed for bankruptcy.
Her teachers and advisors also had a profound impact on her life, providing "scaffolding" as she dealt with her mother's alcoholism, she said.
"I really believe education changed my life forever. I want that for every kid," she said.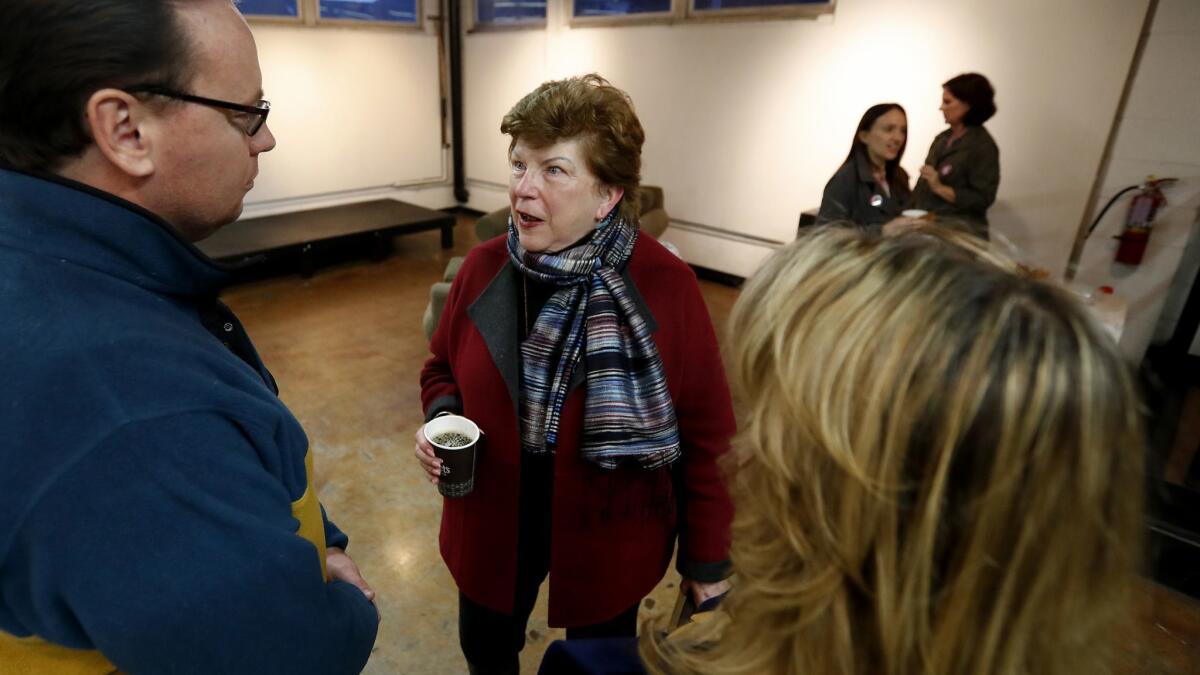 After graduating from Davis, Eastin earned a master's degree in political science at UC Santa Barbara and taught at community colleges before being elected to the Union City Council and the Legislature. She served in the statehouse from 1986 to 1994, and as the state superintendent of public instruction from 1995 to 2003.
Eastin, who is divorced, and her then-husband tried but were unable to have children. When she became the state's schools chief, he told her, "Now you have 6.1 million children."
She made history as the first woman elected to that role. She touts her record as state schools chief, speaking proudly of how there were no tuition increases under her watch, and emphasizing that she stood up to then-Gov. Pete Wilson for schoolchildren who were in the country illegally. She said she energized a staff that had grown demoralized.
But her tenure was marred by a whistleblower lawsuit which the state Department of Education settled for $4.25 million in 2008. A former employee said he faced retaliation by Eastin after reporting corruption and misappropriation of funds to her.
Eastin could not comment on the matter because of the terms of the settlement. A longtime ally of hers who worked in the state Department of Education blamed the suit on a handful of angry staff members unhappy with Eastin being the first politician and woman in charge, as well as her efforts to overhaul the department.
"Mostly people didn't like her because she reorganized the department and moved people out of their comfort zone," said Pat Ainsworth, who worked at the agency for 16 years. He added that the department ultimately settled the case after Eastin was termed out.
In the governor's race, Eastin has been headlining women-focused events, including a recent roundtable in Westwood to discuss sexism, access and misconduct.
"Speak the truth, even when your voice shakes," Eastin told the group.
She tied the sexual misconduct allegations in the Capitol that resulted in the resignation of three legislators directly to the underrepresentation of women in public office.
"More women in power means less sexual harassment in private and public and nonprofit entities," she said. "The idea we used public money to buy off the silence of women who have been sexually harassed is just jaw-dropping in its inappropriateness."
But other times, the issue of gender comes across as an afterthought.
In the final moments of a gubernatorial forum in San Diego, Eastin mentioned that the state had never elected a female governor.
"Oh, by the way, it would be nice to have a woman governor in the state of California," she said in February.
Another prominent woman in the race, former Hillary Clinton aide Amanda Renteria, said she decided to enter the contest because of her belief that the candidates were not giving the issue of gender its due.
"It's a missing conversation that needs to happen," she said.
Eastin counters that she wants voters to look at her life's work rather than her gender.
"I try not to say, 'You should vote for me because I am a woman,'" she said. "Vote for me because I'm the most qualified and I happen to be a woman."
I try not to say, 'You should vote for me because I am a woman.' Vote for me because I'm the most qualified and I happen to be a woman.
— Delaine Eastin, Democratic candidate for governor
Eastin has been invited to participate in debates because she has been elected statewide multiple times, like two of her three main Democratic rivals. The men treat her with deference, often agreeing with her.
During a recent televised debate at USC, former Los Angeles Mayor Antonio Villaraigosa clapped as Eastin delivered a rousing call for stronger gun control that drew loud applause from the audience.
They do not attack her the way they attack one another, a strategy that is not surprising since polling indicates she poses no threat to their candidacies. Male politicians have faced criticism when they seemed disrespectful to older female candidates — GOP Rep. Rick Lazio was castigated for appearing overly aggressive in a 2000 U.S. Senate debate with Hillary Clinton in New York.
Eastin said her rivals' behavior is in recognition of her record.
"Other people recognize I have credibility and standing, and they disrespect me at their peril," Eastin said. "Because I will put my resume against anybody's."
Karina Kaye, 25, a state Democratic Party delegate, dismissed Eastin's three top Democratic rivals in the race as either too centrist or untrustworthy.
"I believe that Delaine is actually on our side," the Oxnard resident said after seeing Eastin speak at an artist studio and community center in Ventura. "I have no doubt the more people know about her – and they will know about her – the greater chance she has of success."
That's what Eastin, who spent hours in travel time to meet a few dozen voters at the event, is counting on.
For the latest on national and California politics, follow @LATSeema on Twitter.
Get our Essential Politics newsletter
The latest news, analysis and insights from our politics team.
You may occasionally receive promotional content from the Los Angeles Times.