A battle of liberal versus more liberal exposes a divided California Democratic Party at state convention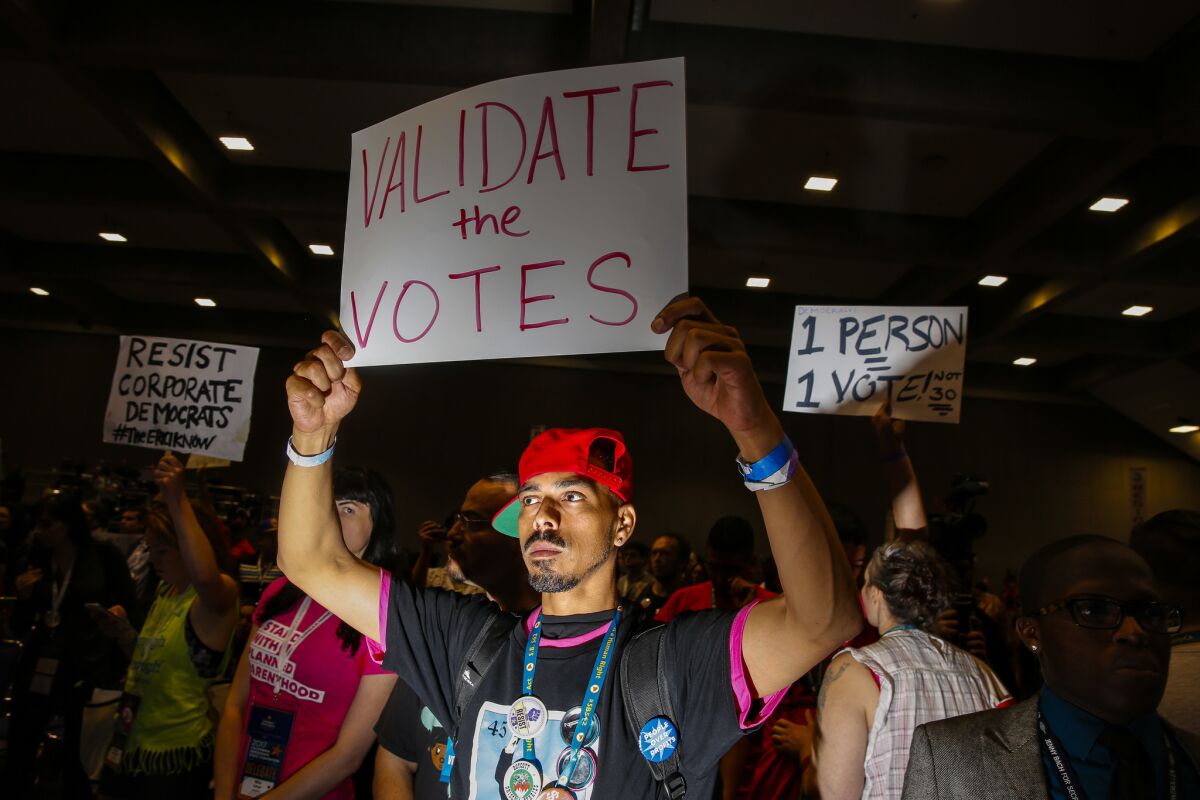 A blistering contest to lead the California Democratic Party and near-constant protests during its weekend convention provided proof that schisms between party factions at the national level are also pulling apart the ranks at home, where the group has long prospered.
Typically a sunny weekend for California Democrats celebrating dominance at the ballot box and in the voter rolls, this year's convention was punctuated by hecklers, marches and recriminations by liberal activists who say the party has lost its way, become too moderate and grown similar to the GOP. Battle lines were drawn in the race for a new chairperson, as party faithful and those seeking a more progressive path were sharply divided over who should guide them in the years to come.
"We're not going to unify around the status quo," RoseAnn DeMoro, leader of the California Nurses Assn., told a couple thousand delegates and guests on Saturday. "Consensus for consensus' sake is over."
The tension was fed by lingering resentment from the Democratic presidential primary between Bernie Sanders and Hillary Clinton, and angst over Donald Trump's actions since he was sworn in as president. Both prompted a rush of several hundred new delegates to the annual event.
"If Hillary Clinton had won … we wouldn't be seeing the second-guessing of strategy and tactics and the future of the Democratic Party we're seeing today," said Rose Kapolczynski, a Democratic strategist and longtime advisor to former Sen. Barbara Boxer.
She likened it to the aftermath of the 2004 presidential race, when the party was dismayed by the reelection of President George W. Bush and saw an influx of supporters of former Vermont Gov. Howard Dean, known as "Dean-iacs." As many Sanders supporters blame the party for nominating Clinton, whom they view as a flawed candidate, Dean supporters similarly faulted the party in 2004 for nominating then-Sen. John Kerry of Massachusetts.
"That angst and regret turned into action," Kapolczynski said, such as the creation of Democratic clubs across the state, the formation of the progressive caucus in the state party and the recruitment and election of candidates in California.
Kapolczynski said she hoped something similar would happen now.
"We have a big job ahead ... and I hope at the end of this convention everyone is unified and heading toward victory in 2018."
There were few signs at the state convention of the disparate factions coming together that quickly.
The three-day gathering kicked off Friday with a reception headlined by Democratic National Committee leader Tom Perez, who was interrupted by protesters calling for the party to refuse corporate donations and to work to implement universal healthcare in the state.
Outgoing state party chairman John Burton responded in his signature style.
"Hey, shut the [expletive] up or go outside," Burton said. "Parade all you want, but unless we put it on the ballot or elect new Democrats, you can walk up and down the street and people still aren't going to have decent healthcare. So let's get with it."
Protesters marched in downtown Sacramento over the weekend, criticizing Democrats for accepting oil company money and failing to adopt a Medicare-style healthcare-for-all model despite controlling the governor's seat and holding super-majorities in both houses of the Legislature.
"Just because you are a Democrat is not good enough for me," new delegate Robert Shearer, 34, said into a bullhorn Saturday during a march to the governor's mansion, as others held signs that read "Oil Money Out." "Those big Democrats in there that are putting money first, they're fighting against us … and we're going to hold them accountable."
About 500 Sanders supporters — self-described "Bernie-crats" — had gathered for a Middle Eastern dinner reunion the previous night. Among the political leaders to address them was Rep. Ro Khanna of Fremont. The freshman congressman recently joined the "Justice Democrats" group that is open to challenging Democratic incumbents who they believe are not sufficiently liberal — similar to the tack taken by tea party conservatives challenging Republican politicians who don't hew closely enough to their beliefs.
"This country demands a vision. They want to know what we're going to be for," Khanna told the crowd.
But the strongest example of the split all weekend was the race to succeed Burton as party chairperson, a bitterly fought contest between Eric Bauman, a long-time party leader and favorite of the Democratic establishment, and Kimberly Ellis, an organizer who drew the backing of many Sanders supporters. Bauman entered the race a heavy favorite, but Ellis launched a competitive bid. At one point Saturday evening, rumors began to circulate that she had won.
But late Saturday, the party announced that Bauman prevailed by just over 60 votes, a razor-thin margin. Bauman declared victory, and Ellis' supporters took to the halls of the convention center — some screaming, cursing or weeping — until she addressed them, defiant and refusing to concede.
On Sunday, as Ellis and her staff met with party officials and Bauman representatives in private, her supporters held handwritten signs that said "Validate the Vote." They interrupted speakers during the general session meeting to call for a recount or a new vote, and asked for Ellis to be allowed to address the crowd. Burton eventually told the group that all sides had come to an agreement: Ellis would review the ballots but not contest the result.
Bauman was officially declared the chairman at 1:16 p.m. Sunday, and he gave a three-minute speech that was greeted by boos and chants of "Not my chairman!"
"We have so much work ahead of us that we all have to stand together," he pleaded. "The results of the election will be verified and validated, but we have too much work ahead of us to be divided like this."
He noted that many Ellis supporters wore pink shirts to signify their support for her bid on Saturday and Sunday, but that they must all now wear blue to symbolize their unity as Democrats.
Less than a half-hour later, Ellis told hundreds of supporters at nearby Cesar Chavez Plaza that she had not conceded the race and "the fight is not over."
Ellis said she and her advisors would stay in Sacramento for the next few days to review each of the nearly 3,000 ballots cast.
"One of the things that the party cannot be is a party that's just like Trump and the Republicans," Ellis told the crowd. "A party that operates in closed rooms, smoked-filled rooms, behind curtains, in secrecy and shadow. It is time for this party to be a transparent party."
seema.mehta@latimes.com, christine.maiduc@latimes.com, phil.willon@latimes.com
Twitter: @LATSeema, @cmaiduc, @philwillon
ALSO
Eric Bauman named new chairman of the California Democratic Party — but his rival refuses to concede
Democrats in the hunt for California governor work the party faithful at state party convention
'Old school versus new school:' The battle over who will run the California Democratic Party
---
Life is stressful. Our weekly mental wellness newsletter can help.
You may occasionally receive promotional content from the Los Angeles Times.