Gov. Gavin Newsom pledges to help build up El Salvador to reduce migration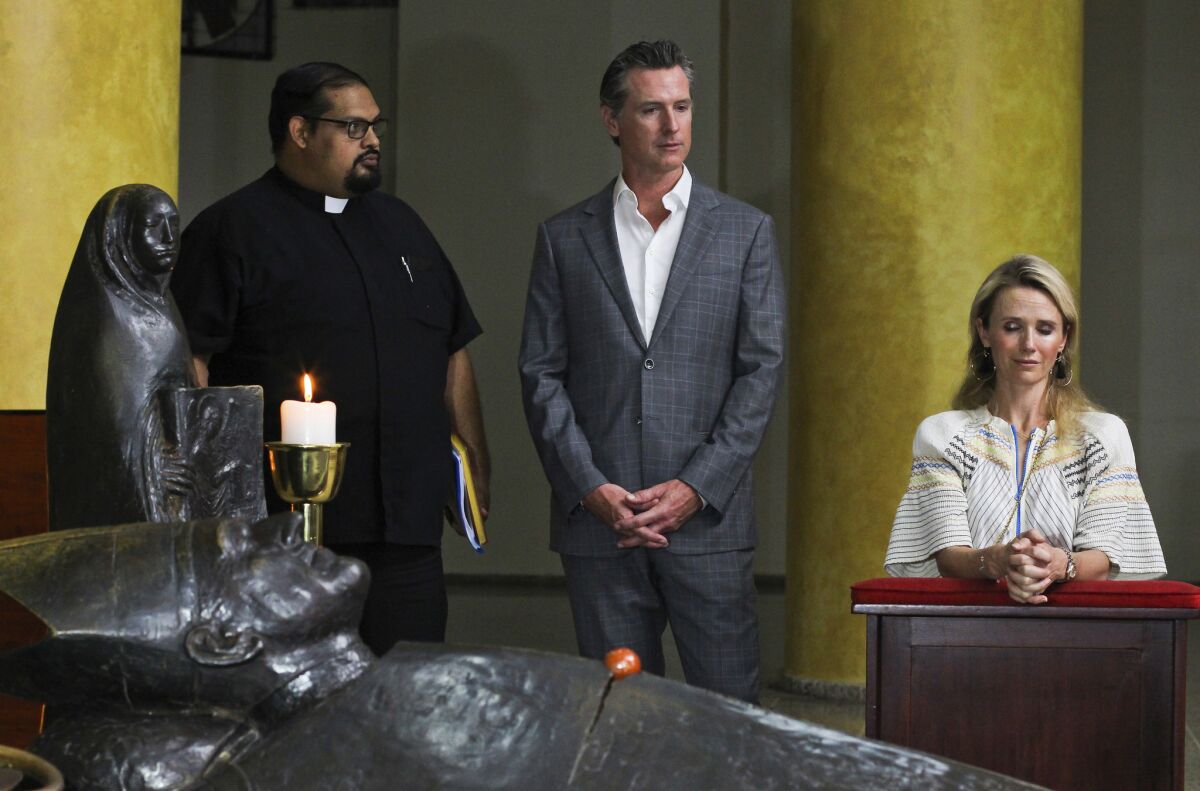 During a three-day fact-finding trip, Gov. Gavin Newsom heard the people of El Salvador give many reasons why migrants flee to the United States.
Gangs extort small businesses and kill those who dare to cross boundary lines in some El Salvador neighborhoods. Police and military have been accused of brutalizing their communities. Women have been imprisoned for having miscarriages, and the Central American country's LGBTQ citizens face discrimination. Nearly one-third of Salvadorans live in poverty.
"People, many people, die, and for us, when you're young, it is very sad to see that life is not respected," said David Escobar Fuentes, a 26-year-old Salvadoran who said he unsuccessfully fled to the U.S. last year after gangs extorted his family's farming business. "It is sad to see a little kid, just a few months old, that has been shot in the neck. There is no justice in the country."
The problems in El Salvador are vast, complex and deeply ingrained in the country's societal fabric, too difficult for a visiting governor to solve.
But as President Trump seeks to cancel U.S. aid to El Salvador and wall off the southern border with Mexico, Newsom hopes to help stimulate jobs and the economy there, a commitment he made after discussions with the country's officials and business leaders. The governor described the effort as replacing Trump's border wall with a wall of economic opportunity around El Salvador — one that gives people fewer reasons to leave.
"Helping stabilize El Salvador directly helps California by mitigating the border challenges, by mitigating migration, by tempering the rhetoric with the Trump administration," Newsom said. "It's about finding a different angle in the debate."
The governor said in an interview that he invited El Salvador to send a delegation to California to meet with the state's business leaders and discuss investment opportunities.
He met with Salvadoran entrepreneurs who extolled the country's prime surfing beaches in an hour-long discussion. El Salvador President-elect Nayib Bukele plans to launch a "Surf City" program that would encourage tourism to his country.
Newsom seeks to counter Trump as he makes world stage debut in El Salvador >>
"We have the best surfing beaches in the world, and they have the other ones," said Bukele, who plans to visit Newsom in California. "So we want to work together."
Newsom said Visit California, a nonprofit operated and funded by the tourism industry to promote travel to the state, has committed to sharing marketing practices and assisting El Salvador to brand itself as a travel destination.
"The tourism commitment is real and tangible," Newsom said. "I think the economic opportunities, the investment opportunities are real, and getting some California industry, business interests to take a look at El Salvador is something that we're clearly going to pursue."
The governor said his time in the country changed his perspective on safety concerns. The U.S. State Department advises Americans to "reconsider" traveling to El Salvador, citing high homicide rates and the prevalence of crimes such as extortion, assault and robbery.
But in conversations with human rights activists, embassy officials, priests, former gang members, prison directors, anthropologists, political leaders and deportees, Newsom learned that crime rates have dropped steadily in recent years.The number of homicides in El Salvador declined by 50% over the last three years, but the country's 51 murders per 100,000 people in 2018 still ranked second in the world to Venezuela.
Salvadorans told Newsom that violence is mostly concentrated in impoverished neighborhoods controlled by gangs.
"I expected not to hear that from so many people, that the safety issues are over-highlighted," Newsom said, adding that he felt comfortable encouraging Californians to visit El Salvador while exercising caution.
Bukele said he hopes to work with the U.S. to change the advisory when he takes office in June. The World Travel and Tourism Council forecasts that 1.7 million foreigners will visit El Salvador in 2019.
Newsom was careful to articulate that he did not plan to spend any state taxpayer dollars in El Salvador. His message is in some ways similar to the strategy of the federal government, which has directly invested hundreds of millions of dollars to support nonprofits promoting economic stability in the region through programs funded by the United States Agency for International Development.
USAID has said its efforts to improve educational opportunities, job training and private sector partnerships stimulated 22,000 new jobs and $153 million in sales and exports in El Salvador from 2011 to 2016. Illegal immigration from El Salvador to the U.S. at the southern border with Mexico also declined last year. Some USAID programs would be in jeopardy if Trump follows through on a promise to cut funding to the country.
Just as former Gov. Jerry Brown led the international debate on climate change, Newsom said he wants to steer the global conversation on immigration. Newsom said his predecessors ceded leadership on the issue to other border states and that California — home to more than 10 million immigrants — should take it back.
Newsom's trip to Central America was criticized by some as a publicity stunt for a politician with career ambitions beyond California.
A small contingent of California reporters traveled with the governor while dozens of Salvadoran journalists swarmed him at nearly every public stop on his itinerary.
Newsom said the trip was intended to assert California's leadership and push back on Trump.
"He's doing what he's doing because he's incentivized for bad behavior," Newsom said of the president. "He knows exactly what he's doing. He's ginning up his base. And it's working for him."
The governor added that he wanted to offer an alternative to "just standing there at the border raging against Trump's tweet" — a strategy of other Democrats that Newsom implied isn't working.
"If we want to succeed we have to continue to play in that frame or we can change the rules of the game, and I think this is part and parcel of that," Newsom said.
More stories from Taryn Luna »
Follow @tarynluna on Twitter.
---
Life is stressful. Our weekly mental wellness newsletter can help.
You may occasionally receive promotional content from the Los Angeles Times.