Feinstein war chest tops $10 million while Kevin de León struggles to keep pace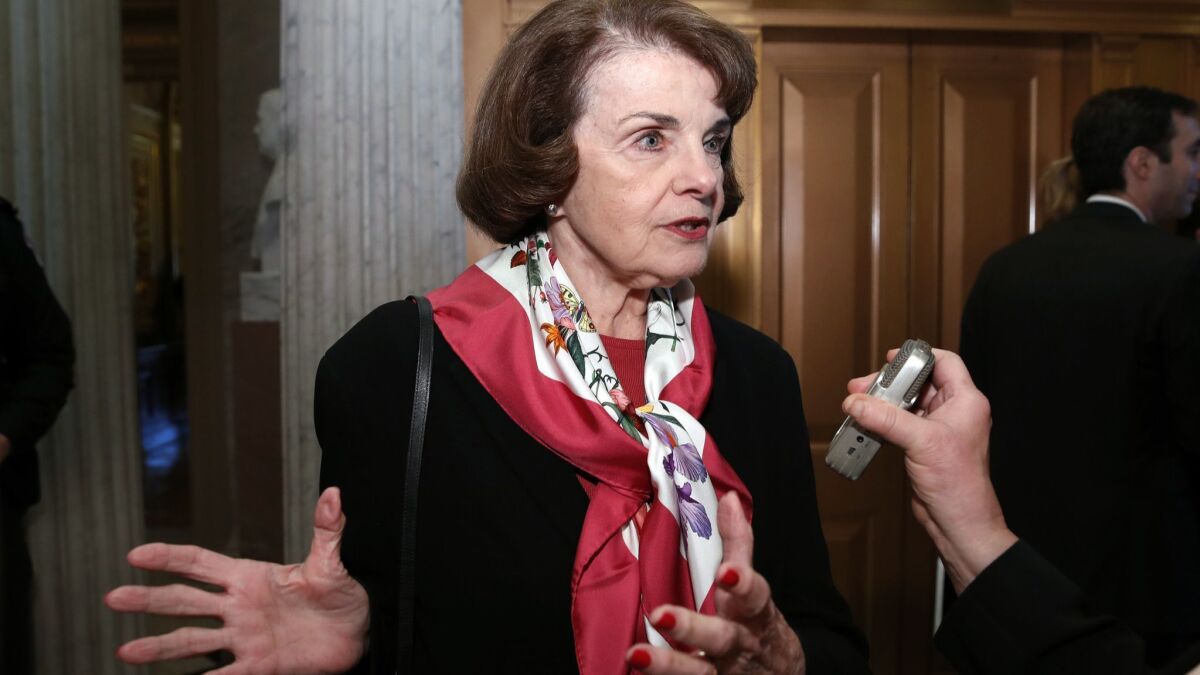 Reporting from Washington —
Sen. Dianne Feinstein has widened her massive fundraising advantage in the run-up to June's primary, collecting twice as much in the first quarter than her strongest Senate challenger has sitting in the bank.
Feinstein raised $1.3 million between January and March, bringing her war chest to just over $10 million as California's U.S. Senate race begins in earnest, according Federal Election Commission reports.
Former state Senate leader Kevin De León, the best known of the more than 30 people who will appear with Feinstein on the June primary ballot, raised just $575,991 in that same period, bringing his cash on hand to $672,331, according to his quarterly FEC report.
That's less than what some House candidates raised in the same time period, and they only need to campaign in their districts rather than in a costly statewide race. Most experts believe that a relatively unknown Senate candidate like De León will need to raise much more money to take on a fundraising juggernaut like Feinstein.
In the 2016 U.S. Senate race, winner Kamala Harris spent $14.4 million to defeat former Rep. Loretta Sanchez, who spent $4.5 million. Since entering the race in the fall, De León has raised just over $1 million.
De León had been hoping to deny Feinstein the California Democratic Party's endorsement, and possibly secure it himself, as a way to propel his campaign and convince donors he was a viable candidate.
But while persuading nearly two-thirds of the party's delegates to vote against Feinstein at the February convention was a political coup and brought a rash of negative headlines nationally for Feinstein, he came up just shy of securing the endorsement himself and it does not appear to have helped his fundraising significantly.
De León's campaign manager, Courtni Pugh, dismissed the gap.
"Kevin isn't running to outraise or outspend his opponent, who happens to be one of the wealthiest members of Congress," Pugh said in a statement. "He's running because the status quo in Washington, D.C., isn't advocating on behalf of everyday Californians, and that needs to change."
As she seeks a fifth full term in the Senate, Feinstein faces several challengers who have been critical of her willingness to work with President Trump, especially at a time when California has positioned itself as the bulwark against his policies.
Most vocal among them have been Democrats urging resistance to the Trump administration at any cost.
Along with 11 Republican challengers, Feinstein faces nine Democrats, nine independents and two third-party candidates. As campaign finance reports began trickling after Sunday's deadline, few reports showed candidates other than Feinstein with much cash on hand.
Feinstein is one of the wealthiest members of Congress, and she's already lent $5 million to her campaign. The bulk of her fundraising so far this year has been from individuals.
More stories from Sarah D. Wire »
Twitter: @sarahdwire
---
UPDATES:
2:40 p.m.: This article was updated with more FEC figures and analysis.
This article was originally published at 12:35 p.m.
---
Life is stressful. Our weekly mental wellness newsletter can help.
You may occasionally receive promotional content from the Los Angeles Times.