Gun violence has defined Sen. Dianne Feinstein's career. The issue is more important than ever for her now
Dianne Feinstein was settling into her office at San Francisco City Hall after a two-week vacation in the Himalayas. A former colleague passed by but didn't respond when she called out. She heard gunshots. And then silence.
The year was 1978, and Feinstein was president of the county Board of Supervisors. She was the first person to discover Supervisor Harvey Milk on the floor of his office.
"I could smell the gunpowder. Harvey was on his stomach," Feinstein told The Times in an interview. "I tried to find a pulse; I put my finger in a bullet hole."
A few hours later she became the face of a national tragedy, announcing on a balcony of the City Hall that former supervisor Dan White had killed Milk, one of the nation's first openly gay elected officials, and Mayor George Moscone.
"I became mayor as the product of assassination," Feinstein said.
The violent experience shaped her views and career. Now a U.S. senator, she is perhaps best known for her quest over 25 years in Congress to enact stricter national gun control, including authoring the now-expired original assault weapons ban.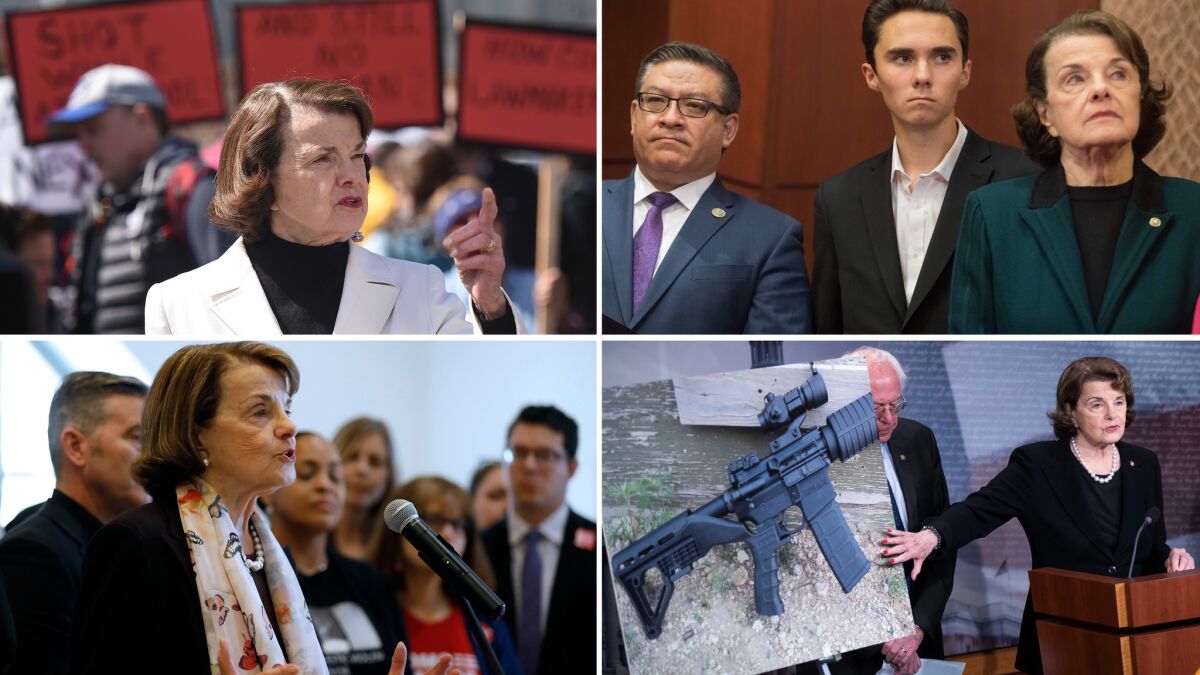 "It's an issue that has framed and really bookended her career," said Jerry Roberts, a former San Francisco Chronicle editor and author of "Dianne Feinstein: Never Let Them See You Cry." "It definitely speaks to her perseverance and endurance, which are two of the strongest characteristics she has as a politician that have served her and really enabled her longevity."
Gun control is rarely a top issue for California voters but has new relevance this year as Feinstein, 84, seeks reelection. She has directly challenged President Trump to support legislation banning bump stocks and assault-style weapons that enable mass killings such as what happened at a country music festival in Las Vegas last fall and at a high school in Parkland, Fla., this year. And Feinstein has tried to seize on the energy created by students in the aftermath of the tragedy in Florida, pointing to the hundreds of thousands of young people who marched Saturday. She was among the speakers at the protest in San Francisco.
"It was an amazing day with the march," Feinstein told reporters Tuesday after meeting with gun violence survivors and their family members, activists and medical personnel at UCLA Medical Center's Mattel Children's Hospital. "I've been doing what I do for a substantial period of time and I've never seen anything like it."
The focus on gun control comes at an opportune time for Feinstein. In her bid for a fifth full term, she is facing a challenge on her left flank. Her moderation has irked the most liberal members of her party's base, as seen in her failure to come close to obtaining the California Democratic Party's endorsement last month.
Her rival, fellow Democrat Kevin de León, has championed tighter restrictions on guns and ammunition as a state senator and has touted his record on the issue on the campaign trail.
De León, who is challenging Feinstein from the left and argues she is too centrist, has little to quibble about with her stance on guns. "This is an area where we have much common ground and much shared accomplishments," he said. "We complement each other."
Feinstein has seized upon the issue as she asks for support.
"I have been a woman on a mission to ban assault weapons," the senator said, to applause, at a gathering of union members at the California Democratic Party convention this year. She said a pilot had told her earlier that day that his 7-year-old was afraid to go to school. "This is not our America, and we need to change it," she said.
Follow California politics by signing up for our email newsletter »
This may sound like naked opportunism in the midst of a campaign, but gun control has been the through-line of Feinstein's political career.
Two years before the Milk and Moscone assassinations, the anticapitalist group New World Liberation Front planted a bomb in a flower box outside her daughter's bedroom window. It failed to explode. The group also shot out windows at her vacation home.
In response, Feinstein was trained by police to use a Smith & Wesson .38 five-shot revolver and obtained a permit to carry a concealed weapon.
"I made the determination that if somebody was going to try to take me out, I was going to take them with me," Feinstein told the Associated Press in 1993.
Feinstein carried the gun in a snapped leather holster in her purse until one day she wondered how quickly she could access it if she needed it.
"Two pairs of glasses, a wallet, a notebook, a pen, a pencil, a little cosmetics case — it took me a while to get to it in what was a pretty good-sized purse," Feinstein said. "I thought, 'Hmm. This isn't going to do me much good.' "
In 1982, she presented Pope John Paul II with a 10-inch-tall gunmetal blue cross at the Vatican that was created from 15 melted-down firearms, including her own, that were turned in during a gun buyback program in San Francisco.
That same year, Feinstein signed a local gun-control ordinance that banned most residents from owning pistols, leading a different fringe group to try to oust her from the mayorship in a recall.
In an uncharacteristic display of emotion, Feinstein told the Chronicle that she "shed a few tears."
"I guess I don't have as much of a shell around me as some people think. I was hurt by it. I still am," she said at the time.
The ordinance was later invalidated by the courts, but Feinstein retained her job in the recall election.
The following years were rife with gun violence, including in California. A 1989 school shooting in Stockton led the state to become the first in the nation to ban military-style assault weapons.
In 1993, a gunman killed eight people at a San Francisco law firm, leading Feinstein to write the federal assault weapons ban that was signed into law the following year.
It was a landmark piece of legislation, though critics argue that provisions included to ease its passage — notably the grandfathering of 1.5 million such weapons already in Americans' possession and a sunset clause — undermined its effectiveness.
When Congress allowed the law to expire in 2004, part of the debate centered on its effectiveness.
University of Massachusetts researcher Louis Klarevas, the author of "Rampage Nation: Securing America from Mass Shootings," said his study of a half-century of mass shootings found that their number was rising prior to the ban and declined during the ban, including a five-year period when there was not a single shooting with six or more fatalities. The numbers increased and grew more frequent, he said, after the law's sunset.
Feinstein has attempted to reenact the assault weapons ban, including in the aftermath of the attempted assassination of then-Rep. Gabrielle Giffords in 2011 in Tucson and the mass killing at Sandy Hook Elementary in Connecticut in 2012.
On the wall in Feinstein's Senate office is a framed copy of the New York Daily News with photos of the slain first-graders and the headline: "Shame on U.S."
"I'm looking at the picture right now, 20 beautiful 6- and 7-year-olds, all with a smile," Feinstein said in the phone interview. "How can we let this go on?"
It got even more personal for Feinstein last year when a gunman opened fire at the Route 91 Harvest country music festival in Las Vegas. Her daughter Katherine and some friends were supposed to attend the concert and canceled at the last minute, selling the tickets. One of the people who bought them suffered a graze wound.
After the massacre, Feinstein introduce the latest version of her expired assault weapons ban, including the elimination of some of provisions that gun-control advocates argue created loopholes in the original bill.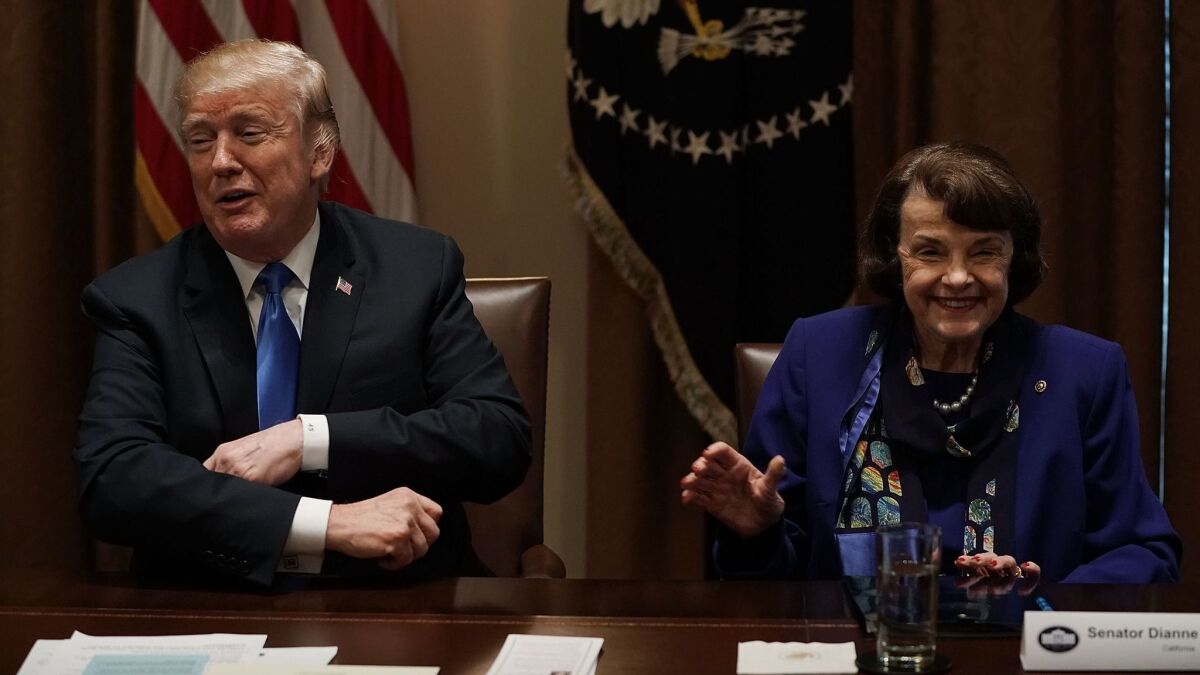 The National Rifle Assn., which didn't respond to a request for comment, called the proposal a "125-page firearm prohibition fever dream [that] is perhaps the most far-reaching gun ban ever introduced in Congress."
Seeing the teenage activists mobilize thousands and companies restrict their policies toward gun and ammunition sales has led Feinstein to think the moment might have arrived, at long last. But it's an open question whether President Trump will back her call for legislation solidifying that cultural change.
Feinstein said she was cognizant of the president's record but hopeful that Trump would stay true to the views he expressed during a recent meeting, where she handed him a letter about her experiences and he surprised her by appearing to agree with her views.
"I hope he doesn't waffle on what he said because human life in this country depends on it," she said.
Times staff writer Sarah Wire contributed to this report.
For the latest on national and California politics, follow @LATSeema on Twitter.
ALSO
California Democrats' snub of party icon Dianne Feinstein could be a speed bump — or a signal
Feinstein shakes with glee after Trump suggests adding assault weapons ban to background check bill
---
Life is stressful. Our weekly mental wellness newsletter can help.
You may occasionally receive promotional content from the Los Angeles Times.