Divided California watchdog agency reduces chairwoman's role despite opposition from governor's office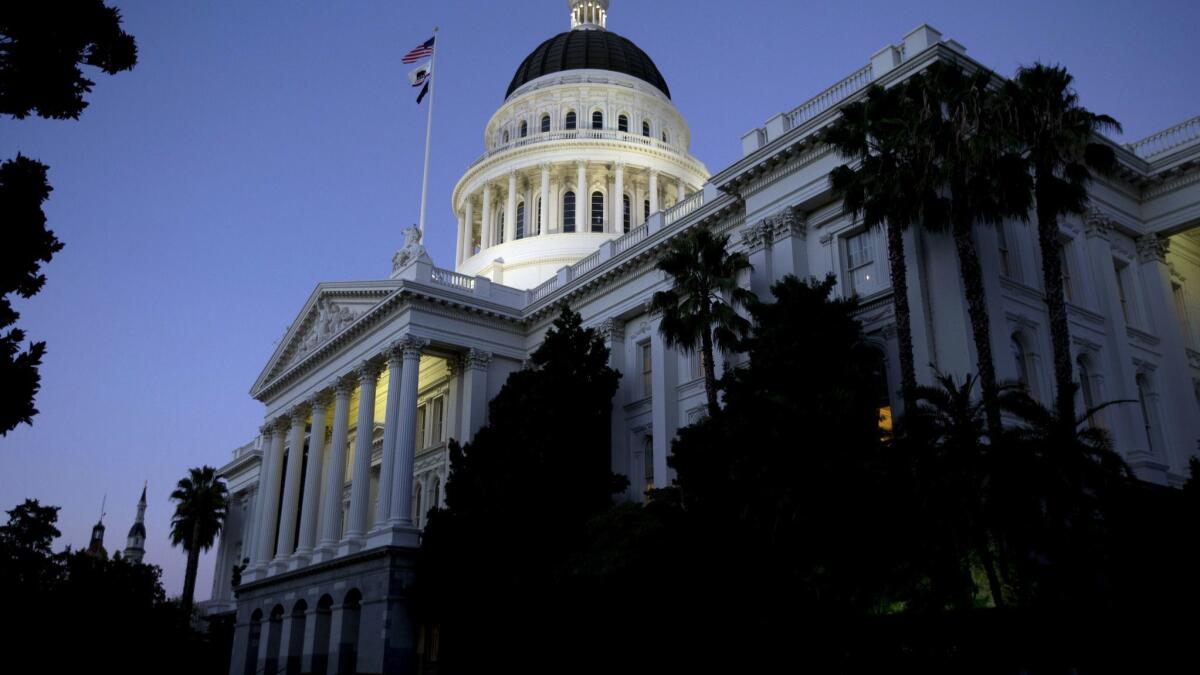 Reporting from Sacramento —
A power struggle inside the state's political watchdog agency broke out into a public war of words between rival commissioners Thursday, after an advisor to Gov. Jerry Brown objected to a planned reshuffling of duties as a threat to policing campaign finances in California.
The divided Fair Political Practices Commission gave initial approval Thursday to policy changes that would force its full-time chairwoman, Jodi Remke, to share oversight power with part-time commissioners, despite opposition from Remke and Peter A. Krause, Brown's legal affairs secretary.
Opponents are concerned that the change could put the agency in disarray just as it is faced with overseeing the hundreds of campaigns underway for the June 5 statewide primary, now less than seven weeks away.
Krause said in a letter that the proposals "risk undermining and impeding the important work of the commission," while Remke called them "legally problematic and impracticable."
In full rebellion against Remke, three of the five commissioners voted to begin the process of creating two standing committees of two members each, excluding the chairperson, to develop recommendations on legal issues, policy changes, budgets and personnel matters.
The proposal must be published for public notice before the regulation can be given final adoption in June.
The vote came after an angry back-and-forth in which Commissioners Allison Hayward, Brian Hatch and Maria Audero, who supported the policy change, criticized Remke and commission executives for not telling the rest of the panel that they met last week with members of the governor's staff before their opposition was announced.
"You immediately ran to the governor's office and tried to derail this thing," Hatch told Remke during the four-hour public meeting Thursday.
"I'm really disgusted at your behavior," Hatch added.
Remke said it was proper for her to meet with the governor's staff about the proposal because she was appointed by the governor, adding that Brown has a natural interest in the matter because he was instrumental in passing a ballot measure four decades ago to create the commission and set its structure.
"I'm disappointed," Hayward said. "I think there is a certain lack of candor here."
Remke called a 10-minute break for tempers to calm after she threatened to declare Hatch out of order over what she called "personal attacks."
"You're out of order," Hatch responded.
Remke added: "If we can limit the direct attacks on each other that would be appreciated."
Coverage of California politics »
The agency, created in 1974 by voters to be the arbiter of campaign law and government ethics, has rarely seen such acrimony among its commissioners. State law calls for the agency to be led by a full-time chairperson appointed by the governor to oversee management on a day-to-day basis along with an executive director.
Hatch and Hayward, who were appointed by Secretary of State Alex Padilla and state Controller Betty Yee respectively, proposed the change based on their feeling that they have been left out of too many decisions — including on the agency's budget — made by Remke.
The changes, they said in a memo, "provide regular integration of part-time commissioners into commission work" and "improve the commission's accountability and transparency," while also making sure important matters are decided by the full panel.
But Remke told her colleagues that the proposal seems intended "to take the chair out of any oversight of this agency" by excluding her from the committees developing policies.
"This proposal clearly says the chair is not actively involved in the development of policies," she said.
Hatch, who later apologized for angry comments, said the current process — which has been in place through a succession of FPPC chairs — creates a concentration of power and is less transparent because Remke develops policy proposals privately with staff.
"It's a check on the chair, and it's a way of oversight in some respects," Hayward said of the proposed change.
Krause said the committee proposal "seems geared toward avoidance" of the state's open-meetings law.
Meetings involving a quorum of three commissioners or more must be held in public, but the proposal would have drafting work done by two-person committees that could meet behind closed doors.
"Given the importance of the policies that are proposed to be developed by the standing committees, I believe such a process should occur in public view," Krause wrote.
The panel failed to muster votes to require the proposed committees to meet in public.
Remke issued her own memo this week in which she said she shared the concern of agency attorneys about legal issues, but noted that her "greatest concern is that the expansive scope of the proposal will paralyze the agency with excessive bureaucracy without corresponding justification."
Krause said it appears Hatch and Hayward are already becoming more involved, even without changing regulations.
"Although active engagement by all commissioners is a laudable goal, I do not believe the proposed regulations are needed to meet that objective," he wrote.
Krause also said the changes appear to have been drafted with little or no involvement by the FPPC staff, which includes attorneys who have raised questions about the rule revisions.
"While the individual commissioners are ultimately responsible for the actions of the commissions, I believe that approving these regulations — and any future policies — without staff input and guidance would be a mistake," Krause argued.
Hatch raised his voice in anger to complain that Remke had not acted on his request last month to schedule a hearing and final vote in time to resolve the debate in May.
"I think you led us off a cliff, and I'm beginning to think you did it on purpose," Hatch said.
Remke hinted that there may be an ulterior motive behind the proposal.
"Perhaps the regulated community sees the proposal as a benefit to them," Remke said, using a term used to describe lobbyists, politicians and political donors. "I think it's extremely problematic what is being proposed."
Twitter: @mcgreevy99
Get our Essential Politics newsletter
The latest news, analysis and insights from our politics team.
You may occasionally receive promotional content from the Los Angeles Times.