Corruption scandals haven't curbed lavish gift-giving to California lawmakers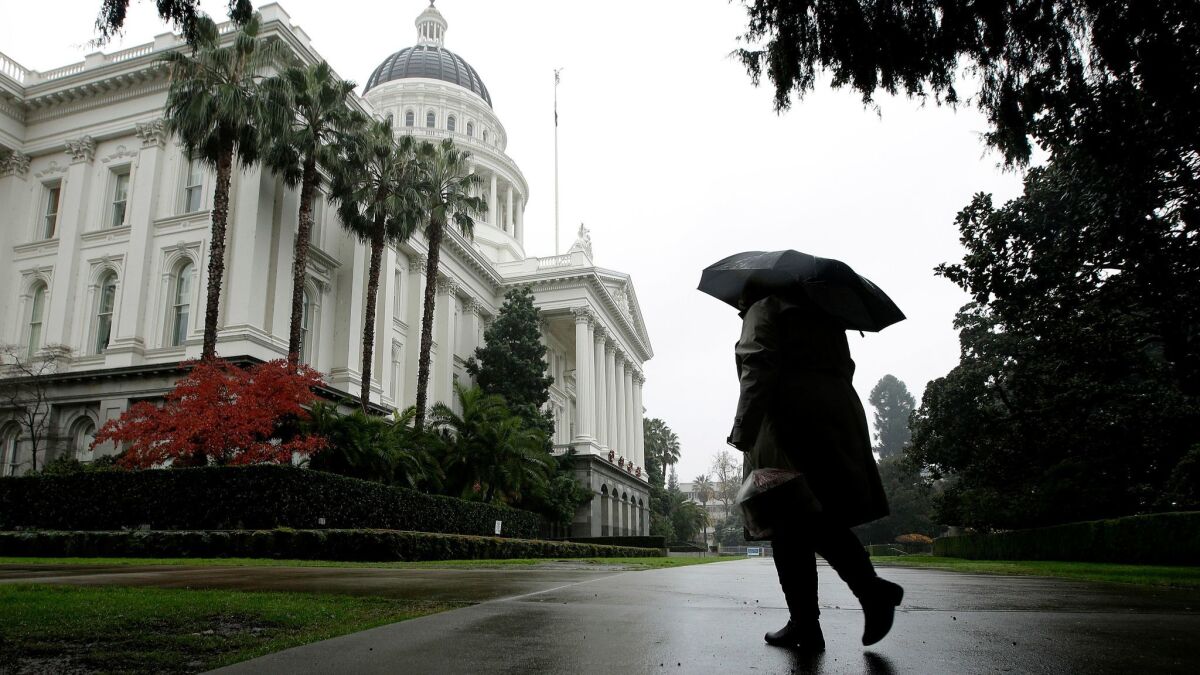 Reporting from Sacramento —
Special interests have continued to shower California legislators with hundreds of thousands of dollars in freebies, including foreign travel, golf games and concert tickets, as efforts to rein in gifts to elected state officials after a series of corruption scandals have stalled.
New filings show lawmakers also were given bottles of champagne and whiskey, cigars, flowers, neckties and makeup in 2017, continuing a trend of gift-giving with few limits that has not slowed after the bribery scandals that sent former Sens. Leland Yee and Ron Calderon to prison.
Advocates for change concede that momentum may have been lost even though the acceptance of lavish gifts has tainted the public's view of state government. Gov. Jerry Brown vetoed a bill in 2014 that would have restricted both the types of gifts politicians can take and who could give them. There is currently a $470 cap on individual gifts.
"Unfortunately, I think the governor's decision to veto that bill kind of strangled the baby in the crib," said former state Sen. Sam Blakeslee, founder of the Institute for Advanced Technology and Public Policy at Cal Poly San Luis Obispo. There was a "a real chance at that moment" to do something, he said.
"We had the beginnings of a real reform movement on the issue of gifts," said Blakeslee, who during his tenure introduced five bills addressing the issue. "It took years for the Legislature to wake up and realize that they in fact had a problem in their midst."
Ann Ravel, former chairwoman of the state Fair Political Practices Commission, said public pressure after scandals creates impetus for change. "When there isn't public momentum for certain reforms like that, people move on," she said.
Gifts to legislators and other elected state officials have averaged about $700,000 annually in recent years.
Brown and the four top legislative leaders disclosed receiving more than $70,000 in gifts, detailing each on required annual reports covering 2017 filed over the last few days.
Here are all the sports events California lawmakers attended for free »
The governor reported $44,000 in gifts, most to cover the costs of speaking trips to China, Russia, Belgium, France, Germany and Norway. Many were paid for by the nonprofit California State Protocol Foundation, a group funded by supporters, "to eliminate cost to taxpayers," according to his report.
State Senate leader Kevin de León, who is running for U.S. Senate, reported the most gifts of the legislative leaders. The Los Angeles Democrat accepted tickets to events and expensive dinners from Planned Parenthood, billionaire activist Tom Steyer and the Barona Band of Mission Indians, a casino operator, for a total of $9,700.
Assembly Speaker Anthony Rendon's haul included tickets from USC to see the Trojans football team beat Arizona, seats at the NCAA men's basketball tournament at which UCLA defeated Cincinnati, tickets to a Dodgers game from 21st Century Fox, and $470 in tickets to the Grammy Awards from Universal Music Group.
Assembly Republican Leader Brian Dahle of Bieber played a lot of golf in California at the expense of others, including at an exclusive course in Pebble Beach,where greens fees were paid for by the prison guards union.
Other gifts ranged from luxurious to strange.
Assemblyman Chad Mayes of Yucca Valley, who was the Assembly Republican leader last year, received a 12-day study trip to England and Ireland worth $12,291 from the California Foundation on the Environment and Economy. That organization has reported receiving financing from Chevron Corp., Tesoro and Shell, as well as the Alliance of Automobile Manufacturers. That's significant because Mayes was among the champions of a bill last year that extended the cap-and-trade climate change program but limited air quality regulators from adopting carbon-cutting rules for refineries, a big win for the oil industry.
Sen. Bob Wieckowski (D-Fremont) accepted a $5,000 trip to Bonn, Germany, from the Energy Foundation, which advocates for renewable energy.
Incoming Senate leader Sen. Toni Atkins (D-San Diego) received a bale of cotton and a $143 dinner at Ella restaurant in Sacramento from the Cotton Ginners and Growers Assn.
Gifts to elected officials, which tallied $518,000 in 2016, have sparked criticism for years from good-government advocates.
There have been six bills in the last decade that sought to restrict gifts. De León recently introduced legislation after Yee and Calderon were charged in 2014 with taking bribes. The former senators, both Democrats, are serving prison terms after pleading guilty to accepting bribes from undercover FBI agents posing as businessmen seeking favors from the Legislature.
The charges came in the same year that the state's ethics watchdog agency issued warning letters to Brown and 40 other elected officials that they had received improper help from a lobbying firm headed by Kevin Sloat. The firm had contributed expensive wines, rare cognacs and whiskeys, flowers and costly cigars at political fundraisers held for Democrats at Sloat's Sacramento mansion.
Coverage of California politics »
De León proposed banning gifts from lobbyists, reducing the value of gifts that could be accepted to $200 from $440 and prohibiting many kinds of gifts with no governmental purpose, including tickets to professional sporting events, concerts and amusement parks, as well as golf games and entertainment.
"We believe that the common-sense proposals we are bringing forth are needed to bolster the public's confidence in California's elected officials," De León said at the time.
His bill was backed by the League of Women Voters of California and California Common Cause, which said the widespread gift-giving at the Capitol was "unseemly." But when the measure passed the Legislature, the governor rejected it.
The proposal, Brown wrote in his veto message, was "adding further complexity" to the law "without commensurate benefit."
The governor argued that proper disclosure "should be sufficient to guard against undue influence."
Former Democratic Sen. Fran Pavley of Agoura Hills is among those calling for change. She voted for the De León proposal.
"It is inappropriate and most legislators can afford to buy their own tickets to events," she said.
Blakeslee, a Republican who introduced bills that prohibited gifts from interests that employ lobbyists, said the flood of gifts to elected officials from special interests is "corrosive" to the system.
"What I saw over and over again is that legislators became very comfortable receiving spas, hotel stays, tee times, and some legislators actually solicited such opportunities," Blakeslee said Friday. "I just saw it as a soft corruption that began as a shading of the line and created uncertainty as to impartiality and objectivity."
His bills never reached the governor's desk.
Twitter: @mcgreevy99
---
Life is stressful. Our weekly mental wellness newsletter can help.
You may occasionally receive promotional content from the Los Angeles Times.