Newsom tries to sidestep California's clash with Trump in visit to Washington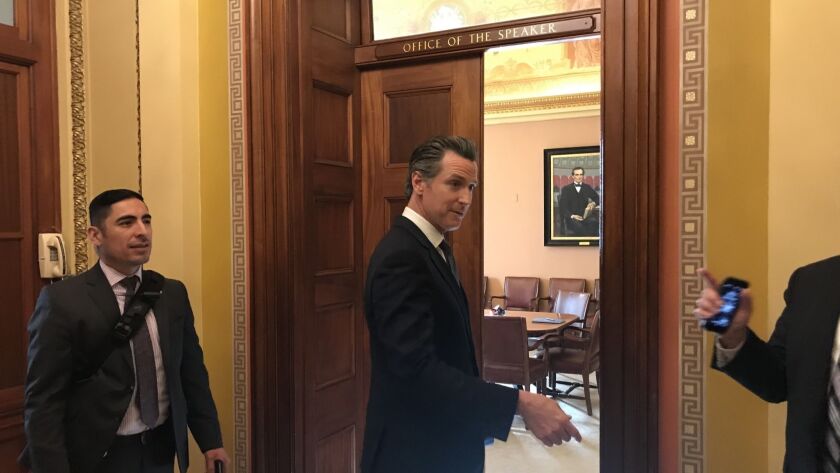 Reporting from Washington —
Gov. Gavin Newsom's only encounter with President Trump during a two-day trip to Washington this week for the National Governors Assn. convention amounted to a quick handshake and brief chat. Instead, the Democratic governor invested time with top administration officials, hoping to smooth tense relations with the White House that could obstruct federal assistance in addressing crucial issues facing California.
Newsom's closed-door meetings on Monday with acting U.S. Interior Secretary David Bernhardt, Energy Secretary Rick Perry and the head of the Federal Emergency Management Agency focused in great part on billions of dollars in promised federal disaster relief, funds being counted on following the state's deadly 2018 wildfires.
Disputes over California water policy and protecting the state's energy supply after the Pacific Gas and Electric Co. bankruptcy filing also were high on the agenda, even though no resolutions were hammered out or expected, Newsom told The Times.
The governor said one of his main priorities during his visit was to avoid stoking California's escalating political feud with the president, including caustic flare-ups on Twitter between him and Trump over the administration's U.S.-Mexico border policy, efforts to peel away strict environmental laws and attacks on the $77-billion high-speed rail system.
Newsom said he's had "substantive" conversations in person and by phone with Trump Cabinet officials since taking office, to "work through the 'noise' and address issues." He said they had made sincere efforts to work together and solve problems, even though at times their political differences put a resolution out of reach.
"Let me take my partisan hat off. People could not be more cordial, more respectful," Newsom said of the Trump administration officials he met with during his visit. "I've been doing this long enough: You can sense sincerity and insincerity."
On Sunday, Newsom joined other governors at the White House to dine with Trump.
Newsom said he shook hands with the president when he arrived, and described having a brief but cordial conversation, though the governor reported Trump brought up one of his favorite targets of criticism in recent weeks: high-speed rail.
After Newsom called for scaling back the bullet train during his State of the State speech this month, Trump demanded in a series of tweets that California return $3.5 billion in federal funding for the project.
Trump was more hostile back in September, when he called Newsom a "clown" who "wants open borders." Newsom, in turn, has ripped into Trump for declaring a national emergency to build a border wall, and criticized his administration's policy of separating Central American families seeking asylum.
Republican Rep. Tom McClintock of Elk Grove called the back-and-forth between the two "unfortunate and counterproductive" at a time when California hopes to secure billions of dollars in disaster aid.
"Lincoln said you get farther with a drop of honey than a gallon of gall," McClintock said. "That's still good advice."
McClintock joined fellow members of California's congressional delegation for a closed-door meeting with Newsom at the Capitol on Monday evening at the end of a packed schedule that included time spent with House Speaker Nancy Pelosi of San Francisco, House Minority Leader Kevin McCarthy of Bakersfield, California Sen. Dianne Feinstein and the Mexican ambassador to the United States, Martha Bárcena.
Democratic Rep. Zoe Lofgren of San Jose, who chairs the California Democratic Congressional Delegation, said the top priority of the evening was working together to ensure that the Northern California and Southern California communities devastated by last year's wildfires received adequate federal assistance. The effort includes asking the federal government to pick up the tab to remove debris and hazardous materials in those areas, as well as making sure similar tax relief is provided to those California residents as was given to victims of recent hurricanes.
Newsom urged California's congressional delegation and the Trump administration to approve a $12-billion disaster relief package that the Democratic-controlled House of Representatives passed in January, but stalled in the Senate.
On Monday, Newsom said his recent conversations with the president give him confidence that Trump supports the relief package.
Twitter: @philwillon
Updates on California politics
---
Get our Essential Politics newsletter
The latest news, analysis and insights from our bureau chiefs in Sacramento and D.C.
You may occasionally receive promotional content from the Los Angeles Times.