Before he launched a bid for California governor, Republican John Cox made a fortune in real estate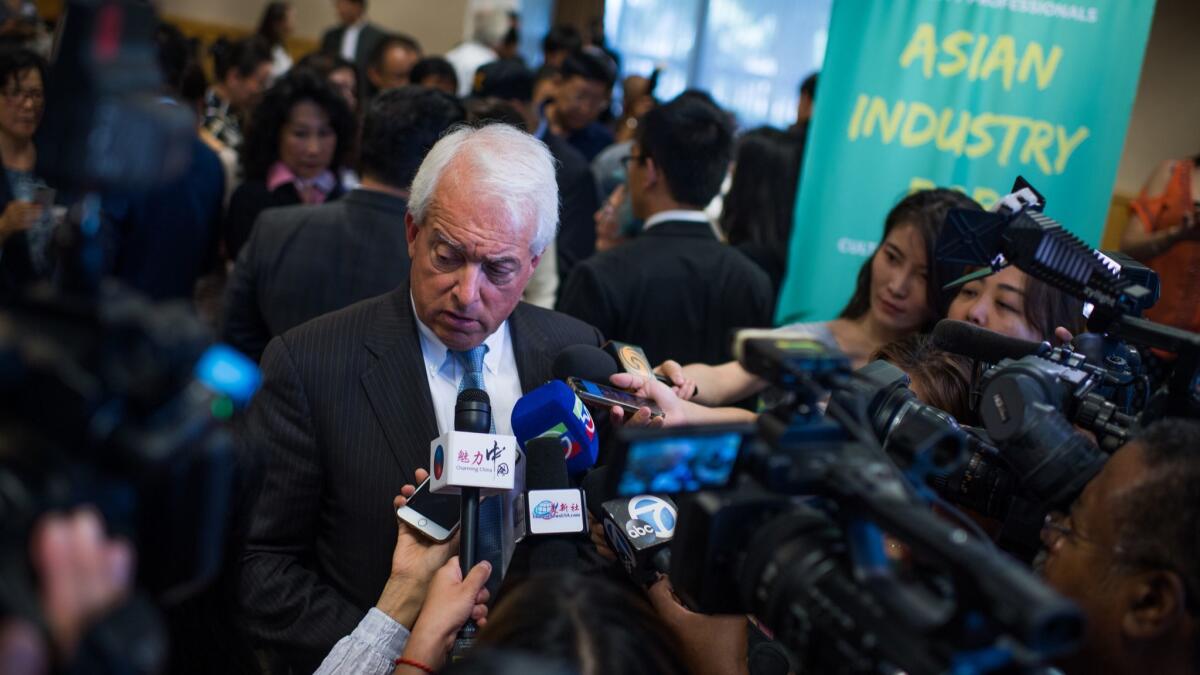 Reporting from Merrillville, Indiana —
Tucked away off the main drag in this northwest Indiana town, not far from a busy plasma donation center and a former Tepe's Department Store that serves as the town hall, sits a cluster of nondescript apartment buildings.
The Chapelle Le Grande, with its garden-style units, is among the more than 22 Midwest apartment complexes that have made Republican gubernatorial candidate John Cox a wealthy man.
Cox has tapped into the profits from those real estate ventures, combined with the proceeds from his Illinois-based law office, investment firm and property management business, to bankroll two decades of ambitious — and thus far unsuccessful — forays into politics. This year, that wellspring of cash has helped take Cox all the way to the November election and a one-on-one face-off with Democratic Lt. Gov. Gavin Newsom.
The Rancho Santa Fe Republican has poured $5.6 million into his campaign for governor of the $14.7 million he's raised, and it wasn't the first time he cracked open his wallet. Cox loaned $1 million to his quixotic bid for president in 2008; more than $1.1 million for his failed U.S. Senate runs in Illinois in 2002 and 2004; and more than $750,000 on other political runs in Illinois.
Almost all of that money leads back to apartment buildings in blue-collar towns scattered across Indiana, Illinois and Wisconsin, which Cox began buying up with the help of outside investors beginning in the 1980s. In all, Cox's firms own and manage more than 2,600 apartment units.
Cox's tale of self-made success is the central theme of his campaign. He casts himself as a political outsider with the business smarts to put California back on track after a rise in homelessness, poverty and housing prices, problems Cox attributes to the state Democrats in power.
He often talks of his humble beginnings growing up on the South Side of Chicago after his parents divorced. Cox was raised by a single mother who scraped by on a public school teacher's salary. He went on to earn accounting and law degrees, and then spent decades growing his real estate empire.
But during the campaign, Cox's opponents questioned how his tenants were treated and accused him of using his fortune to pave his way to the November election.
Cox demurred when asked to estimate his net worth, saying he does not calculate the value of his private holdings year to year.
"It's not germane," Cox said. "I'm worth enough."
The Republican has declined to release complete copies of the federal and state tax returns, providing news organizations only with abbreviated portions of his returns for 2016 and 2017. Cox reported a total adjusted gross income of $2.1 million in those two years, with $1.4 million coming from investments in real estate and business partnerships, the returns show. The remainder came largely from dividends and interest earnings on investments.
According to his state financial disclosure report filed in March, Cox held stocks and bonds valued between $9 million and $93 million. Candidates are required to disclose the fair market value of their investments, but only within broad ranges.
That also makes it difficult to calculate the total value of Cox's business holdings. Cox lists himself as president or a shareholder in 15 separate firms. He reported earning "over $100,000" from his law firm, Cox, Oakes & Assoc., and the same amount from his investment firm, Cox Financial Group, and property management company, Equity Property Management.
His law partner, Christopher Oakes, did not return messages seeking comment, nor did Kevin J. Donohoe, the executive vice president of his apartment management company.
Cox's apartment buildings are bundled into a dozen separate privately held limited-liability partnerships. On his financial disclosure, Cox lists the fair market value for each at "over $1,000,000," though some are worth far more. For example, the Chapelle Le Grande Apartments in Merrillville were assessed at $5.2 million in 2017.
He has declined to release the names of the other investors in those partnerships and businesses, saying through his campaign consultants that he wanted to protect their privacy.
"Each property is its own partnership. I put in about half the capital. Investors put in about half," Cox said. "I've never sold one. They're real good investments."
His path to riches was not without a few blemishes, which he attributes the the litigious nature of the business world and the inherent risks that come with running a large-scale real estate company with thousands of tenants.
A wealthy Chicago-area family sued Cox in 1998, alleging he "misappropriated" funds related to their investments in a string of his apartment buildings and condominiums, a legal case Cox later settled for $1.7 million, court records show. Cox did not admit wrongdoing in the terms of the settlement. Financial regulators fined Cox and his firm $15,000 in 2004 for mishandling investors' funds in a separate housing deal.
One of Cox's apartment complexes in Crystal Lake, Ill., was stung by an allegation of racial discrimination in 2005. Tenant Bridget Krieman alleged that the apartment manager there used racial slurs when referring to Krieman's son, who is biracial. A federal court judge dismissed the case in 2006, citing a lack of evidence and some allegations falling outside the statue of limitations. Krieman could not be reached for comment. Cox said the allegation had no merit and noted that the case was dismissed.
In 2007, a police narcotics unit arrested eight people for selling and possessing drugs at the same apartment complex. Master Sgt. Tim Sebastian, commander of the Illinois State Police North Central Narcotics Task Force, told the Chicago Tribune the property was an "open air market" where people sold drugs in the parking lot. The Cox campaign did not directly address the incident, but the candidate said that his company did not tolerate illegal behavior at his apartment complexes and would address it quickly when it arose.
In February, the city of Crystal Lake found several code violations inside one of the apartments. It was declared unfit for human habitation, filled with rubbish and had a rodent or bug infestation, as well as smoke detectors and appliances that did not work. Once management was alerted to the issue, the property was brought into compliance.
Before the June primary, Assemblyman Travis Allen of Huntington Beach, a GOP rival in the governor's race, accused Cox of renting out decrepit apartments. A Times review of several Cox-owned apartment buildings found dozens of minor problems noted by building and health inspectors over the years — plumbing and electrical issues, as well as reports of mold and minor roach infestations — but no widespread or major problems.
"Thankfully we haven't had much of that," Cox said of the problems and complaints at some complexes. "I put money back into them and fix them up all the time. I've very proud of the fact that we have wonderful units and that we're providing clean, affordable housing."
Cox said that since 2010, his company has invested $2 million to improve the Crystal Lake apartments.
A Merrillville councilman praised the Cox-owned firm that operates and maintains his rental properties, Equity Property Management. The company is spending $17 million to upgrade three apartment complexes in town, providing much-needed housing in the Northwest Indiana region, he said.
"The town of Merrillville is very happy with Equity Management," Councilman Shawn Pettit said.
Cox earned an accounting degree at the University of Illinois at Chicago in 1976. While working for the Coopers & Lybrand firm in Chicago, he attended night school at the Illinois Institute of Technology's Chicago-Kent College of Law and received a juris doctorate degree in 1980.
He said he made his first property investments while he was at Coopers & Lybrand working on the taxes of clients in the real estate business.
"I started buying some little properties, like two flats, in the early '80s. And then I bought my first big property, which was 55 units, outside of O'Hare Airport," Cox said.
Year after year he added to his holdings, buying apartment buildings just outside of Chicago, then one in Wisconsin. In the late 1990s, Cox moved to Indiana, citing the state's cap on property taxes and more affordable insurance premiums.
Cox used a similar formula for each purchase: He created a new holding company, with himself as the lead investor and managing partner, and brought in outside investors.
He is also president of the company that manages the apartments, Equity Property Management, which collects fees for its services at the complexes. Cox's law firm, Cox, Oakes & Assoc., collects fees for handling legal matters for the apartment complexes, management company and real estate transactions. Cox's investment firm, Cox Financial Group, also collects fees for advising clients who have invested in the apartment complexes.
Those business interests were at the heart of the lawsuit filed against Cox in 1998.
Leonard Japp Sr., the founder of the Chicago-based potato chip company Jays Foods, and members of his family accused Cox of engaging in "self-dealing" and said he "charged excessive and unnecessary fees; misappropriated partnership funds; and violated the partnership agreements and Illinois law" related to their investments in five of the apartment complexes. Cox adamantly denied the allegations.
Along with providing investment advice to the Japp family members, Cox also served as the chief financial officer for Jays Foods. On the campaign trail, Cox often cites his role in the financial turnaround of the snack-food company.
A corporate accounting expert who was hired by the plaintiff to review the financial records of the real estate partnerships said he found a "pattern of self dealing." In a court affidavit, Lee A. Gould contended that Cox and his firms charged "unanticipated and undisclosed" management and servicing fees that exceeded those projected in the partnership agreements.
Cox settled the lawsuit in 1999, agreeing to pay the Japp family $1.7 million in exchange for their shares in the real estate limited partnerships.
"I didn't pay one penny to settle any claim of financial misconduct," Cox said in a recent interview, adding that lawsuits are common in the business world. "It was a settlement to buy real estate that was probably worth $3 million. And I paid $1.7 million.''
David Faganel, a custom homebuilder from Chicago, said his family has used Cox as a financial advisor ever since his parents befriended him at the Medinah Country Club 30 years ago. Faganel estimates that his family has roughly $1 million invested in Cox's apartment buildings, and said he recouped the cost of some of his investments — upward of $50,000 a share in some cases — within a matter of years.
"They've just turned out to be fabulous investments," Faganel said. "When you get your money back and keep getting checks, you're pretty happy."
When Cox offers new shares to real estate investors, he is required to file a notice with the Securities and Exchange Commission. Those reports do not list investors by name but do provide some details, including the amount Cox collects.
In 2015, for example, Cox offered $1 million in shares into the Reserve at Pin Oak Manor limited partnership, a namesake parent company of an apartment complex in Mishawaka, Ind. The minimum investment was listed at $50,000. A disclosure to the SEC in August 2015 shows Cox sold $200,000 worth of those shares. Cox also declared that $125,000 of the total proceeds would be paid to him as executive officer.
In 2016, Cox accepted a $6.1-million investment into the Edgewood Group Limited Partnership, another one of his companies with apartments in Indiana. Of that, Cox was to receive $959,330, SEC records show.
As an investment advisor, Cox is also required to register with the SEC and disclose information about his clients and his firm, Cox Financial Group, LTD. In 2018, Cox's firm managed $76.7 million in assets for 25 clients, including $5.27 million in assets belonging to clients outside the United States. The firm's compensation was not disclosed, but it is based on a percentage of the assets managed, SEC records show.
Cox often talks on the campaign trail of working his way from the bottom to become a successful businessman, contrasting himself with Newsom, who Cox says "has had a charmed life … bankrolled by the billionaires of San Francisco."
"I had to struggle through a business and build it, year after year working real hard to make a go of it," Cox said in an interview with Oakland TV station KTVU earlier this month. "I've had that American dream."
Twitter: @philwillon
Updates on California politics
Get our Essential Politics newsletter
The latest news, analysis and insights from our politics team.
You may occasionally receive promotional content from the Los Angeles Times.