What early fundraising in California says about the race for Congress: Some incumbents are behind
Reporting from Washington —
California's congressional races are pivotal to Democratic efforts to flip the House, and there are already more than 60 candidates in more than a dozen battleground districts for the 2018 election.
It is 16 months before the 2018 general election and candidates have until March to file to run for Congress. But it isn't unusual for them to start campaigning so early in order to try to advance to a general election runoff by securing one of the top two spots in the June primary. It gives them plenty of time to raise the more than a million dollars often required to win.
Many of the challengers recently filed their first financial reports, and political insiders and donors are looking closely for indicators of who has fundraising ability. A strong early fundraising figure can deter potential rivals or draw support from the national political parties. Weak fundraising can encourage new opponents to enter the race.
We looked at dozens of early campaign finance reports so you don't have to, and here's what we learned:
Some incumbents are already sitting on lots of cash as opponents line up to challenge them
Rep. Mimi Walters (R-Irvine)
Walters has drawn half a dozen Democratic challengers already, and her robust fundraising figures show the two-term Republican is gearing up for what could be an expensive fight in a district that chose presidential candidate Hillary Clinton by 5% in November. Walters was reelected with 58.6% of the vote.
In the second quarter of 2017, Walters raised $701,696, more than any other battleground incumbent in California. That leaves her with a war chest of more than $1.1 million.
Two opponents, Katie Porter and Dave Min, appear particularly competitive in the 45th Congressional District, having raised $311,570 and $304,208, respectively, in their first three months. Both will have to quickly catch up to compete with Walters. Ron Varasteh, a candidate who lost to Walters last year, has more than $253,785 despite raising virtually no money this year. His money comes mostly from a $250,000 loan he gave himself.
Rep. Ed Royce (R-Fullerton)
Royce, who won in a district where Clinton trounced Donald Trump by nearly 9%, is facing five opponents, most of them Democrats.
Only two of his competitors have reported raising any money so far: pediatrician Mai Khanh Tran, who raised $273,148, and education consultant Phil Janowicz, who received $180,284. Those are significant sums considering both announced their runs within the last few months.
But they have a long way to go to catch up to Royce's $3.1 million, bolstered in part by years of running in a safe Republican seat in which he didn't have to spend much. Despite the enthusiasm for Clinton, Royce won by nearly 15 points in November.
Rep. Jeff Denham (R-Turlock)
Of Denham's eight announced opponents, only investor Josh Harder reported raising more than $100,000. Since jumping into the race in early May, Harder brought in $403,589 and had $374,972 on hand at the end of the quarter.
Denham didn't raise much more over the same period ending June 30: He reported taking in $498,237 during the second quarter.
But Denham still has more than $1 million in the bank in case Harder mounts a competitive challenge and things get ugly. As a frequent Democratic target, he may need it: Clinton won by about 3% in this district in November, the same margin by which Denham beat Democratic challenger Michael Eggman.
Eggman, who isn't running again, has launched a political action committee with the intent of ousting Republican incumbents, including Denham. Democrats also have a slight voter registration advantage in the 10th District.
Rep. David Valadao (R-Hanford)
Valadao's Central Valley district looks especially attractive to Democrats on paper: Clinton won by more than 15%, and Democrats outnumber registered Republicans 46% to 29%.
But Valadao has stayed hyperfocused on local issues, especially water policies important to his agricultural constituency, and sidestepped many of the controversies in the Trump-Clinton fight last year. He ended up winning by more than 13% over attorney Emilio Huerta, son of labor rights icon Dolores Huerta, who has filed to run against Valadao again.
But Huerta has barely raised any money in the weeks since he's announced, reporting $35,828 in fundraising and just $110,584 cash on hand at the end of the quarter. Valadao, on the other hand, raised $339,140 and ends the quarter with a healthy $565,899 in the bank.
These incumbents are showing lackluster fundraising, and their opponents could catch up fast
Rep. Dana Rohrabacher (R-Costa Mesa)
About 10 people have filed to run against 15-term Rohrabacher in his coastal Orange County district, and at least two of them have reported big hauls.
Real estate businessman Harley Rouda, a Democrat, has built up the largest war chest with
$177,974, nearly half the
$406,616 Rohrabacher had in the bank by the end of the quarter. Biotech firm chief executive Hans Keirstead was close behind with
$135,396.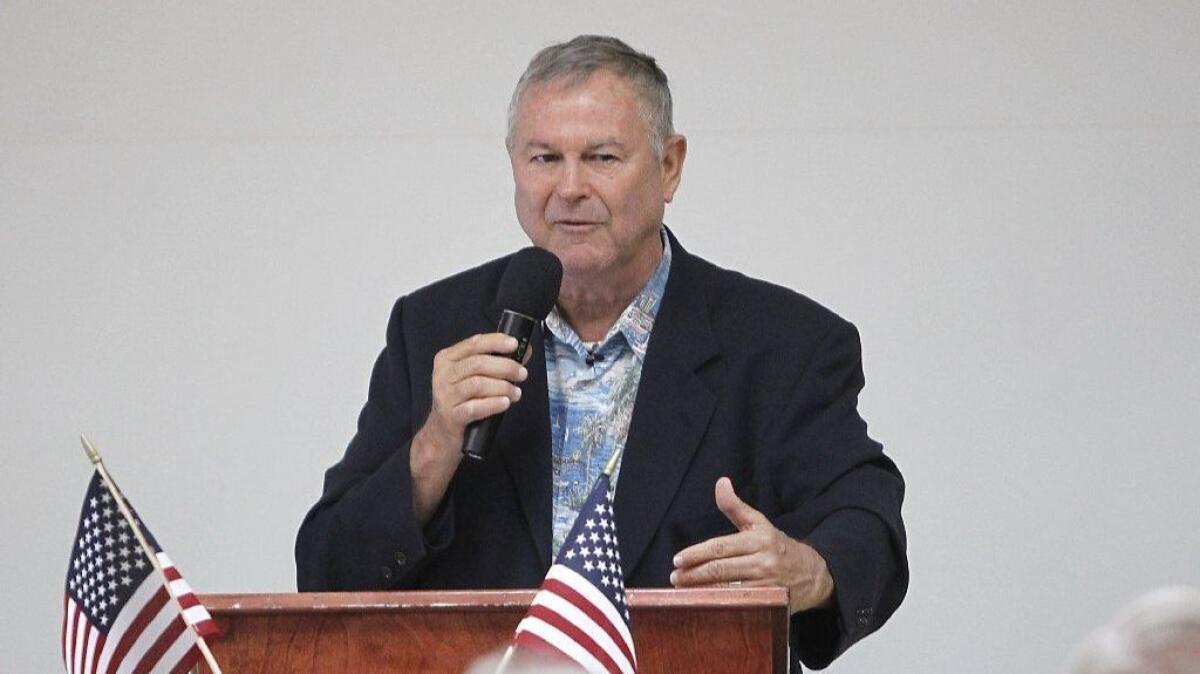 Rohrabacher hasn't had a particularly tough race in years and hasn't built up a multimillion dollar cushion like other incumbents. House Majority Leader Kevin McCarthy (R-Bakersfield) is hosting a fundraiser for him at the end of the month.
Biding his time in the wings is former Orange County GOP Chairman Scott Baugh, who is sitting on
the $546,915 he raised last year when there were rumblings that Rohrabacher might retire. But he hasn't announced plans to challenge Rohrabacher and only raised $2 last quarter.
Rep. Steve Knight (R-Palmdale)
Knight is the only incumbent we're watching closely who has a smaller war chest than Rohrabacher. Los Angeles County's last remaining Republican congressman reported having $433,301 in the bank at the end of June.
Labeled by an analyst last year as "the most vulnerable incumbent in California," Democrats have targeted his seat in Los Angeles and Ventura counties with no success. Knight won by 6% last year even though Clinton won the district by nearly 7%.
He's drawn five challengers for 2018. Two have posted strong early fundraising numbers: Repeat opponent Bryan Caforio had
$175,635 on hand, and Katie Hill was just behind him with
$173,299.
One of the most at-risk incumbents has two well-funded opponents
Rep. Darrell Issa (R-Vista)
Issa had the closest reelection race in the country last year— he won by fewer than 1,700 votes against Democrat Doug Applegate — and he is bracing for another tough fight.
Issa had a big fundraising quarter, bringing in $455,207. He had $671,529 at the end of the month.
Applegate, who quickly filed for a rematch, has raised a significant chunk of money so far: $281,143 in the second quarter, leaving him with $262,729 in the bank.
But a new opponent, environmental attorney Mike Levin, has been raising money quickly since announcing his bid March 8, leaving him with $416,345 cash on hand, the most of any congressional challenger in California. Levin also reported $63,232 in debt, owed mostly to consultants and a voter canvassing firm.
Challengers in districts that are lower priorities for the national parties have struggled to raise money
Rep. Devin Nunes (R-Tulare)
Democrats are looking at Nunes' Central Valley district as a secondary battleground, but they face a steep climb. Trump beat Clinton by nearly 10% in his 22nd District, and Nunes won his last election by a whopping 35%.
Nunes, the chairman of the House Permanent Select Committee on Intelligence, stepped away from leading the House investigation into Russian interference in the 2016 election after watchdog groups accused him of mishandling classified information. It hasn't slowed his fundraising: He raised
$479,522 last quarter, more than any incumbent in a battleground district, and has nearly $3.5 million in the bank.
Andrew Janz, a Fresno County prosecutor, is the only opponent who has reported raising any money, and it's not much: Janz had $40,839 as of June 30.
Rep. Duncan Hunter (R-Alpine)
Hunter's suburban San Diego district has been a stronghold for Republicans for decades. He succeeded his father to represent the area, but news that the FBI is investigating Hunter on allegations of misusing campaign funds put the seat on Democrats' radar.
Hunter's most recent campaign finance report shows $152,859 in spending and $114,412 in debt to seven law firms in the San Diego and Washington areas. The spending amounts to more than the
$155,625 Hunter brought in during the same three-month span, but he does have a solid
$617,575 in the bank.
Seven people have filed to challenge Hunter, with two Democrats taking an early fundraising lead. Former Navy SEAL Josh Butner has
$114,846 in the bank, and
public affairs consultant Ammar Campa-Najjar has
$122,664 on hand.
Democratic incumbents in battlegrounds are in good financial shape overall
The National Republican Congressional Committee has its eyes on flipping a few California seats as well, but the challengers who have come forward haven't been able to raise much.
In Northern California's 7th District, Rep. Ami Bera has $617,852 in the bank, and neither of his opponents has filed campaign reports yet. Bera narrowly won reelection in 2016 with 51.2%.
In San Diego's 52nd District, another often targeted seat, Rep. Scott Peters has $1.7 million in the bank. He won in 2016 with 56.5%. His opponent, Republican lawyer Omar Qudrat, has $96,376.
Santa Barbara freshman Rep. Salud Carbajal has $867,688 on hand as he tries to hold the coastal seat. The only Republican challenger, civil engineer Michael Woody, reported only a $5,000 loan he made to his campaign.
Although he's often the focus of National Republican Congressional Committee press releases, Rep. Raul Ruiz of Palm Desert has $1.6 million stored, and no opponents yet.
Times staff writer Lauren Rosenblatt contributed to this article.
Follow @sarahdwire and @cmaiduc on Twitter
Read more about the 55 members of California's delegation at latimes.com/politics
ALSO:
Jolted by Trump, Orange County Democrats see a shot at victory on GOP turf
Issa was Obama's toughest critic. Here's why he's suddenly sounding like a moderate
Updates on California politics
---
UPDATES:
11:54 a.m.: Updated with information about the top-two primary in June.
This article was originally published at 12:05 a.m.
Get our Essential Politics newsletter
The latest news, analysis and insights from our politics team.
You may occasionally receive promotional content from the Los Angeles Times.