Sen. Josh Newman in fight for his political life over vote to raise California's gas tax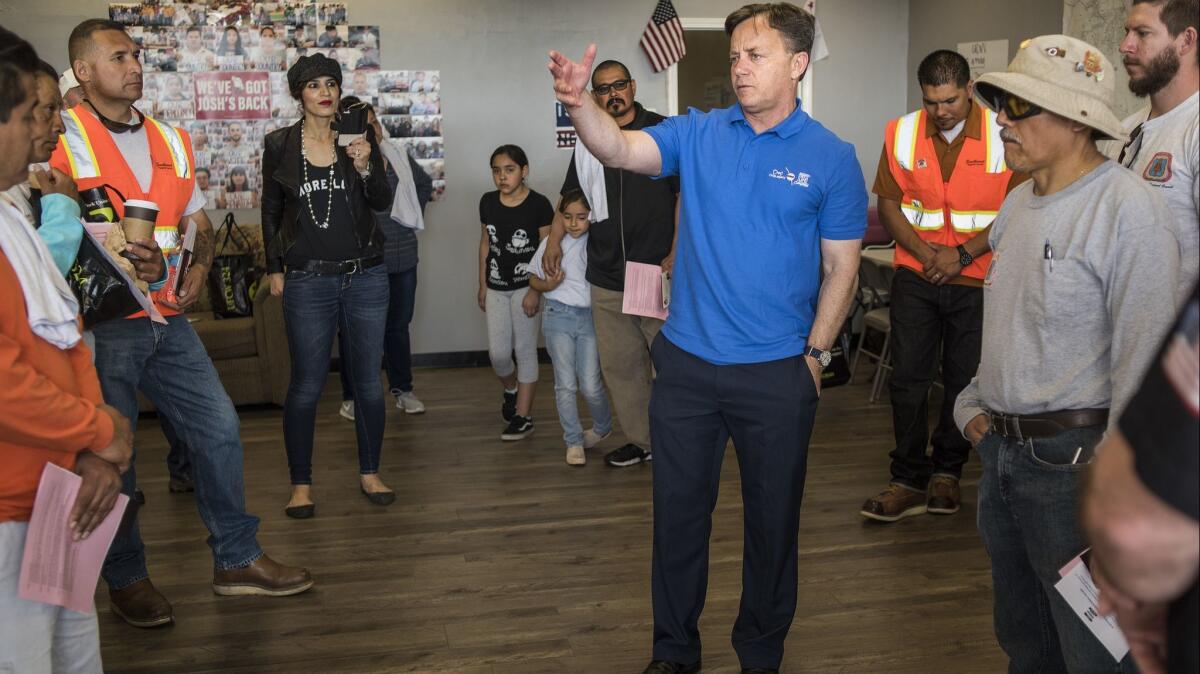 Reporting from Sacramento —
A week after voting with fellow Democrats to raise California's gas tax, state Sen. Josh Newman was vacationing with his wife on a Caribbean island when he saw a news alert on his phone that said Republicans were targeting a lawmaker for recall over the action.
"I thought to myself: 'Wow, somebody's in trouble. That's crazy.' And then I clicked on the link, and lo and behold it was a picture of me," the Fullerton lawmaker said. "That was obviously a jolting surprise for me, to find that I was the one person, of 81 people who voted for the same thing, who was ostensibly guilty of treason."
In a year when Californians will pick a new governor and fill dozens of other key posts, the recall has drawn an inordinate amount of money and attention from top officials. The contest has become a surrogate battle between the state Republican and Democratic parties over whether the Democrats will regain a supermajority in the state Legislature.
The Democratic Party and its leaders, including Gov. Jerry Brown, have helped Newman amass a $2.6-million war chest to fight the campaign to remove him from office.
Brown has campaigned for Newman, saying at a recent event at Mt. San Antonio College in Walnut that "he's at the top of the list" of good state lawmakers, and wins legislative battles for his district. He praised Newman for "his intelligence, his hard work, his experience in the military. He knows how to fight."
The state Republican Party spent more than $800,000 to collect enough signatures to qualify the recall for the June 5 ballot. A separate question on the ballot asks voters to choose among three Democrats and three Republicans, including former GOP Assemblywoman Ling Ling Chang, if Newman loses his seat.
The recall campaign is headed by former San Diego City Council member Carl DeMaio, a Republican activist who noted that Newman had won election in 2016 by only 1% of the vote against Chang.
"We want to make an example of Josh Newman for his vote on car [fees] and gas-tax hikes," DeMaio said. "He was elected with the least amount of support in 2016, and that's why we've nicknamed it the 'gazelle strategy.' We decided to target Newman, who was the deciding vote and also was clearly the weakest member of the state Senate, for punishment."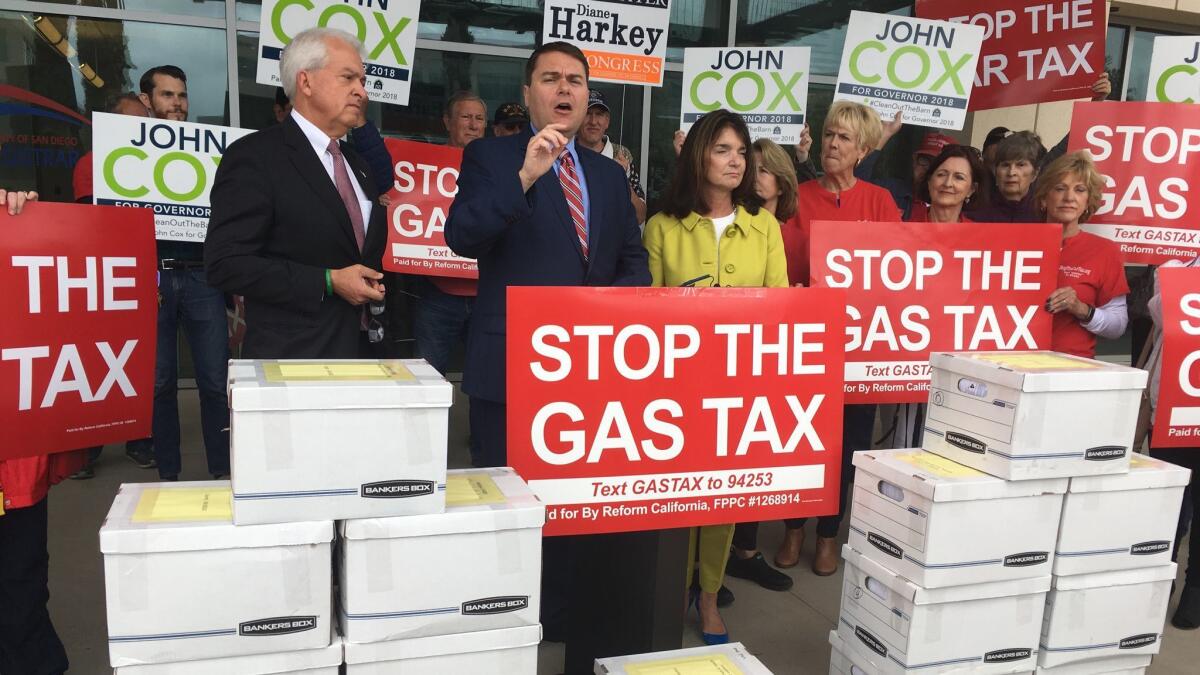 Newman, 53, disputes that assessment. He was one of 26 Democrats in the Senate supporting the bill increasing the gas tax, and was not the last to cast a vote.
Because a two-thirds vote was needed to pass the tax measure, Democrats had to persuade termed-out Republican Sen. Anthony Cannella of Ceres to join them in voting for the bill, which he did only after the governor agreed to provide $400 million for a rail project serving his district.
Still, Newman says he is prepared to fight for his political career.
A Yale University graduate with a bachelor's degree in history, Newman served as a captain in the U.S. Army. His military assignments included a nuclear weapons detachment in South Korea. Later, Newman headed a veterans charity, ArmedForce2Workforce, when he ran for the Senate and beat Chang by fewer than 2,500 votes. He chairs the Senate Veterans Affairs Committee and lives in Orange County with his wife and daughter.
The election in June is expected to be close. Including portions of Los Angeles, Orange and San Bernardino counties, the 29th Senate District has 36% Democratic voters and 34% Republicans.
Newman's election in 2016 was a remarkable political start, in part because the state Democratic Party endorsed another candidate in the race.
Newman was relatively unknown. He worked as a set designer in film production and had bit parts in the movies "The World According to Garp" and "Austin Powers: International Man of Mystery." In the raunchy comedy, Newman played one of a group of security guards shot down by guns protruding from the breasts of a "FemBot."
Newman's first campaign demonstrated a sense of humor. He drew attention with campaign volunteers who stood at Orange County intersections dancing in a bear costume and carrying a sign that read "HELLO, your choice is NEWMAN," a reference to a memorable line from TV comedy "Seinfeld." Candidate Newman also donned the bear costume on occasion, including onstage at the state Democratic Party Convention in May 2017.
But soon after Newman was elected, he was faced with making a serious decision — one that stood to anger many constituents.
The freshman legislator was asked by Brown and Democratic leaders in April 2017 to support a bill that would raise gas taxes and vehicle fees to bring in more than $5.4 billion annually for road and bridge repairs and improvements to mass transit.
Years of neglect had left the state's infrastructure crumbling, supporters argued.
"I wasn't happy about it, and I don't take lightly at all raising anybody's taxes," Newman said of the vote.
The measure raised the gas tax by 12 cents per gallon, boosted the diesel fuel tax by 20 cents per gallon and increased vehicle fees.
Newman noted the vote came just after powerful storms had washed out major bridges and threatened the collapse of the Oroville Dam.
"Fixing the state's problems is what people want," Newman said. "I'm certainly not the tax-and-spend liberal Democratic pawn that I have been portrayed as by my opponents."
After the recall drive started, Newman said people yelled at him in public for raising taxes. He was regularly roasted on a popular conservative radio talk show on KFI-AM in Southern California.
"I get that people are justifiably angry that after 20 years of dithering, we passed a bill that seemed kind of abrupt," Newman said. "I wasn't there for the 20 years of kicking the can down the road, of not only not funding transportation but of diverting [transportation] funds to other uses."
Newman added that he wrote a measure on the June ballot that would require all of the new gas tax and vehicle fee money to be spent on roads and transportation.
But Chang, a Diamond Bar resident, accused Newman of being out of touch with his district.
"I believe that the gas tax is punishing hard-working families, and that's why you see it's not just Republicans who are angry, but it's also Democrats and independents," Chang said.
Fullerton City Councilman Bruce Whitaker, another Republican candidate for Senate, said district residents "have been damaged by [Newman's] votes for higher taxes and regulations."
Critics also cite extraordinary measures taken by Democrats to sabotage the recall campaign.
The majority party approved a new law in June that requires additional steps to qualify a recall — the state Department of Finance must conduct a study of the costs of holding a special election and submit it for review to the Legislature before a recall measure can be certified for the ballot.
That action had the effect of delaying the recall and avoiding a special election, before the June 5 primary, which could have potentially drawn a smaller turnout with more conservative voters. A larger share of Democrats is expected to turn out in the statewide primary, which could help Newman.
In addition, the Senate Democratic Caucus persuaded the state Fair Political Practices Commission to lift a $4,400 cap on contributions to Newman's anti-recall campaign from other senators.
Democratic leaders say they are outraged over the Republican-led recall drive, which is a "partisan power grab," according to Senate President Pro Tem Toni G. Atkins (D-San Diego).
"The attempted recall of Josh Newman, one of our most effective and independent senators, is a dangerous and unjust abuse of the recall process which will do nothing to fix our roads or reduce our taxes," Atkins said.
Newman's contributions have come from organized labor, corporate interests and fellow lawmakers. They included $40,000 from a ballot measure committee controlled by Sen. Jim Beall (D-San Jose), as well as $50,000 from the group Professional Engineers in California Government, and $25,000 from the American Federation of State, County and Municipal Employees.
Separately, a committee funded largely by the State Building and Construction Trades has raised $680,000 to fight the recall.
The California Republican Party, which has $4.3 million in the bank for all state races and campaigns, reported it spent $275,000 in just the last month urging voters to recall Newman with mailers, ads and door-to-door canvassers.
"Josh Newman is completely out of touch and out of control," said Matt Fleming, a spokesman for the state GOP. "Helping the concerned voters in Josh Newman's district get him out of office before he raises their taxes again is absolutely a top priority for us."
Newman said the GOP's involvement in the recall is unseemly.
"The effort to recall me did not emanate from my district," he said.
The campaign is strange, he said, because he is not really running against the six contenders for his seat, so there has been no public debate between them.
Still, the postponement of the election until June has resulted in a calmer electorate and one he hopes will be more thoughtful, he said.
"There doesn't seem to be the level of anger that was directed at me that was present at about this time last year," Newman said. "I haven't had anybody come up and yell at me in a grocery store lately, and that was happening all the time."
Twitter: @mcgreevy99
Get our Essential Politics newsletter
The latest news, analysis and insights from our politics team.
You may occasionally receive promotional content from the Los Angeles Times.